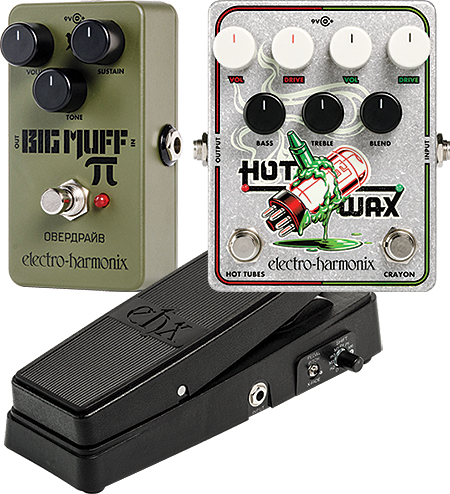 Enter to win a set of Electro-Harmonix Pedals valued at $480!
Slammi Plus – This polyphonic powerhouse flawlessly transposes your pitch in two different directions over a +/- 3 octave range: transpose up, down or both, simultaneously! Staggering whammy effects and dive bombs, bends, harmonies, cross-fades between your dry and transposed sounds, cocked pitch shifting… this pedal does it all.
Back by overwhelming demand… in a mini package! The cult classic Green Russian Big Muff first shook the ground in the mid-1990s. Since then it has been heralded by guitarists and bassists for its devastating low-end and unique sludge and sizzle. The Green Russian Big Muff creates a huge tone that is all its own, but is undeniably Big Muff.
Awesome on guitar and bass, the Hot Wax fuses our Hot Tubes and Crayon pedals into one powerful dual-overdrive. Use each individually or stack them with the Crayon driving the Hot Tubes. Master EQ and Blend controls provide the tonal flexibility power players demand. The Hot Wax is the next evolution in inspired overdrives!

Complete the survey below to enter giveaway.
---
*ELIGIBILITY. VOID WHERE PROHIBITED OR RESTRICTED BY LAW. NO PURCHASE NECESSARY.
One entry per customer. Winners will be drawn at random. Prizes are not transferable or assignable and they are not redeemable for cash. All winners outside the continental United States are responsible for shipping costs. All winners are responsible for the payment of any and all taxes and/or licenses and/or other related local, State, Federal fees that may apply to such winnings. Taxes on prizes are solely the responsibility of the winners. Vintage Guitar magazine reserves the right to replace the advertised prize(s) with a prize of equal or greater value if the advertised prize(s) is/are no longer available. Vintage Guitar reserves the right to identify winners in all VG media.