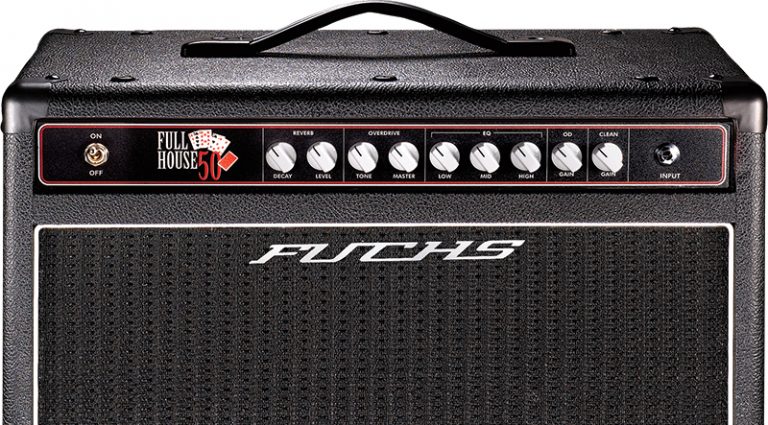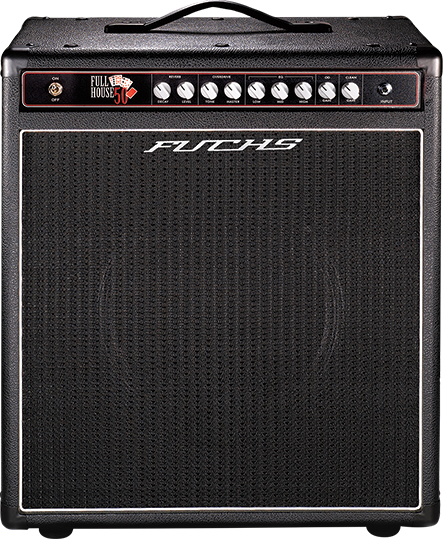 The Fuchs Full House-50 1×12 is a compact amp that strives to deliver a range of tones in a small footprint. Weighing in at 52 pounds, the amp has a 50-watt tube design powered by two 6L6 tubes (though it can be rebiased for EL34s). The preamp has three 12AX7 tubes along with a three-band tone stack for both channels. Channel One works as a non-master-volume for cleaner flavors. Channel Two is a bit more complex, with an input OD gain, output Master volume, and a post-overdrive Tone knob to conjure sounds ranging from vintage Marshall and Dumble to hotter, more saturated tones.
One unique feature of the Full House-50 is its digital reverb circuit that can mix a wet signal with the dry analog path to any degree. There's also a Decay control to choose the tail of the reverb effect – another cool feature for a small amp. The Full House-50's standard footswitch provides channel switching and gain boost (an optional Artist Footswitch delivers control over channel, gain boost, reverb, and mid-boost functions).
The strategy behind the Full House-50's taller cabinet, as you probably guessed, is bigger tone – and that's something we paid special attention to, as some small-box 1x12s can indeed sound small and boxy (all Fuchs Casino-series models are available in head and 1×12 combo configurations).
In the clean channel, we found what we were looking for, namely some genuine fatness to the guitar signal. Rolling off the passive Tone knob on a solidbody, leaving the neck humbucker on, and adding reverb to give depth, we dug up a glorious tone that any jazzer would dig. Next we dried off the signal and went to the bridge pickup for some country twang. The Fuchs delivered ample chicken pickin' flavors full of sparkle and life. Kicking on the Boost footswitch to push it into lead territory was fine for smokin' blues or edgy rock without too much gain.
Channel 2 is a big departure, adding multiple dimensions of dirt and overdrive. Again, you not only get the three-band EQ, but a fourth Tone knob. The Master knob will set your overall level (and with 50 watts under the hood, this combo has quite a kick), while the OD Gain knob controls the crunch level. Starting on the lighter end, we ramped up the overdrive until we crossed into mid-level drive settings, from lower-gain Allman Brothers through Physical Graffiti-era Zep to some Marshall-fueled Thin Lizzy sounds.
The ace up Fuchs' sleeve, however, is that Boost switch, which kicks the amp into pure saturated frenzy – thick, rich tube-fired sustain, all in a portable 1×12 box. When we sweetened it with the right amount of reverb, we felt ready for all sorts of gig and studio action.
The bottom line on the Full House-50 is that it provides a ton of power and a full slate of tube tones, from dead-on clean to raging metal, all in a small footprint combo that's easy to load into a car. Add a dual-control digital reverb to the mix and you can see how the Full House-50 is a one-amp solution for the gigging guitarist or any player who wants one killer amp to cover all bases. Feel free to add external stompboxes if you want, but honestly, with the Full House-50, it's not all that necessary. This tube amp gives you a full deck of tone and control.
---
This article originally appeared in VG October 2016 issue. All copyrights are by the author and Vintage Guitar magazine. Unauthorized replication or use is strictly prohibited.
---