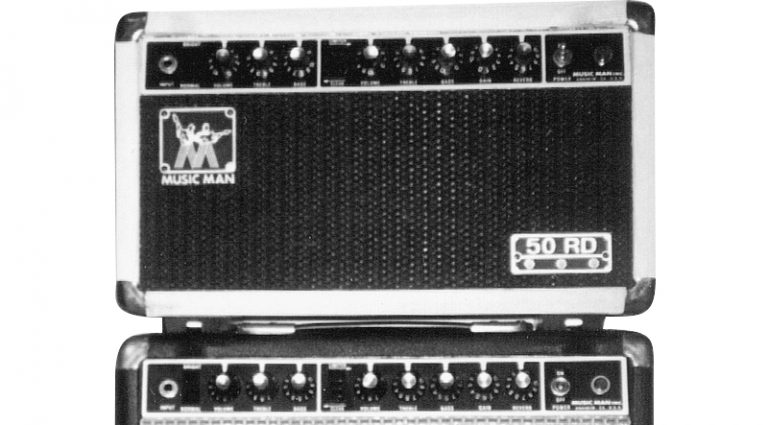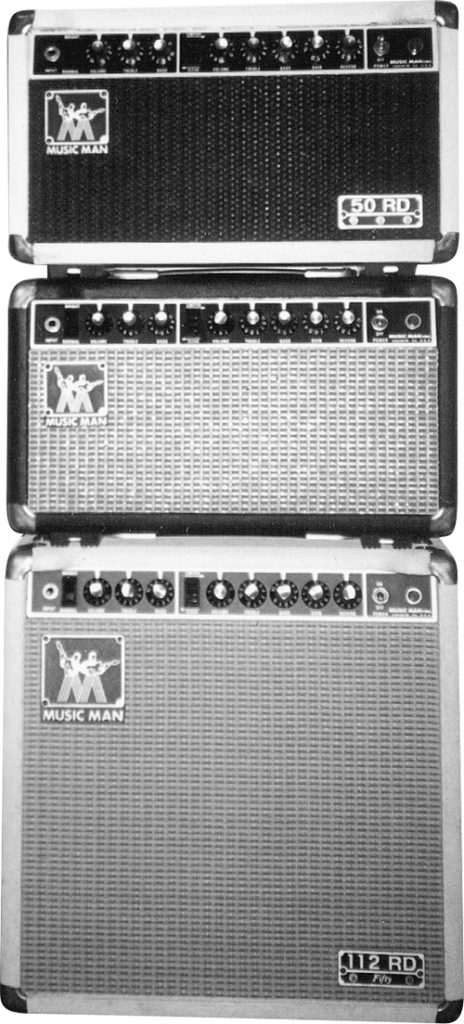 Say hey, fellow guitarists! If you live in the Northeast, it's great to have a hobby that doesn't require going outside. Two storms in five days of each other dumped a total of 41″ of snow in my backyard, that brings our ground total to 73″. We had to use just our acoustics after the last one — no power for two and a half days!
The Music Man RD-50 was actually developed two years before its introduction in 1981, but this was during the breakup days between Music Man and Leo's C.L.F. Research company. The solid-state preamp section, with the "Limiter" stage, was developed by Leo, while the amp as a whole was designed by Tommy Walker at Music Man. In 1979 differences between Tom and Forrest White resulted in Forrest no longer working at Music Man, but still being part of the company. At the same time Leo, who had financed the Music Man project since 1974 was dissatisfied with the situation between his C.L.F. Research and Music Man. By 1981 things had been resolved to the point that Leo allowed the use of his preamp section.
The RD-50 differs greatly in sound compared to the other RD series amps (RD-65 and RD100) because Leo's limiter circuit was different than the one Tommy developed for the series when they debuted in 1980. The RD-50 has better tone control and a smoother gain. This is most probably due to Leo's circuit having the tone control after the first gain stage and then another gain stage just before the 12AX7 limiter. So, while both series have the same "R" for reverb, their "D" sections for distortion are quite different.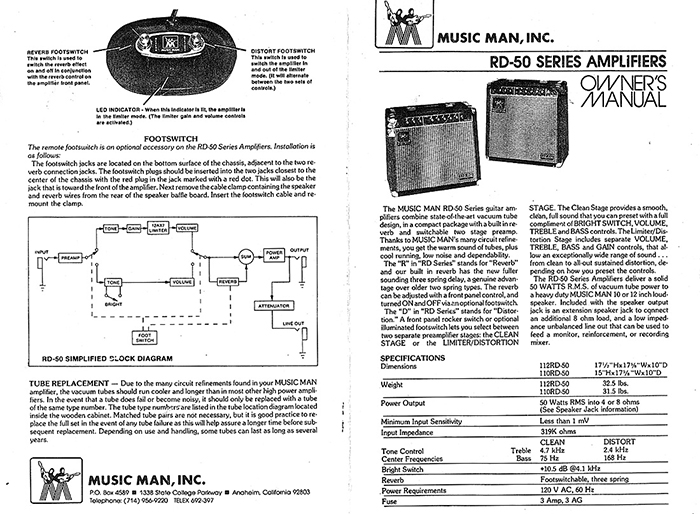 Another quality of the RD-50 that you will notice is, even when being played clean, this is a LOUD amplifier, which I attribute to its superior preamp section and post tone control. This amp was supposed to be offered in two varieties. One being the black tolex with a standard Music Man speaker (CTS mostly) in combo or piggyback design and the other "premium" model fitted with a Electro Voice speaker in a off white "pinwale" covering that resembles rubberized corduroy. Both variations had one 12″ or one 10″ speaker. When the amp first debuted it had grill cloth identical to an old blackface Fender, then the grill cloth was rotated 90 degrees so the pattern ran vertical instead of horizontally. These variations occur in 1981 and 1982, then giving way to an all-black grill cloth by March of 1982 (don't call me about this, Music Man was assembling anything they could sell). By late 1982 they were using up samples of Red pinwale on a few amps and according to Tracy Sands, a former Music Man employee, they made a handful in other colors. One RD-50 stack was definitely made in Blue. Most of the Red amps — the few that were made — were RD-100s. I have only seen one RD-50 in the past 14 years that was Red. In December of 1982 between six to ten amps left the factory with a bone colored grill cloth like the combo in the photograph.
I mentioned the cosmetic differences for "collectability" purposes, which leads to the question: Do these amps deserve a "collectable" status? YES, they are a part of the Leo Fender heritage, sound great, are built to last, and Chet Atkins uses one — who's going to argue with Chet? I did a Music Man amp article almost two years ago and I'm still getting responses to it. As I said in my first article, the pre-1979 tube inverter models (65 and 130) are great amps and the RD-50 just goes a few steps farther. The RD-50 reacts with a dramatic difference in sound according to what type of 6L6 tubes you use. If the amp is biased with "old style" 6L6s, it yields a warm vintage tone, but if you set this bad boy up with a pair of "hot" 6L6s like a Mesa-Boogie uses, it will scream and get mean. This amp can also be easily fitted with EL-34s by a qualified amp tech.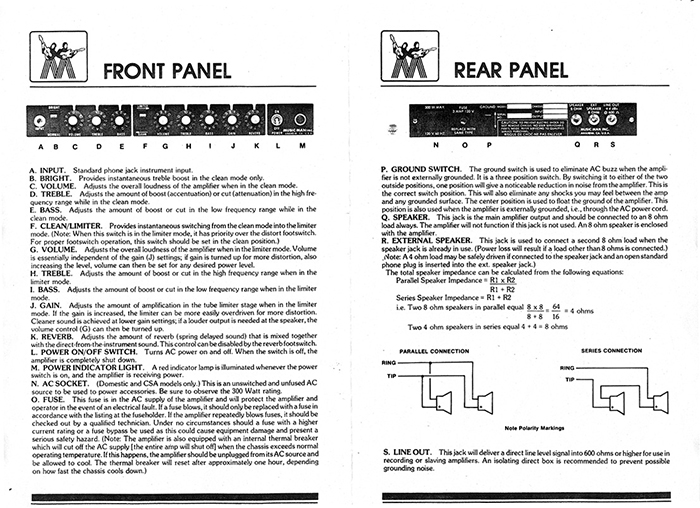 There is a white paper sticker on the upper right-hand area of the rear of the chassis that indicates the year and month of manufacture. For example, the sticker on the combo pictured here reads "82-12", indicating that this amp was built in December, 1982.
One more cosmetic variation that I hesitate to mention only because I don't have one yet, is the stained wood cabinet combo; these are very rare, but at least two do exist. One I saw at show a few years back and another one resides in a staggering collection of Leo Fender products in Germany. The owner of the collection likes to stay somewhat anonymous, but to those of us that are Music Man and G&L fanatics (besides Fendermaniacs), he has shared photos of his 1000+ piece collection, more of which will be published for the first time in a book in progress.
While the RD-50 will never take the place in our hearts away from those "good old" amps, it's certainly much more cost effective for gigging and does slam most of the other wannabees up against the wall.
You can contact Paul at 535 Hickory St., Peckville, PA 18452-2215, (717) 489-5139.
---
This article originally appeared in VG March 1996 issue. All copyrights are by the author and Vintage Guitar magazine. Unauthorized replication or use is strictly prohibited.
---
Dig into VG's vast article archive!
Be notified when the next "Overdrive" and other great offers from VG become available! Simply submit this form.