"His soul came out through that guitar!" said Paul Barrere, famed and influential guitarist for Little Feat and others, referring to blues guitarist Peter Green and the instrument that is part of music folklore.
One of the most iconic late-'50s Gibson Les Paul Standard models in music history, this 1959 example was responsible for some of the most passionate blues ever heard, as proffered in the late 1960s by Green during his tenure in Fleetwood Mac.
The Les Paul Standards made by Gibson from 1958 to 1960 were the final incarnation of the company's original solidbody electric guitar that debuted in '52, and were the first to sport a sunburst finish instead of a opaque gold top. As a result of that change, many Les Pauls of the era sported highly-figured, bookmatched maple tops whose unique individual aesthetics are one reason "'Bursts" are so prized in today's vintage market. At the time Green played it, guitars were designed and built with sonic capabilities considered over cosmestic elements, and the fact that 'Bursts were equipped with Gibson's famed Patent Applied For (P.A.F.) pickups further adds to their allure.
Most guitar experts and aficionados believe American guitarist Mike Bloomfield and England's Eric Clapton were responsible for calling attention to single-cut Les Pauls Standards in the mid 1960s. Bloomfield, who had earlier gigged with the Butterfield Blues Band, played a 'Burst at the Monterey Pop Festival with The Electric Flag, and Clapton used a similar model with John Mayall's Bluesbreakers and in the early days of Cream. Considering the evocative ferocity of their riffs, it's little wonder their guitars caught the ear of other musicians.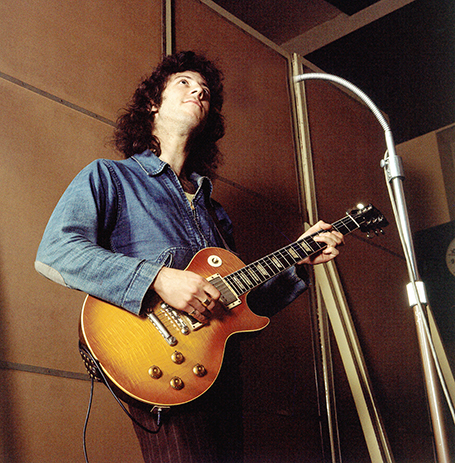 Peter Alan Greenbaum was born October 29, 1946 and grew up Jewish in post-war England. His identification with blues music was shaped in part by his experiences with anti-Semitism. He came to notice at age 20, when he replaced Eric Clapton in the Bluebreakers in 1966. By then, he was already playing a 'Burst, sans pickguard, when a photo of him appeared in an English music periodical announcing his new membership.
Green played on Mayall's A Hard Road, where his work garnered a lot of appreciation. Especially notable was the eerie sustain on the instrumental "The Supernatural."
After his short time with the Bluesbreakers, Green founded Fleetwood Mac in 1967 with drummer Mick Fleetwood. There, the potency and emotion purveyed by player and instrument flowered. And perhaps one reason for such a memorable sound was Green's reversing the neck pickup on his Les Paul, resulting in an oozing, out-of-phase tone that sounded almost human.
For all of the recorded material on which Green played this Les Paul, perhaps the purest validation of their combined capabilities can be found on the simplest material. Blues Jam in Chicago featured Fleetwood Mac playing with Windy City blues greats, and was recorded in a marathon session on January 4, 1969. This rollicking, uncluttered bluesfest features Green's Les Paul at its passionate best, especially on tracks like "Homework."
A proud warhorse with a sound that has for decades fascinated guitar lovers and blues fans with its evocative, inimitable tone.
Obviously, concert material would also be a soughtafter source for guitar lovers and blues fans, and some recorded in early 1970 at the Boston Tea Party is another tone orgy. Green's deft and heartfelt touch on songs like "Black Magic Woman" and "Jumpin' At Shadows" is enthralling. And there are times on "Rattlesnake Snake" when it sounds like Green's guitar is screaming (both Boston Tea Party versions of "Rattlesnake Shake" clock in at about 25 minutes and interpolate riffs from "Underway" and the "Madge" jams).
Green's authenticity even earned accolades from black American bluesmen, who were grateful to see British players re-importing such original American music back to the United States. Following his departure from Fleetwood Mac, Green sold this instrument to Irish guitarist Gary Moore, who used it extensively during his tenure with Thin Lizzy and his prolific solo career.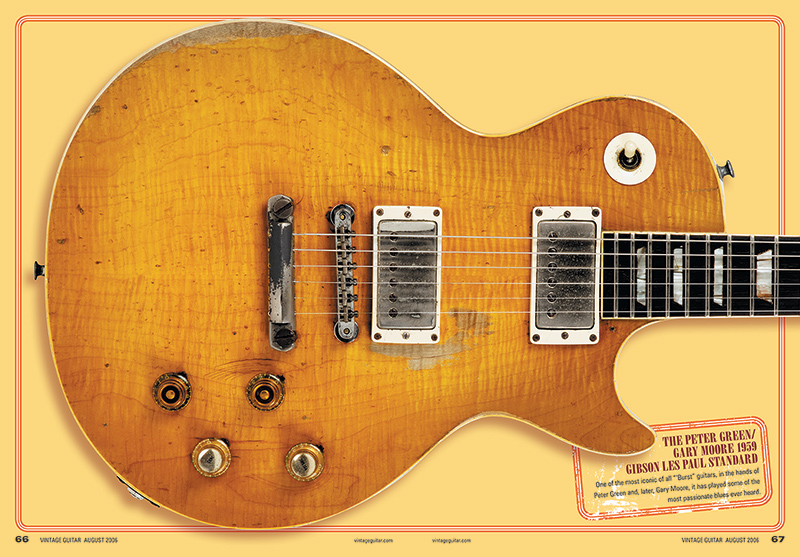 One of Moore's most meaningful uses of the guitar was during the recording of 1995's Blues for Greeny, a tribute to Green.
"Peter was there, sitting offstage," Moore recalled in Vintage Guitar's May '03 issue. "It was really spooky – he's sitting there watching me play his music, on his guitar. It was a bit nerveracking."
This guitar has obviously been through a lot, and has suffered at least one trauma; there is a repaired crack from near the low E-string post to the B-string post. It's unsightly, but structurally stable. The finish has noticeably faded, and replaced items include Sperzel tuners, Dunlop strap-lock buttons, and the lower two control knobs.
The Peter Green/Gary Moore Les Paul is a proud warhorse with a sound that has for decades fascinated guitar lovers and blues fans with its evocative, inimitable tone.
---
This article originally appeared in VG August 2006 issue. All copyrights are by the author and Vintage Guitar magazine. Unauthorized replication or use is strictly prohibited.
---