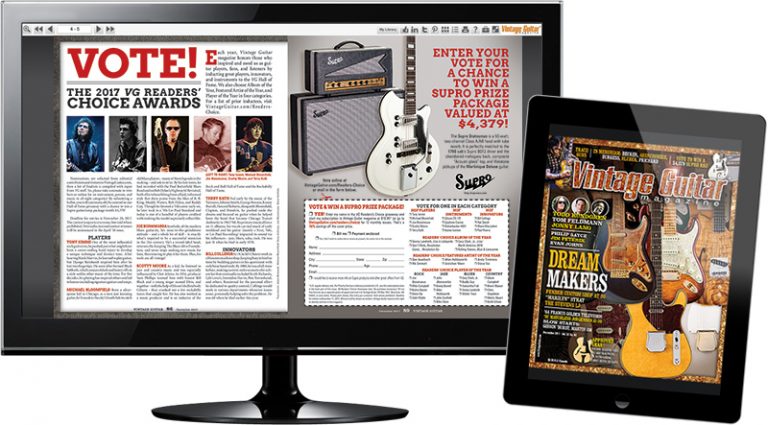 Find what's in this issue, enter the latest exclusive VG giveaways and contests, or learn the 3 ways to get your Vintage Guitar fix! Don't forget to check out VG Classifieds and the playlist for this issue of VG on Youtube.
Table of Contents
We visit the Fender Custom Shop on its 30th birthday, talking to the masterminds there at the start as well as those who continue to make dreams come true. We include the stories of the "Marilyn Monroe" Strat and the Stevens LJ. Then, we interview rock legend Todd Rundgren, who discusses his career, guitars, and why certain accolades just don't mean much. Our renowned profiles include the Matchless JJ-30 and the Framus Golden Television. George Gruhn discusses the changing landscape of guitar research, Wolf Marshall breaks down the licks of Billy Butler, and Peter Kohman reminds us that certain classic instruments, like the '50s Les Paul Standard and Martin OM, were market failures when new. We also interview Jim Peterik, Jonny Lang, Tom Feldmann, Jonny Lang, Philip Sayce, and curator Darcy Kuronen from the Museum of Fine Arts on its 100th birthday, then remember Walter Becker, John Abercrombie, Sonny Burgess, and Charlie Prichard. All this, along with our top-notch "VG Approved Gear" reviews, peerless "Hit List" music reviews, and much more are in the December issue, available now!
FEATURES
32 Ain't Nothin' But A…
The Framus Golden Television 5/119
With an eye on Fender, in 1963, Framus debuted its solidbody line including the Television. Striving to stay ahead in the rush of the "guitar boom," the following year's 5/119 Golden Television upped the ante. | By Michael Wright
36 Stage Staunch
The Matchless JJ-30
Rare and sought-after in part because only about 40 were built, this is the only Signature Series amp ever made by the company while it was guided by co-founder/designer Mark Sampson. | By Dave Hunter
42 Vintage-Instrument Research
An Ever-Changing Landscape
Instruments can be examined much the same way scientists approach animal taxonomy or a forensic pathologist would investigate a murder. Conclusions are constantly changing, adapting, and hopefully always getting closer to the truth. | By George Gruhn and Staff
92 Todd Rundgren
Rock's True Renaissance Man
From forming the Nazz in 1967 to stints with Utopia and a successful solo career, his accomplishments as a multi-instrumentalist, singer, composer, engineer, and record producer are rarely equaled by even his most-distinguished contemporaries. | By Elliot Stephen Cohen
98 Dream Makers
The Fender Custom Shop Marks 30 Years
Though founded in 1987, its story actually begins the day CBS announced the sale of Fender; new leadership wanted the company to regain its reputation of innovation, quality, and value. We speak with key players in the resurgence, plus profile two instruments that embody the spirt, soul, and purpose of the Custom Shop. | By Vaughn Skow
first fret
14 Reader Mail
18 News and Notes
Woodstock Showcase charity raffle; Artists rally for hurricane benefit; In Memoriam
18 Jim Peterik
Collection Reflection
22 Ask Zac
22 Jonny Lang
Signs of the Blues
24 Tom Feldmann
Delta Blues DeLuxe
26 Sonny Burgess
1929-2017
27 Philip Sayce
Scorched-Earth Tones
28 Playable Exhibits
100 Years of Boston's MFA
30 John Abercrombie
1944-2017
31 Tracii Guns
Peaces Old and New
departments
48 Vintage Guitar Price Guide
86 The VG Readers' Choice Giveaway
Vote for a chance to win a Supro guitar and amp worth $4,379!
108 Upcoming Events
122 Vintage Guitar Classified Ads
135 Builder Showcase
139 Dealer Showcase
144 Readers Gallery
columns
52 The (Way) Back Beat
The Fickle Finger of Fate | By Peter S. Kohman
62 Fretprints
Billy Butler | By Wolf Marshall
72 Acousticville
Friend or Foe: Guitar Shows vs. Guitar Shops | By Steven Stone
76 Dan's Guitar Rx
It Takes Two: Easy-To-Convert Nuts | By Dan Erlewine
82 Shop of Hard Knocks
Misfit Refrain: Five Easy DIY Tools | By Will Kelly
reviews

114 The VG Hit List
Steve Vai, Neil Young, Elvis Presley: A Boy From Tupelo, Tom Feldmann, Jethro Tull, Sky Music: A Tribute to Terje Rypdal, Kenny Wayne Shepherd, Riverdogs, more!
115 Check This Action
Evan Johns: Force of Nature | By Dan Forte
126 VG Approved Gear
Marchione 16″ Archtop, Magnatone Varsity Reverb, Fender Brad Paisley Road Worn Tele, Boss Katana 100, Daddy Mojo Ozark, Positive Grid Bias, EHX Synth9, GluBoost, Gretsch G2420T Streamliner, Carl Martin Roadie Bandmate 15
127 Gearin' Up!
The latest cool new stuff!
FROM READERS
› Reader Mail
Send letters to vguitar@vintageguitar.com or mail to: Vintage Guitar, Inc. Attn: Reader Mail, PO Box 7301, Bismarck ND 58507.
› Readers Gallery
Check out the current issue Readers Gallery or VG's Online Readers Gallery
Send your photos to: vguitar@VintageGuitar.com or mail to: Vintage Guitar, Inc. Attn: Readers Gallery, P.O. Box 7301, Bismarck, ND 58507.
Readers submit photos with the understanding that they may be used in any VG, Inc. project. Due to the volume of photos we receive, we are unable to return them, please do not send us your only print.
GIVEAWAYS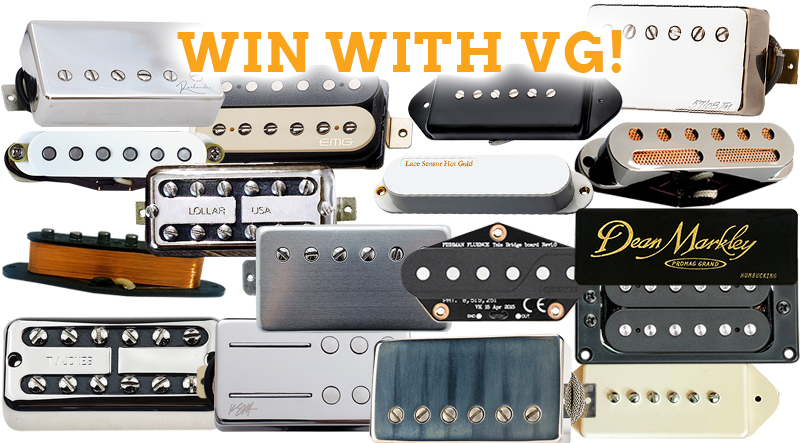 3 WAYS TO GET YOUR VG FIX!
1. Print › › Receive the print edition by subscribing now. Order the current issue and back issues in the VG Shop.
2. App › › Download the FREE "Vintage Guitar magazine" app at the Apple app Store or Google play. Subscribe to Vintage Guitar through the app or Digital Subscription Service for access to a downloadable version of VG.
3. Browser › › Read for FREE in a web browser (Chrome, Firefox, Safari, etc.). The browser edition works on most computers or hand-held devices.