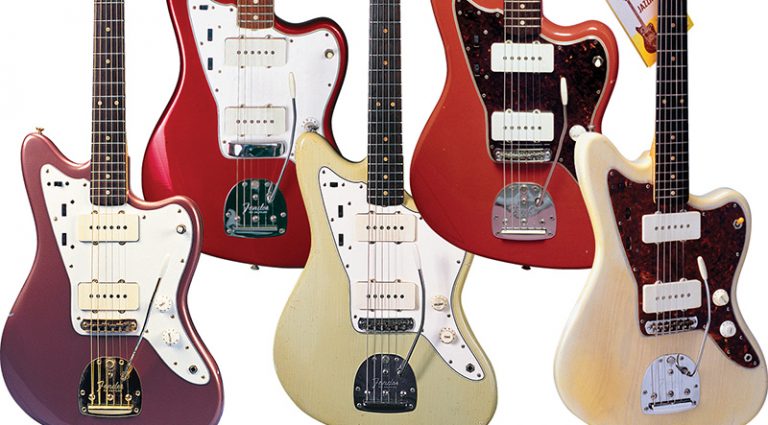 While volumes have been written about its more-famous sibling, the Stratocaster, surprisingly little attention is paid to the Jazzmaster – Fender's top-of-the-line guitar when it was introduced in 1958. Then, again, maybe it's not so surprising…
Out of the gate, the Jazzmaster was ill-conceived by Leo Fender and his design crew. As evidenced by its name, in '57, Fender designed the guitar to appeal to jazz guitarists – regarded as the elite players at the time. Since jazz (as well as orchestra and studio) guitarists played sitting down, its body carves were offset to accommodate a seated position. Fender also widened the coil on its pickups to mellow their frequency response compared to the brighter, better-defined sounds of Strat and Tele pickups. While a few pre-production models had typical Fender maple fingerboards, production models (like most jazz guitars) got rosewood.
Fender even coupled a new floating vibrato with a separate bridge to be more like an archtop with a bridge and trapeze tail that decreased sustain. How many jazz guitarists used a vibrato? Yes, there was the "Trem-lock," which allowed the guitar to function in a vibrato-free mode, but it, too, was ill-conceived. Designed for use with the heavy-gauge strings popular in the '50s, it was best manipulated using a light touch. Also, lighter strings tended to pop out of their bridge saddles, which led to some players swapping the bridge for (of all things) a Gibson Tune-O-Matic (even if it didn't match the Fender's fretboard radius).
When Fender showed the Jazzmaster to players it hoped would raise its profile, reaction wasn't particularly favorable. Some of the biggest names in jazz, including Wes Montgomery, Tal Farlow, and Jim Hall, showed little interest (Joe Pass was the exception).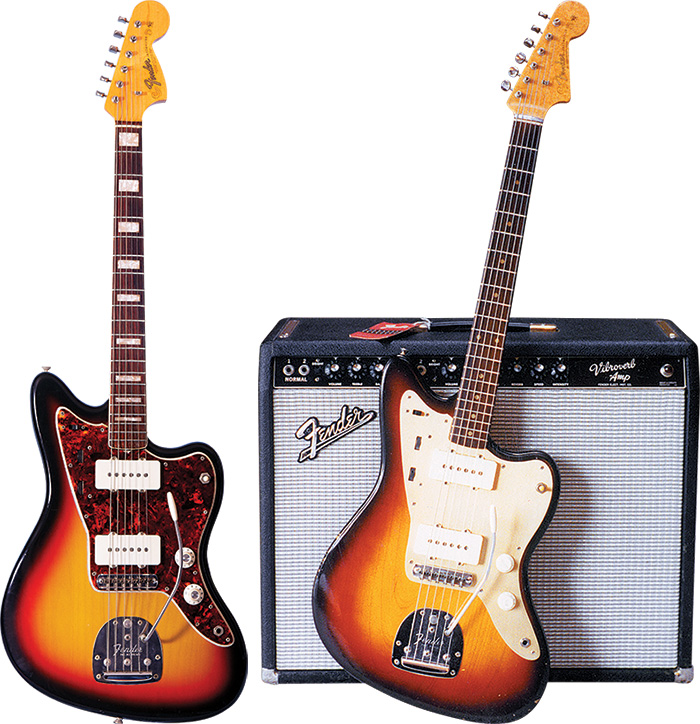 To be fair, from a 1957/'58 perspective, it was not at all clear the path popular music would take in the immediate future, much less the long term. While it's true Elvis had two hits in Billboard's 1957 Top 10 (#1 "All Shook Up" and #9 "Too Much"), crooners still ruled the charts – Pat Boone, Tab Hunter, Perry Como, Jimmy Dorsey. Two Everly Brothers songs and Elvis' "Jailhouse Rock" cracked the Top 20, but this was the year of "Tammy" and "Love Letters in the Sand." No one could have known that '59 would bring instrumental rock-guitar hits by Santo and Johnny and the Virtues ("Guitar Boogie Shuffle"). In 1960, The Ventures hit the charts with "Walk, Don't Run." Pop was being redefined, and fast, while jazz guitar was increasingly marginalized.
Ironically, Bob Bogle recorded the lead on "Walk, Don't Run" – a tune written by jazz guitarist Johnny Smith – playing a Jazzmaster, though the band would soon switch to Strats and Mosrites.
Of course, while we now consider Fender's Stratocaster an icon, there's further irony in the fact that when guitars began to be imported from Europe and Japan, builders like Framus, EKO, Teisco produced models that emulated the Jazzmaster and Jaguar (Fender's new top-of-the-line guitar when introduced in '62), not the Strat.
If the Jazzmaster's respect in its heyday came mostly from foreign manufacturers who paid more attention to catalogs than players, the '66 example seen here gets a double whammy because it's a CBS Fender! Though slightly lessened now, in the early days of guitar collecting, great distinction was made between CBS and "pre-CBS" Fenders; in '65, Leo Fender, suffering from health issues, sold the company to the entertainment conglomerate at the height of the "guitar boom," a time when makers could sell practically anything. Corporations wanted a piece of the action, and they absorbed nearly every significant American guitar maker.
Made for "Cats," Loved by Kids!
In the late 1950s, Gibson held firm grasp on the jazz-guitar market. Its hollow and semi-hollowbody electrics – with their set necks, dressy binding, and fancy headstocks – were serious instruments for serious players. Combined with the new humbucking pickup, the company was giving most jazz players what they were looking for in terms of feel, tone, and playability. Leo Fender's Stratocaster and Telecaster, meanwhile, were meat-and-potatoes instruments suited for staid country pickers or those playing simple rock and roll.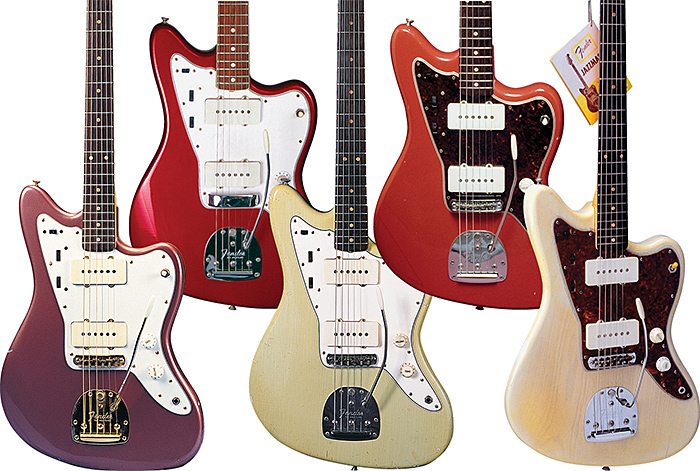 Seeing what Gibson had going on, Fender had to do something. If country and rock players were enamored with his Tele and Strat, surely he could build something jazz players could love. In 1957, he began tinkering on a design, creating a body with different curves, a bit more size, and slightly offset countours that gave it balance when played while seated. He also incorporated the beveled back and arm contours that helped make the Strat so popular.

Perhaps in an attempt to emulate the tones of Gibson's humbuckers, Leo equipped the Jazzmaster with pickups that had wider, flatter coils. With an aesthetic borrowed from his early steel-guitar designs, in terms of size they did bear resemblance to Gibson's, set apart by white covers and centered polepieces. Its switching system employed separate circuits developed by Forrest White and engaged via a slider switch above the neck pickup; the second setting let the player roll off treble and volume (like a jazzer comping behind a bandmate's solo) without touching either knob.
Though famous jazz players of the era politely declined to play the Jazzmaster, it did catch on with younger players, particularly in Southern California's then-emerging garage-band scene, perhaps because they heard it on records by The Ventures and The Beach Boys. – Ward Meeker
In '66, the Jazzmaster was given new features including binding on the fingerboard and pearloid-block inlays rather than the old-school dots. There was also the oversized "CBS" headstock.
In '65, Fender renovated its painting facilities, and one result was that sunburst finishes changed from a gradual brown-red-yellow transition to harder edges, an effect Jazzmaster fans call the "target" sunburst. And, while our featured guitar appears to be a solid chunk of alder, it was, in fact, made of five or six plies of wood, filled in with sealer, painted with a neutral white undercoat, then given a woodgrain treatment before receiving the sunburst.
Electronics on the Jazzmaster, developed by Forrest White (an industrial designer who served as Fender's GM from May of '53 to December '67), are typical of many '60s guitars. The assumption was that a guitarist would play in lead and rhythm modes. The two white knobs (Volume and Tone) controlled the lead circuit with a three-way select. The sliding switch above the strings put the guitar into Rhythm mode, controlled by the Volume and Tone thumbwheels which ran through a capacitor that further mellowed the tone (White's prototype was profiled in the October '14 issue of VG).
Jazzmasters came with a variety of funky accessories, including the Parker Body Guard – a plastic shell that protected the back and edges – and also apparently damaged the finish as it deteriorated over the years.
The Jazzmaster was made until 1980, then revived as a Japanese model in '86, followed by U.S.-made models in '99. While certainly not "rare," the relatively low popularity and original high price make the Jazzmaster one of the less-common vintage Fenders. Custom colors are the most prized, though knowing the sunbursts are faux wood makes them very interesting. Ill-conceived, perhaps, but still venerable.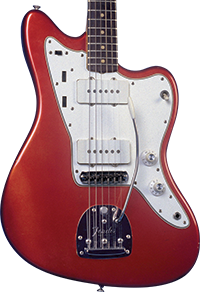 The Jazzmaster as Collectible
When it debuted in 1958, the Jazzmaster was the company's top model. Offered with the same color options and hardware-finish upgrades as the Strat, it nonetheless has always played second fiddle.
Still, the guitar is certifiably collectible and has become more popular lately thanks to alt-rock players emulating their '70s idols, who did the contrarian thing in employing a Jazzmaster. Examples include Elvis Costello on My Aim is True and Tom Verlaine on Television's Marquee Moon (both from 1977). In the '80s, the similarly influential Thurston Moore played one on Sonic Youth's landmark Daydream Nation, while J Mascis carved a trail on one in Dinosaur Jr. In the '90s it emerged again in the hands of Nels Cline (Wilco), Troy Van Leeuwen (Queens of the Stone Age), and Greg Camp (Smashmouth).
From a collector's perspective, the Jazzmaster sits a bit above entry-level/newbie status but (very) comfortably below the cash-to-burn level of a '50s Strat/Tele. Here, from The Official Vintage Guitar Price Guide 2016, are values for Jazzmasters in excellent condition (all original parts and finish, no playing wear, minimal weather checking).
(Ed. Note: The Vintage Guitar Price Guide offers the following definitions in regard to the collectibility of custom colors. Common: Black, Blond, Candy Apple Red, Olympic White, Lake Placid Blue, Dakota Red, Daphne Blue, Fiesta Red. Rare: Shoreline Gold, Inca Silver, Burgundy Mist, Sherwood Green, Sonic Blue, Foam Green. Very Rare: Surf Green, Shell Pink.)
| Year | Features | Exc. Cond. Low | Exc. Cond. High |
| --- | --- | --- | --- |
| 1958 | Sunburst | $8,000 | $10,000 |
| 1958 | Sunburst, rare maple 'board | $7,000 | $8,700 |
| 1959 | Custom colors, includes rare | $8,700 | $13,000 |
| 1959 | Sunburst | $7,800 | $9,800 |
| 1960 | Common colors | $7,800 | $9,800 |
| 1960 | Rare colors | $9,800 | $15,000 |
| 1960 | Sunburst | $5,800 | $7,200 |
| 1961 | Common colors | $7,300 | $8,800 |
| 1961 | Rare colors | $8,800 | $13,700 |
| 1961 | Sunburst | $5,000 | $6,300 |
| 1962 | Common colors | $7,300 | $8,800 |
| 1962 | Rare colors | $8,800 | $13,700 |
| 1962 | Sunburst | $4,000 | $5,000 |
| 1963 | Common colors | $5,000 | $7,000 |
| 1963 | Rare colors | $7,000 | $12,000 |
| 1963 | Sunburst | $4,000 | $5,000 |
| 1964 | Common colors | $4,800 | $6,900 |
| 1964 | Rare colors | $6,900 | $11,000 |
| 1964 | Sunburst | $4,000 | $5,000 |
| 1965 | Common colors | $4,400 | $6,700 |
| 1965 | Early '65, Sunburst | $3,900 | $4,800 |
| 1965 | Late '65, Sunburst | $3,700 | $4,600 |
| 1965 | Rare colors | $6,700 | $9,900 |
| 1965 | Rare colors | $6,700 | $9,900 |
| 1966 | Common colors | $4,000 | $6,500 |
| 1966 | Rare colors | $6,500 | $9,000 |
| 1966 | Sunburst, block markers | $3,600 | $4,500 |
| 1966 | Sunburst, dot markers | $3,700 | $4,600 |
| 1967-1969 | Common colors | $3,700 | $5,000 |
| 1967-1969 | Rare colors | $5,000 | $7,000 |
| 1967-1969 | Sunburst | $3,600 | $4,500 |
| 1970 | Common colors | $3,700 | $4,800 |
| 1970 | Rare colors | $5,000 | $6,900 |
| 1970-1980 | Sunburst | $2,600 | $3,300 |
| 1971-1974 | Custom colors | $3,000 | $4,000 |
| 1975-1980 | Custom colors | $2,700 | $3,400 |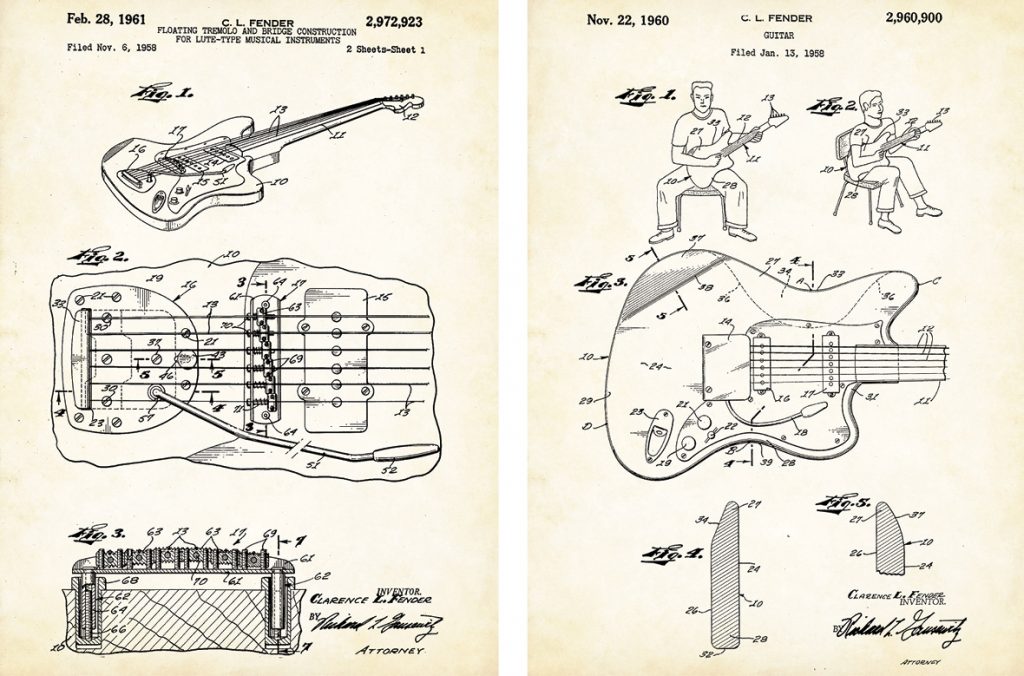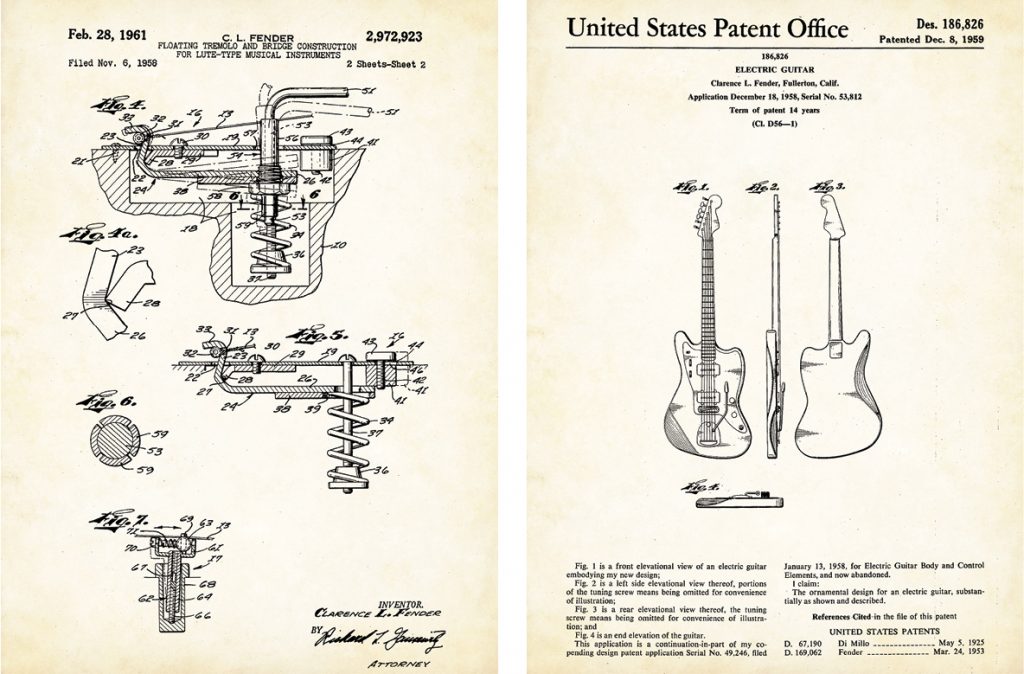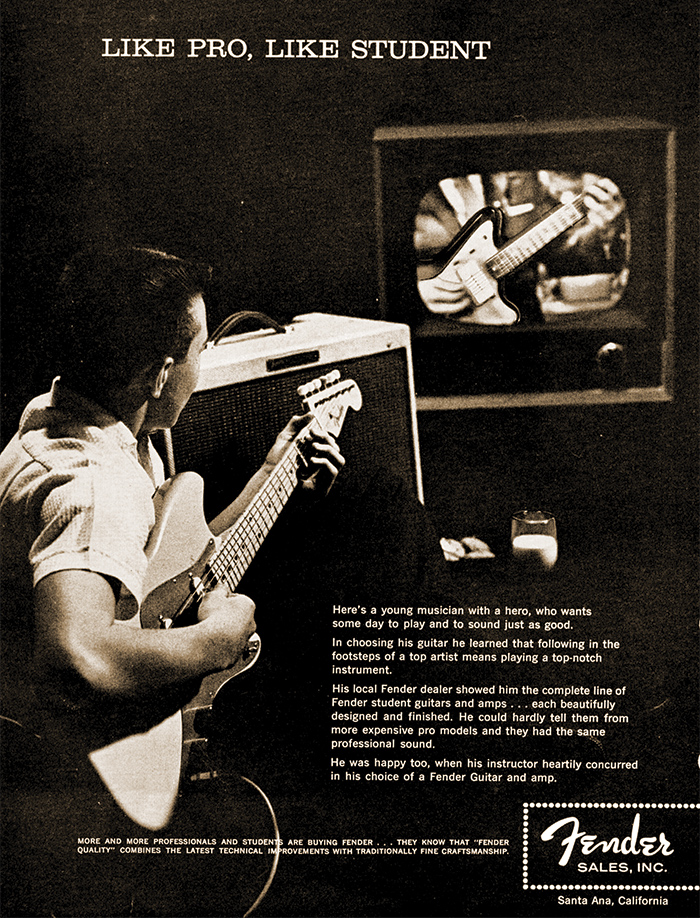 ---
This article originally appeared in VG July 2016 issue. All copyrights are by the author and Vintage Guitar magazine. Unauthorized replication or use is strictly prohibited.
---