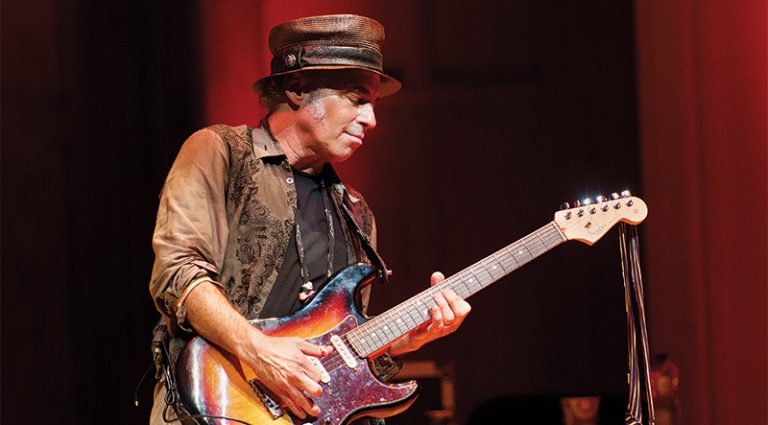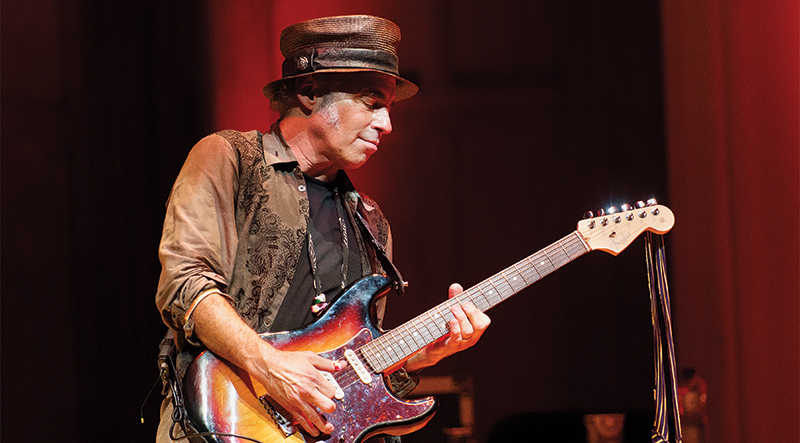 Nils Lofgren's resumé stretches 47 years and counting. He joined Neil Young's band at age 19 and was a member of Crazy Horse before his own band, Grin, landed a record deal in 1971. After Grin, he forged a solo career and in '84 joined Bruce Springsteen and the E Street Band. His tenure with the group hasn't slowed him from recording and touring as a solo artist.
After the release of the 10-disc Face the Music box set, Lofgren toured with multi-instrumentalist Greg Varlotta. The shows were essentially acoustic, and halfway through the three-week run, Lofgren's wife, Amy, remarked about how good the set was in terms of sound and performance. They decided to record the final show. The resultant live CD was called Face the Music Tour.
"Most of the record is my Takamine cutaway with capos, once in a while a different tuning. I also had my '61 reissue Strat with Bill Lawrence pickups. We ran my guitar through a little compression and some very light chorus. I'll occasionally kick in a light overdrive and a mini POG which to me, is another voice and lead sound. It was nice to have a few different sounds."
Lofgren's amps are critical to him at smaller gigs.
"I'm using a Fender Blues Junior and a Barber Burn Unit for acoustic things where I'll play lead but don't want it to be just fuzz. I don't like losing the metal of the strings inside the fuzz, so I keep it to a minimum.
"I also have a great old Marshall head and bottom. I'll try different amps, but in general I use a Hot Rod Deville with a 4×10 in the guitar closet, and record with the head at the console. That way, I can separate the sound and hear what's going to tape."
Touring with the E Street Band, he uses Fuchs amps with two 2×12 Buzzy Feiten cabinets. "I used Fender Hot Rod Devilles for a long time, but with all the stuff I'm running, the 10s blew up on the low-end; they couldn't handle clarity. I needed 12s, and the Fuchs with the Buzzy Feiten cabs have the clarity and low-end with that saturation I remember from old 4×10 blackface Reverbs."
Because Springsteen changes the set every night, Lofgren takes 52 guitars on the road.
"I've got to have three of everything for different tunings and such," he said. "There's usually about 30 out and ready, including 12-string acoustics, baritones, a couple Gretsch Country Gents and Black Penguins. With Bruce, it's such improv, and you want to be ready for anything. Plus, with Steve (Van Zant) back in the band, it was time to learn pedal steel, lap steel, Dobro, bottleneck, and six-string banjo. Mike Aldrich put lessons on a tape that I'd drag around the country and set up at 3 a.m., after a show; 20 minutes here and there added up to where I'm decent on all these other sounds. So, instead of simulating a pedal steel, I'll play a pedal steel."
One of his key roles is rounding out the sound of the triple-guitar lineup.
"I see the guitars Steve and Bruce have on and I'll pick the third sound. Recently, I took a Jazzmaster and put the heaviest strings I could find on it. It has a warmer, richer, fat sound to kind of marry Steve's Strat and Bruce's Tele – very organic. It's all about keeping it simple and emotional."
---
This article originally appeared in VGJuly 2016 issue. All copyrights are by the author and Vintage Guitar magazine. Unauthorized replication or use is strictly prohibited.
---