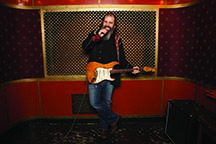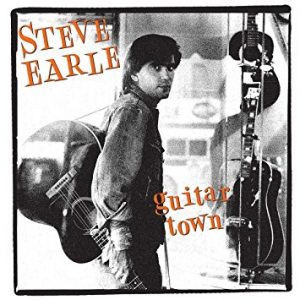 When Epic Records dropped Steve Earle in '85 after a series of fiery but commercially unsuccessful recordings, Nashville was in panic mode. The frothy, easy listening mainstream country of Kenny Rogers and others had finally bored fans to the point they quit buying and listening. The industry desperately needed new blood. Within a year they had it as Earle, along with Vince Gill, Dwight Yoakam, and Randy Travis became the vanguard of a fresh, austere sound known today as New Traditionalism.
Guitar Town, released in March 1986, stood alongside Travis's Storms of Life and Yoakam's Guitars Cadillacs Etc. Etc. as oracles of the transition and earned Earle two Grammy nominations. Its 10 songs showcased Earle as a master storyteller, delivering original tunes brimming with grit and sensitivity in a twangy, authoritative voice. Album co-producers Tony Brown and Emory Gordy, Jr. (formerly Emmylou Harris' bassist) brilliantly framed Earle's music, relying on a small, tight band, Gordy handling bass and mandolin.
One sideman, however, truly defined the album's austere, rockabilly-inspired edge: former Neil Diamond guitarist Richard Bennett, whose hard-punching lead and rhythm work propelled, embellished, and drove every number. His acoustic rhythms enhanced "My Old Friend The Blues" (with Bucky Baxter on pedal steel) and "Little Rock N' Roller."
It was on the rockers where Bennett's twangy, tremolo-drenched leads – replete with the spirit of Duane Eddy – proved the perfect foil for Earle's vocals. That was apparent on the title song, the pulsing "Hillbilly Highway," "Good Ol' Boy (Gettin' Tough)," "Someday," and "Fearless Heart" (with Paul Frankin on steel). Like any great accompanist, Bennett never played one unnecessary note, even when he channeled Scotty Moore on the Sun Records shout-out "Think It Over."
Supplementing this commemorative reissue is a 19-song August 15, 1986 Chicago concert from five months after Guitar Town's release. Earle's six-piece band the Dukes included guitarist Michael McAdam and two sidemen from the album: drummer Harry Stinson and Bucky Baxter on pedal steel. Despite Bennett's absence, the backing retains the album's spirit as he delivered Guitar Town and nine additional numbers, one of them a smoldering take on Bruce Springsteen's "State Trooper."
Earle also offered his own "The Devil's Right Hand," only recently covered by Waylon Jennings. Seven more originals – including "Nowhere Road," the Buddy Holly-like "I Love You Too Much," "The Week Of Living Dangerously," and the hard-charging "Sweet Little '66" – would appear on his 1987 followup album Exit 0.
Earle would travel many different roads over the next three decades, but for him, the music celebrated here was truly the beginning.
This article originally appeared in VG's May '17 issue. All copyrights are by the author and Vintage Guitar magazine. Unauthorized replication or use is strictly prohibited.