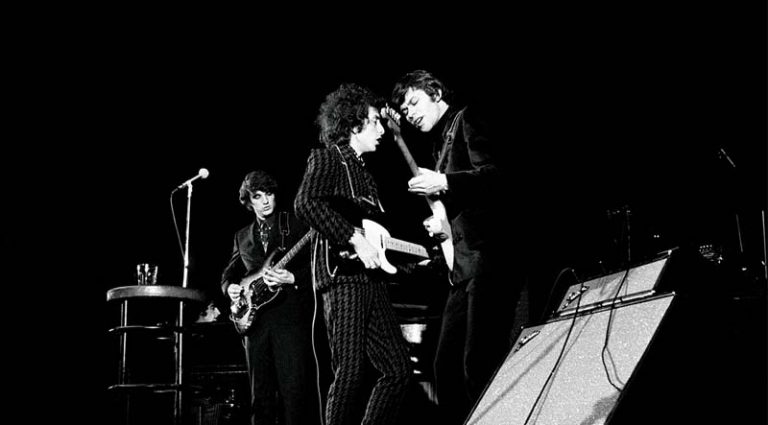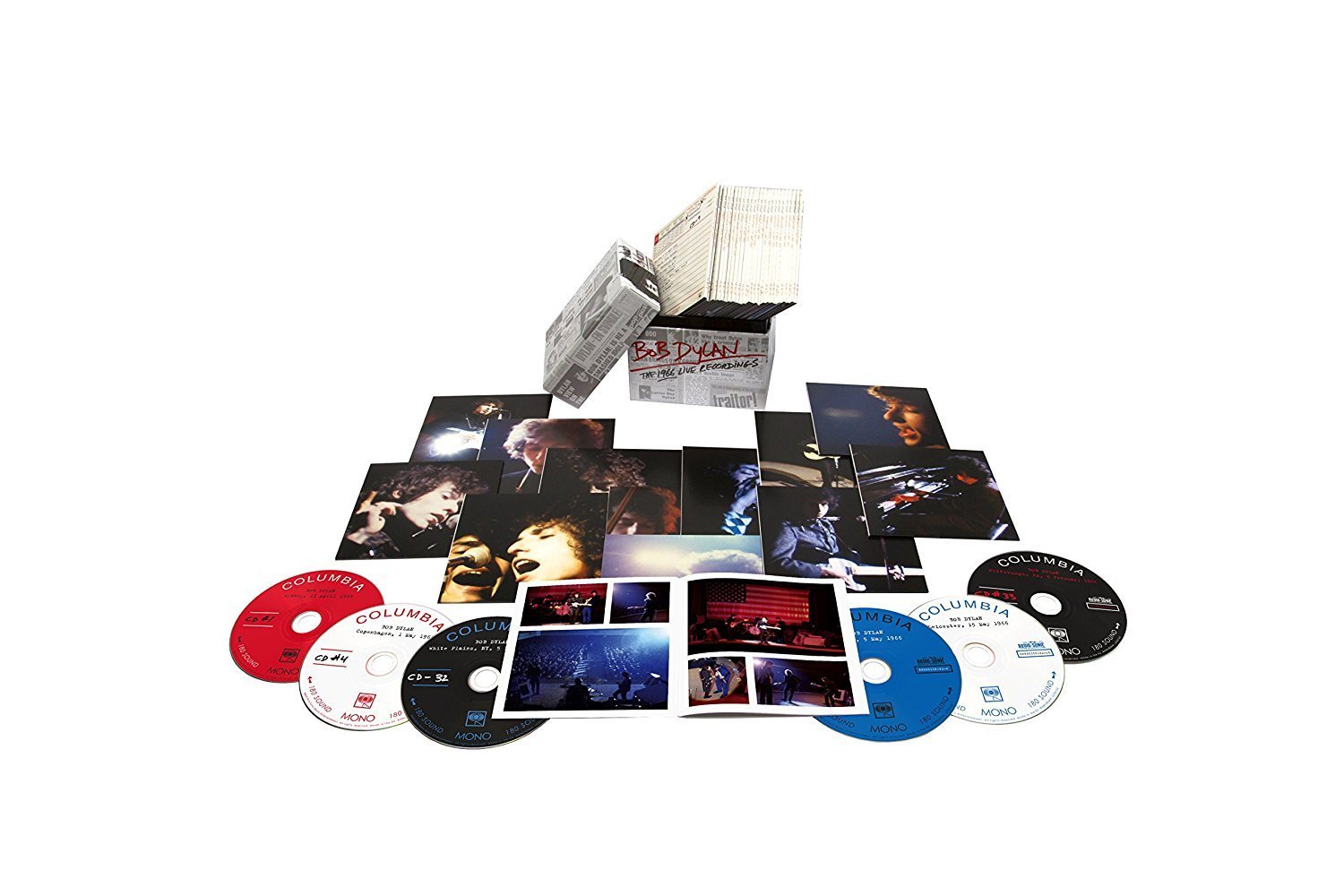 Breaking out of the box and kicking down barriers seems the first item on the daily to-do list for many Nobel laureates, but it's probably fair to say only Bob Dylan was booed and jeered at as a "Judas" for plugging in an electric guitar.
You can hear that infamous moment here during the Manchester Free Trade Hall show from May 17, 1966 in this 36-CD boxed set chronicling all known recordings of Dylan's tumultuous and masterful '66 world tour. And in the annals of heckling, it was pretty inspired – as was Dylan and band's response of turning the Loud knob northward and launching into a mighty, magisterial "Like A Rolling Stone."
That concert – often erroneously labeled for decades now as the Royal Albert Hall show – has of course made the rounds before as unofficial and official bootlegs, including Dylan's own Live 1966 "The Royal Albert Hall Concert": The Bootleg Series Vol. 4.
What this incredible boxed set reveals are not only Dylan's ever-evolving songs – which are still works in progress today – but also the ongoing tension between Dylan and his audiences throughout that tour. The Manchester show was not the most turbulent, as this collection proves: that dubious honor may go to the Glasgow show and the chorus of cries of "Traitor!" But as the fans reacted, Dylan reacted as well, resulting in intense, even venomous, versions of some of his most bitter, powerful music ever.
He was backed by the proto Band (minus drummer Levon Helm), which was as yet unnamed as such and was still usually called the Hawks, a leftover moniker from their days with Ronnie Hawkins. And naturally the "Band" was phenomenal, following Dylan's moods and musical cues, proving they were worthy of their über-band signature. Robbie Robertson's guitar work in particular was the perfect foil for Dylan's many moods.
The electric guitars and sheer volume weren't the only reasons for the crowd's reactions, though. Dylan had shrugged off his protest-anthem mantle of the "Blowin' In The Wind" days; his new songs, whether acoustic or electric, were both more personal and more oblique in their poetry and meaning. The fans should have known the times were a-changin', but they, like Mr. Jones, had yet to quite understand what was happening here.
Of course, this incredible boxed set captures history in the making, to trot out that tired and obvious cliché. And of course, it may be overkill, but to the deepest Dylan fans, it's pure treasure.
For others, Dylan is releasing a two-LP version of the May 26 show entitled The Real Royal Albert Hall 1966 Concert. Taking place just two days after Dylan's 25th birthday, the show is splendid, although not as acrid or acidic as the mistaken, Manchester show on the part of either the audience of the artists. And the sonic quality is phenomenal: the concert was originally recorded for a planned live album by CBS Records.
This article originally appeared in VG's March '17 issue. All copyrights are by the author and Vintage Guitar magazine. Unauthorized replication or use is strictly prohibited.