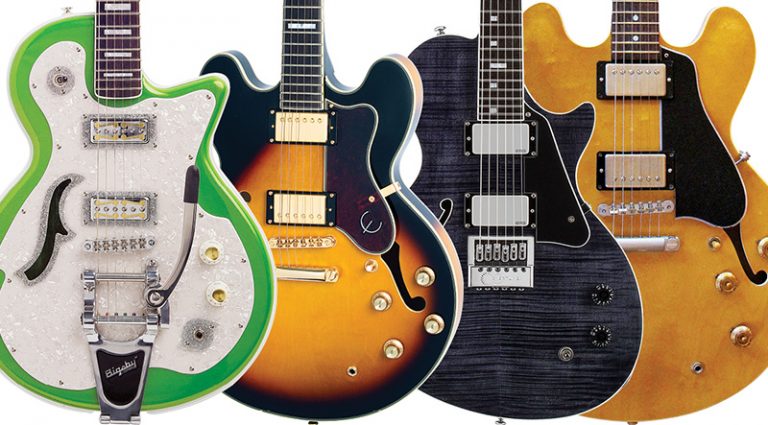 To complement our February 2016 issue survey of the semi-hollow electric guitar, we tested 12 examples of the form as it exists today. Plus, check out 2 featured articles in the issue "

Thinkin' Thin — Heroes of the Semi-Hollow

" and "

47 Semi-Hollow Guitars

" on pages 86-94 (may need to tap the PREVIEW button) of the digital edition.

1) DiPinto Belvedere Deluxe
Meet the Vegas-era Elvis of semi-hollowbodies. Designed by Philadelphia's Chris DiPinto and built in Korea, the bedazzled Belvedere Deluxe might be all glint and glimmer under the spotlights, but you'll still want to play it when no one's looking.
You'd be forgiven for mistaking the Belvedere's body for plastic – DiPinto aimed to emulate the look and feel of '60s plastic bods (think Supro). Despite the light weight and molded feel, it's actually made of mahogany. Some great work was done in the paint booth – the colors are rich as candy and consistent, with clean edges all around. And hats off for that headstock, which looks something like a Formica countertop from 1962.
The topography of this guitar is pretty unique, too. The contoured top sits like it's been mounted on the back, with a 1/8" lip of the white back revealed and a pearloid pickguard covering almost the entire face. That glitter around the three-way switch, pickups, f-hole, and jack is also cut from pickguard material and screwed atop the pearloid.
The Belvedere's neck (22 frets, 24.75″ scale) is maple with white binding, topped by an ebony fingerboard with block inlays. With a C profile that's chunky but not clunky, the neck is (unexpectedly) wickedly fast. The single-coil pickups, with decorative cuts in their covers, contribute to a tone that's a little thin on the bottom and brash on top. Then again, this is not a guitar for subtlety. We had a great time ripping surf lines like Dick Dale (a DiPinto player), snarly riffs like Jack White (ditto), and punchy blues like Jimmy Vivino (him, too).
DiPinto offers this Belvedere in a few different iterations, including models with mini humbuckers and a Bigsby-licensed trem. There are also Belvederes without the retina-burning bling, but where's the fun in that? – Rich Maloof

2) Epiphone Sheraton II-PRO
Take it from John Lee Hooker, who once hailed Epiphone's Sheraton as an "out-did 335." The Hook should know: he used both a 335 and a Sheraton for much of his career.
The original Sheraton was built from 1959 to 1970 under Gibson's aegis, but never in large numbers. With the arrival first of the Sheraton-II and now the Sheraton-II PRO – ditching the old Frequensator tailpiece in favor of a proprietary LockTone stopbar – the model has found a new, welcoming fan base. And with good reason.
The double-horn semi-hollowbody design is classic, natch. Better, it's accented here by gold hardware, triple bindings, stylish block-and-triangle abalone and mother-of-pearl fret markers, and that headstock inlay – perhaps the most stylish ever.
Beauty's only skin deep, though, right? How does the guitar sound and play?
Buttery – that's the best description. The neck, despite having a muscular vintage 335 profile, is oh-so-smooth and easy to fret. And the 24.75″ scale (it joins the body at the 19th fret) gives you all the range you need to roam.
The comparison to churned cream also fits the guitar's sound. You can ease a mellifluous mellow tone from the ProBucker-2 at the neck and the slightly hotter ProBucker-3 at the bridge, then dig in to ratchet up the grind. Play hard, and the pickups respond willingly. As with classic-era PAFs, you can make 'em scream, howl, squawk, and everything in between. Adding to the versatility, coil-splitting for both pickups via their respective Volume knobs creates a ton of further tone possibilities. And while these 'buckers might not have the depth of PAFs, keep in mind this guitar costs a fraction of an original dot-neck 335. And the tone – and style and build quality – that you get for the price is hard to believe.
No wonder Mr. Hooker swore by his. – Michael Dregni

3) ESP LTD Ben Weinman BW-1
Ben Weinman plays serious guitar in Dillinger Escape Plan. His genre is metalcore, which mixes punishing rhythms, shifting time signatures, and ethereal cleans. Weinman needed a versatile guitar that could go from trippy jazz to nose-bleeding brutality.
Based on ESP's Xtone Series, the substantial result was the Ben Weinman BW-1 with its three-piece maple neck-through-body. The ebony fret board has a 350mm radius, a thin U-shaped neck, and a nut width of 43mm. Further specs include a 25.5″ scale, a mahogany semi-hollowbody with a flame maple top, and chrome hardware that really pops against the see-through dark finish.
The EMG 81 pickup in the bridge and the EMG 85 in the neck are controlled by Tone and Volume knobs and a toggle. The fully mechanical EverTune bridge monitors the tension of each string – each saddle has a spring lever that keeps the guitar in tune with the assistance of locking tuners.
Made in Korea, the BW-1 is weighty but balanced, and the build quality is high. Plugged into a Dr. Z Z Lux, the guitar came to life with sinewy cleans that could be easily finessed for blues or rock. With distortion added, the BW-1 relied heavily on the amp – more so than typical guitars that are dimed for metal – and it takes a bit of work to get artificial harmonics to leap off the fretboard.
The BW-1 has an identity crisis, yet magically stays in perfect tune. The EverTune bridge is a dream come true for guitarists who have a tendency to knock their strings' pitch out of whack. Built for extremes, the ESP BW-1 fairs just as well – or better – in the world of more "conservative" rock. – Oscar Jordan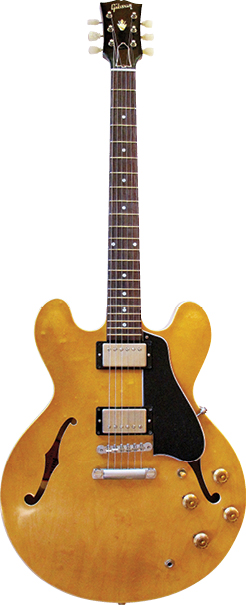 4) Gibson 1958 ES-335
Bear with us here if we gush. This is the new-for-2016 Gibson 1958 ES-335 – actually, the tester was the very first one built – and it's an all-'round, no-holds-barred stunner.
Yes, for those keeping score, Gibson already offers a 1959 ES-335. So, what gives? The difference, of course, is in the details.
Both wear those famed "Mickey Mouse" ears with pride. Both boast PAF-styled MHS pickups that are as close to the originals as it's possible to get. The main difference lies in the neck profile. And what a difference. The '58 is a classic baseball bat – solid and meaty. The '59 has that slim profile. This is not a mere "you say tomato, I-say tomahto" difference. This matters. Ask anyone who has played the real deal from both vintages, and they'll have opinions on which they prefer.
Ultimately, though, it's all about the sound, and the new '58 has both bark and bite.
Through the neck pickup, you can make it sing with glorious resonance. Switch to the bridge humbucker, dig in with your pick, and you can get a growl that's downright scary. Combine them, and the powerful tone helps explain why everyone from B. B. King to Chuck Berry to Keef to Larry Carlton has used a 335. Should you need this explained, that is.
The '58 looks as good as a real vintage one except it's not paint-checked or sweat-stained – and all the electrics work perfectly, with no silent spots in the pots or wonky solders. You could argue that it's more playable than the real deal.
So excuse us for gushing, but try out a new-for-'16 1958 ES-335 and we think you'll be gushing too. – Michael Dregni

5) Godin Premiere Supreme
There's no mistaking the craftsmanship and tasteful design of this thinline semi from Godin. It's an elegant guitar with a great build, yet not too precious to be an everyday player. The neck is a pleasure under the hands, the tone is distinctive and versatile, and the flame maple top (with Canadian wild cherry body) is easy on the eyes. Even the softly modernized f-shaped sound holes and unadorned trapeze tailpiece speak to reserved taste.
Godin describes a "breathe-through" core – a block of spruce with arches cut out to improve airflow. Center blocks are usually made of a denser wood, but this spruce leaves the body lightweight and super-resonant. The native tone is open and woody, with a lot of air in the voice – like some thinline embodiment of Kathleen Turner. Generally, it's a bright guitar, too, such that the sweet spot on the tone knob lies a little farther back than usual.
Dial the treble back a little more, flip to the neck pickup, and run it through a solidstate amp and you can pull Jim Hall lines and Joe Pass chord melodies until the waiters go home. More personality emerges when played through a tube amp on the verge of breakup. There's a punchy midrange kick to the neck and mid-position settings that can easily put you in Larry Carlton territory, and a surprising amount of attitude from the bridge should you want to go in the direction of B. B., Chuck Berry, or Alvin Lee.
The Supreme pairs a classic aesthetic with welcome modernizations, including a trim body profile, just two controls (Volume and Tone), high-ratio tuners, and Seymour Duncan pickups. That a guitar of this quality can be offered for about $2K is a reminder to shop like a guitar player instead of a collector. – Rich Maloof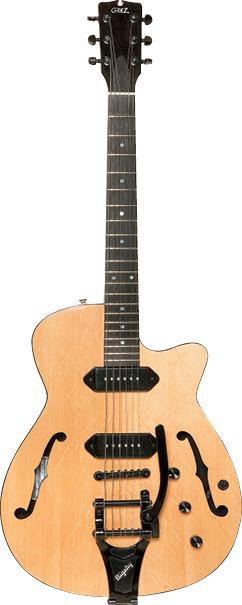 6) Grez Guitars SR-15 Historic
Designer Barry Grzebik is known for building custom guitars for persnickety guitarists, and for designs that incorporate input from those same guitar-playing pros. The Grez SR-15 Historic is no exception.
This semi-hollowbody features a bearclaw sitka spruce top and a clear nitro finish with a Honduran mahogany center block and neck, and flame maple back and sides. The 25″-scale neck has an ebony fretboard and 12″ radius. The guitar also sports a TonePros AVR2 bridge, a Bigsby B700 vibrato, Tusq nut, and Grover Mini Rotomatic tuners.
For electronics, the SR-15 Historic mounts two noiseless Kinman P-90 Hx pickups, one Volume and two Tone controls with Bourns push/pull controls, an Orange Drop tone capacitor, and a three-way toggle switch. With no interest in replicating Gibson's ES-335, Grzebik's guitar is fine-tuned to resonate at lower frequencies. The result bridges the acoustic chasm between hollowbody archtops and 335s.
The heavily strung Grez SR-15 Historic is perfect for bebop, fusion, or West Coast swing. It yields a dark, woody ambiance that oozes sophistication, warmth, and rich string definition. It's comfortable and sits close to the player's body, and the neck has the perfect combination of girth and width. And the pickup positions provide tonal variety galore. The out-of-phase sounds are activated with the pull/push pots. Featuring an additional body pickup located on the side of the center block, the SR-15 Historic delivers everything from T-Bone Walker to Grant Green.
The workmanship is clean, the Bigsby is a nice touch, and the lower cutaway provides easy access to the upper frets. The stiffer, heavier string tension will force you to slide instead of bend, morphing your hackneyed blues licks into meaningful jazz prestidigitations.
The Grez SR-15 Historic is fun to play, transformative, and an inspired creation for the discriminating guitarist. – Oscar Jordan

7) Hagstrom Viking
A semi-hollow of construction similar to an ES-335, the Hagstrom Viking, like the ES-335, is also an extremely versatile player that is right at home in the middle of a twangy country shuffle, a blues breakdown, or a crunchy sustained solo.
The Viking's center-block provides added sustain and eliminates feedback issues common to many hollowbodies while retaining the guitar's lightweight, acoustic feel. The body is maple ply and the set-neck is Canadian hard maple with a faux ebony fretboard made of a wood composite material that is homogeneous and more stable than standard wood boards.
The Viking comes in a basic "dot" version (as tested) as well as a more ornately appointed Deluxe with block fingerboard inlays and flame body veneer. Most are equipped with dual humbuckers but Hagstrom also offers a P-90 version for those looking for a bit more bite in their tone.
While the Viking undoubtedly has an "ES" pedigree, it is not a knockoff, boasting several features that make it unique. The 14″ fretboard radius (compared to Gibson's 12″ radius) gives the Hagstrom a more "acoustic" feel and basically eliminates "fret-outs" during string bends. Hagstrom also uses a unique "H-expander" truss-rod that provides tension at both ends of the fretboard for added stability, in turn allowing for a thinner-than-typical neck.
The test guitar was set up beautifully, with very low action, a super-fast C neck profile, and highly polished jumbo frets. The trapeze bridge has a cool Swedish crest inlay and the swept headstock is beautifully inlaid. The wood and much of the hardware are North American-sourced and the guitar is assembled in China – which might well be appropriate for a Swedish guitar named for a people who had designs on world conquest. – Ray Wuolo

8) Motor Ave. BelAire
Collective jaw-dropping was obvious when the MotorAve. BelAire with its cat-eye soundhole was slipped out of its case. Reviewed in a faultless custom metallic blue finish, the Super Chet-inspired body shape and cosmetic presentation were indeed awe-inspiring.
Looks aren't everything, though. The hidden details on the BelAire include carbon fiber neck reinforcement rails, a routed mahogany body with book-matched back, a quartersawn mahogany neck, glued-in mortise neck joint, and hot hide-glue assembly. Getting back to looks, though . . .
Also immediately noticeable, aside from the aforementioned soundhole, are the Grover Imperial tuners, TonePros bridge, reflector-cap knobs, and bold-white binding. The rosewood fingerboard is inlaid with pearl rectangles, not to mention beautifully prepared and fretted, and the binding is lightly rounded and polished at the edges for a sleek neck feel.
Electronics include TV Jones Filter'Trons with three-way switch, Volumes and Tone controls, and a side-mounted jack. Options include different tailpieces, finishes, and custom pickguards.
We plugged in through two 10″ speakers in a 25-watt combo amp and began playing some Travis-picked trad jazz. The slim, modern neck with a relatively flat fingerboard radius plays easily with a balanced clean sound, but the guitar begs to be turned up and overdriven. The rigid mahogany body with set neck helps create lengthy sustain and articulation, complementing the chime of the Filter'Trons. The pickup combination is rapidly revoiced by rolling off either Volume control, creating effective rhythm textures. The neck pickup is fat with good clarity, and the bridge pickup burns with a treble cut that sets the local dogs barking. Banjo rolls segueing into chromatic rockabilly licks sizzle with aggressive heat, and the Bigsby holds its own when tortured.
With elegant visuals and sonic individuality, the MotorAve. BelAire is a great alternative to laminated semi-hollowbodies. – Chip Wilson

9) PRS SE Custom 22
Once upon a time, "semi-hollowbody" exclusively meant an electric guitar with a solid center block, hollow wings, and laminated top, sides, and back. Today, the concept has blurred to include chambered electrics with thick tops and solid backs – like the PRS SE Custom 22.
The SE 22 Custom has a solid, chambered-mahogany back and a carved maple top with flame-maple veneer. Its three-piece mahogany neck features a 22-fret rosewood fingerboard and the company's popular 25″ scale. Hardware includes a PRS-designed stoptail, nickel tuners, PRS Original SE Treble and Bass humbuckers, a three-way pickup toggle, and master Volume and Tone controls.
Our tester arrived in a stunning orange-burst flametop with natural binding, a flawless finish, and refreshingly light weight. The open-coil zebra humbumbers were a nice visual complement, as were mother-of-pearl-style bird inlays and f-hole. It's a looker, for sure.
Plugged in, the PRS SE Custom 22 roared to life with excellent tones across the board. Hybrid semi-hollows boast a woodier, airier tone, but don't be fooled – with its lively, balanced pickups and solid back, this guitar can rock has hard as anything, and without feedback problems. Perhaps the chamber offers a more delicate nuance for blues, jazz, country, and all manner of lower-volume rock, but by all means, crank the gain. The SE Custom 22 can handle just about anything thrown at it.
The Korean-made SE differs from American PRS models in several ways, including a different neck carve. This profile is more of a wide D shape, versus the vintage C of the Stevensville, Maryland, guitars. That said, the neck on the Custom 22 is fast and comfortable, with low action.
At the end of the day, the PRS SE Custom 22 is a superior mid-price value – a chambered electric with killer tone, looks, and construction. – Pete Prown

10) PureSalem Gordo
Miami-based PureSalem strives to offer the boutique guitar quality and personality that many players are looking for, but without the typical boutique guitar prices.
Their Gordo model features a top-bound semi-hollow mahogany body with a mahogany center block, a bolt-on mahogany neck with a 12″ radius, bound rosewood fretboard, and faux mother-of-pearl block inlays, long with chrome Grover Rotomatic Mini tuners and a licensed Bigsby B5 vibrato with a roller tune-o-matic-style bridge.
Electronics include a custom-wound covered humbucker in the bridge position, a custom-wound covered vintage-spec single-coil Tele-style pickup in the neck position, both mated to a three-way toggle and individual Volume and Tone controls.
Stylistically, the Gordo has a cool 1970s Fender Starcaster-meets-Tele-Thinline vibe, with its large six-in-line headstock, black pickguard, and Strat-style knob array. Tonally, it's more in Kalamazoo country with its shorter Gibson 24.75″ scale and mahogany tonewood.
The Gordo has a nice slinky feel and easy playability, with a very comfortable C neck profile, low action, and smooth Bigsby vibrato. We checked out the Gordo with a Fender '59 reissue Bassman and an Ibanez TS9 overdrive pedal. The bridge pickup had a focused, slightly dark sound with nice punchy strong midrange signature, and great note separation both clean and with the overdrive dialed in. The single-coil sparkled and snapped, again with nice separation and clarity, especially on the bass strings (due in part to its slant toward the bridge). The contrast between pickups gives the Gordo a nice variety of tones, but also produces a super-jangly middle position. 
The PureSalem Gordo has a fun and funky look with a big variety of classic tones. From blues to jazz to rock to country, the Gordo covers a lot of territory. – Phil Feser

11) Schecter Corsair
Schecter Guitar Research has a solid track record of producing quality interpretations of classic designs, but always with an eye and ear toward refining – and sometimes redefining – the inspirations.
The Schecter Corsair, outfitted here with a Bigsby model B70, adds a bound ebony fingerboard, tune-o-matic-style roller bridge, and Duncan-designed humbuckers to the classic double-cut, arched maple-laminate body. The gloss black finish of the test guitar accented the multiple layers of binding on the top and back, as well as the bound f-holes and multi-bound headstock with logo, fleur-de-lis, and chrome Grover tuners.
The slim, modern-profile neck of three-piece mahogany construction, with a stylish volute and polished, inviting medium-jumbo frets, is joined to the body at the 19th fret for easy access to all 22 frets. The rest of the layout should be familiar: three-way switch on the upper bass horn and two Volume and two Tone controls. The electronic surprise is the coil-split options for both pickups, activated by the pull tone pots.
No setup issues delayed the gratification of a semi-hollowbody blowing through 50 watts. The Bigsby behaved agreeably, augmenting a little tone-bending chordal work. The HB101 pickups were well-balanced when voiced as humbuckers, and although the single-coil output was significantly lower than the beefy humbuckers, the ability to drop immediately into a skanky, cutting rhythm tone from solo volume was a plus. With a little pedal gain, the single-coil voices had plenty of character for double-stops, string bends, and Bigsby tweaks.
But if you want the full-out laminated-semi-hollowbody-in-overdrive sound, pop on one of those humbuckers, maybe roll off the tone control just a bit, and let the sleek Corsair neck guide you where you need to go. – Chip Wilson

12) Xaviere XV-900 Hollowbody
Xaviere's XV-900 is a take on the popular "Mickey Mouse ear" hollowbody design, though it's a bit thicker at a full 2″.
The XV-900 is equipped with two GFS Alnico Fat Pat Nickel Shell pickups, ABS-style bridge, and stop tailpiece, die-cast 14:1 ratio tuners, and 22 medium jumbo nickel silver frets. Our test model had a flame-maple top dressed in a natural finish, with a 24.75″-scale maple neck, bound 12″ radius rosewood fingerboard, pearloid snowflake position markers, nickel-plated hardware, and a double-bound laminated maple top with a black three-ply pickguard.
The XV900 arrived perfectly set up, with the intonation spot-on all the way up the neck. The guitar is acoustically loud and resonant, and at just under eight pounds, is comfortable to hold, and balances nicely with or without a strap. The C-shaped neck is not too thick or thin, and the finish on the tester was flawless and smooth to the touch. The headstock joins well past the first fret for more strength at the nut – an attention to detail you generally don't find on guitars in this price range.
Plugged in, it sounds like a traditional semi-hollow, but with the high-output GFS pickups, it leans to the brighter side of the midrange spectrum, though it responds well to volume and tone control changes so dialing in usable clean or dirty tones is easy. 
Those who say a dollar doesn't go far these days will find the XV-900 a pleasant surprise. Its price seems especially small for such a well-crafted, great-playing, physically attractive guitar. – Julian Burtell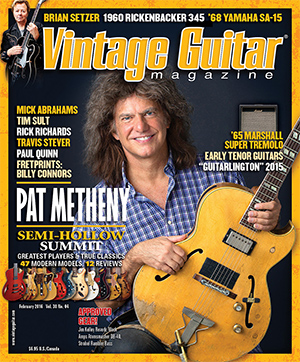 ---
This article originally appeared in VG February 2016 issue. All copyrights are by the author and Vintage Guitar magazine. Unauthorized replication or use is strictly prohibited.
---