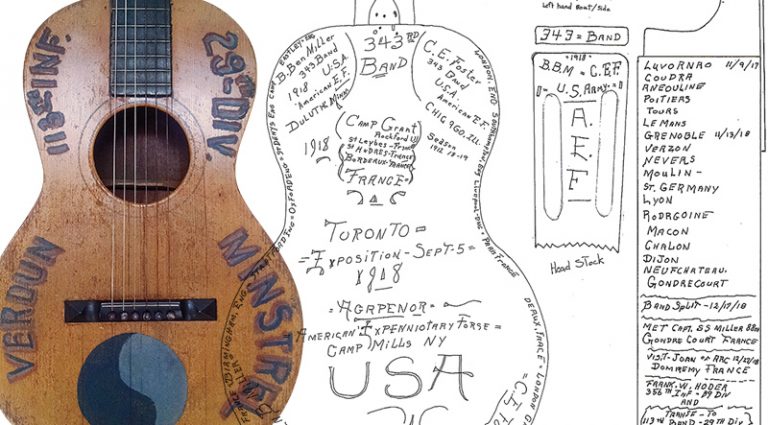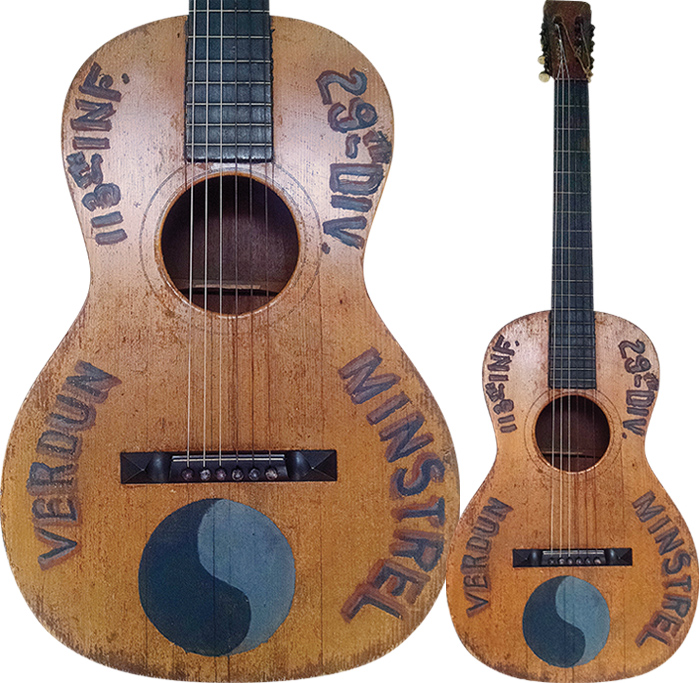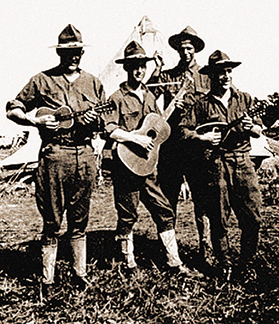 Through blood, dirt, rain, and all other forms of hell in the trenches of World War I, U.S. Army Private Ben Miller witnessed the healing power of music as it emanated from his cheap flat-top.
Miller enlisted in the U.S. Army in 1907, and while records do not indicate where he was assigned, the guitar went with him. Later, as a member of the regimental band assigned to the 343rd Infantry, by early 1916 he was among 5,000 troops serving under General John J. Pershing as part of the Mexican Expedition to apprehend Francisco "Pancho" Villa.
After that campaign ended in early 1917, Miller was sent to Camp Mills, on Long Island (training grounds for Douglas MacArthur, Wild Bill Donovan, Joyce Kilmer, Father Duffy, F. Scott Fitzgerald, and Buster Keaton), then joined the newly formed 29th Infantry Division, comprised of National Guard units from states on both sides of the Civil War; the men called it the Blue and Gray.
In July, 1918, the division was sent to the Meuse-Argonne region of France, on the Western Front, where it stayed through the Hundred Day Offensive from August 8 to November 11 – the Allies' final push to force German soldiers back behind the Hindenburg Line. The 29th Infantry saw intense combat and suffered heavy losses; 30 percent of the Division became casualties – 170 officers and 5,691 enlisted men were killed or wounded.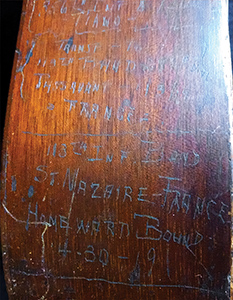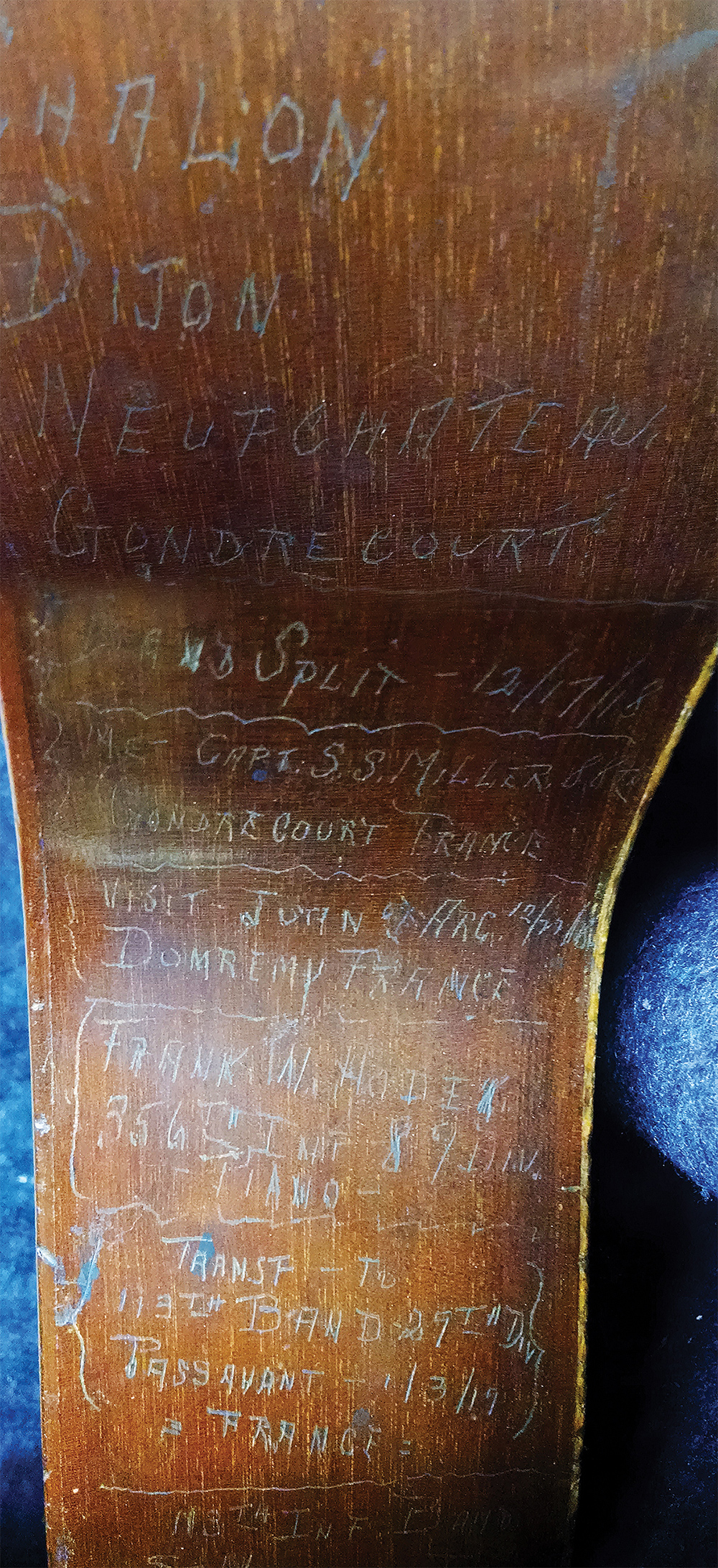 Miller's daughter, Jeannie, recalled her father telling the family how, when the sides would take a break from firing on each other, he'd grab the guitar and stage impromptu performances, often employing a mule-drawn wagon for a stage. "It helped lessen the horror of their many battles," Miller told the girl, adding that Pershing and aide George S. Patton, Jr. watched him play.
Beyond its ability to ease the minds of weary soldiers, Miller used the guitar as a journal to denote towns as he marched through them, the various units to which he was assigned, and the 50-name roster of the 343rd Infantry Band.
In 1995, an 80-something Jeannie decided the time had come to sell some of the instruments left by her father. She walked into Shaker Music, a vintage-/collectible-instrument store run by Joe and Dawn Harless in Payson, Arizona, asking for help selling two Gibson mandolins and two banjos. Harless recalls all being in very good condition and that he easily found new homes for them. More importantly, the exchange formed a friendship, and she returned two years later with a more-significant instrument.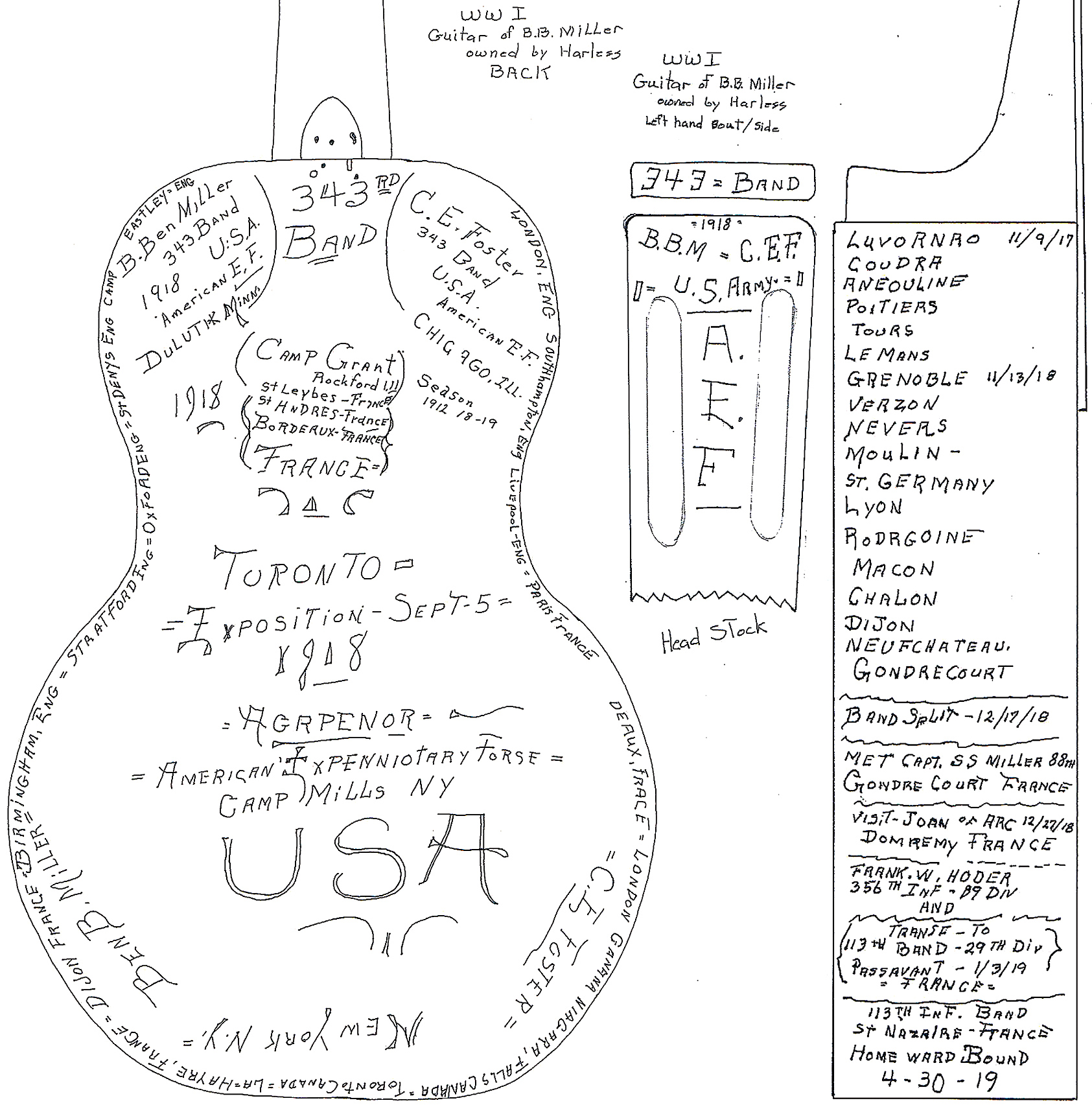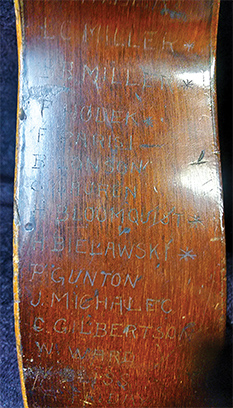 "Jeannie's health was deteriorating," recalled Harless. "She had just returned from burying her sister, and at her sister's house she found another of her dad's guitars. It had been under a bed for almost 40 years."
Worried about the guitar's fate since neither she nor her sister had a family or heirs, Jeannie hoped to find an outlet for the guitar to share its story – and more importantly, share her father's story. Handing over its tattered case and a shoebox full of very old pictures, she told Harless, "Please, keep it safe. If you can, get it to a museum or collector."
As he opened it, Harless saw something surreal.
"It was an old parlor guitar – very dusty, with mismatched strings and that smell of times past," he said. On its front was a painted yin-yang-like symbol, two insignias referencing military units, and the words "Verdun" and "Minstrel." Otherwise, the guitar had no label or maker's markings.
"Judging by its construction, I figured it was a Lyon and Healy, made in Chicago," said Harless. "Some of the strings were still under tension, and when I gently plucked them, I thought, 'This thing has been to hell and back.'"
Its story was told via the photos, some of which showed American soldiers in uniform in Mexico, Texas, and France, along with the fact every surface of the instrument had been scrawled with writings.
"It looked to be a time line," Harless said. "At that moment, I started to understand what Jeannie meant when she told me, 'My daddy used to say that guitar had seen more blood than any other instrument ever had or ever should.'"
After the war, Miller returned home to Duluth, Minnesota. In the 1920s, he became an agent for the Gibson Mandolin and Guitar Company, per Gibson letterhead with "Ben. B. Miller" at the top. He also played for the Duluth Symphony Orchestra, and for 35 years was an agent for the Prudential Insurance Company until he passed away in '53.
Jeannie recalled that in the late '50s, the guitar disappeared from the family's hunting lodge in Minnesota, then returned circa 1970 after it had been used in a high school play and the teacher found her dad's name and the word "Duluth" on a small piece of paper in the leather pick pouch Miller kept tied to the headstock throughout the war.
"Some folks call it an historic artifact, military memorabilia, a relic, or even 'trench art,'" Harless said of the guitar. "Such labels aside, I think it's a precious part of American history. To quote Thomas Jefferson, 'A morsel of genuine history is a thing so rare as to be always valuable.'
"There are many guitars made important by who owned them or built them," Harless said. "But, the worth of this instrument lies not in who played it, but in those who heard it. Its voice gave hope to America's doughboys in the trenches. Today, it's a reminder – a relic of a terribly brutal war."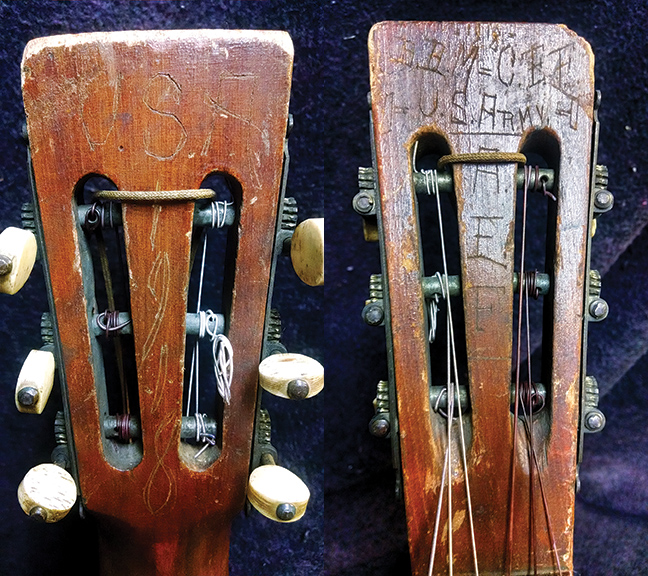 ---
This article originally appeared in VG May 2016 issue. All copyrights are by the author and Vintage Guitar magazine. Unauthorized replication or use is strictly prohibited.
---
---
Veteran's Day Subscription Sale!