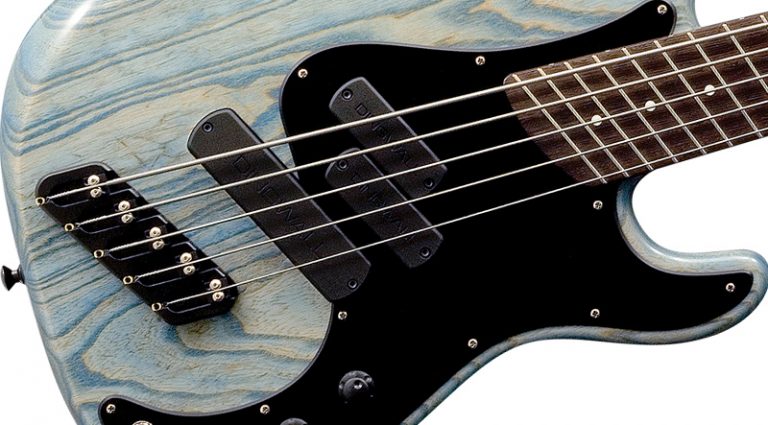 A time-honored approach to guitar and bass design is to take a classic and improve it. That's certainly the case with the Dingwall Super P. Straight from Saskatoon, Canada, it's a refreshing take on the Fender Precision and also full of hip appointments.
The Super P neck has 22 smaller banjo-style frets and a compound fingerboard radius from 7.5″ to 16″. This latter figure provides a rounder, vintage feel on the lower frets and a flatter, faster radius in the upper range for improvisation. Players will also notice that the fingerboard is longer on the bass side of the fretboard, supposedly to add more sustain on the lower end. This combines with the slanted Hipshot bridge to create a variable scale ranging from 35″ on the low B to 32″ on the G.
The body on our test bass was made from swamp ash finished in a transluscent/washed light blue. The five-piece maple neck had an African wenge fingerboard and a wide/thin D profile. Keep in mind that Dingwall is a custom shop – you can order the Super P in an array of options (swamp ash or alder body, fretted or fretless, four- or five-string, chrome or black hardware, and a choice of finishes, pickguards, inlays, and fingerboard material). The headstock is modern, yet tied to history, with a cool recessed rout for the model's name.
The Super P sports passive electronics and Dingwall's own pickups, but provides a range of tones. You get a master Volume, Tone-Fusion tone control, and a four-way rotary pickup selector. The five-notch selector takes you from deep and monstrously fat to thin and fusion-y. The Tone-Fusion knob is particularly sensitive, providing the full sweep from bright, aggressive rock and funk timbres (think McCartney, Chris Squire, or Larry Graham) to cool, rounded jazz and fusion textures (a la Jaco). The Super P effectively delivers all.
Plugged in and on the job, the Super P was a blast to play. It feels very comfortable and organic – not too heavy or unwieldly, nor strange and gadgety. The neck is a joy, letting you add traditional bass lines or head up the fretboard for hot soloing. The low B string isn't too floppy and boomed like a church organ when the selector was set for the neck pickup alone. The Super P also excelled with a variety of effects, from echo to chorus to compression with no muddiness. This speaks to the quality of the pickups and EQ circuitry.
Finally, what about those "fanned" Novax frets? Certainly, some players look at them and scratch their heads, but there's really nothing to fear. In the hand, the fanned frets make good sense; human fingers don't naturally align to conventional frets, so why not match the frets to our own design? Their purpose, though, is to make the tone and tension consistent from string to string. We had no issue adjusting to the layout; it felt perfectly natural, though you should perhaps experiment to find strings optimized to the Super P's unique scale (Dingwall makes their own).
In all, the Dingwall Super P delivers a miraculous blend of classic and modern features with solid build, looks, and performance. It's a higher-end bass, but also seriously roadworthy and customizable to your tastes. If you need a pro bass that will give you the whole range of tone textures, the Super P is a beautiful instrument that will deliver serious low-end firepower.
---
This article originally appeared in VG December 2015 issue. All copyrights are by the author and Vintage Guitar magazine. Unauthorized replication or use is strictly prohibited.
---