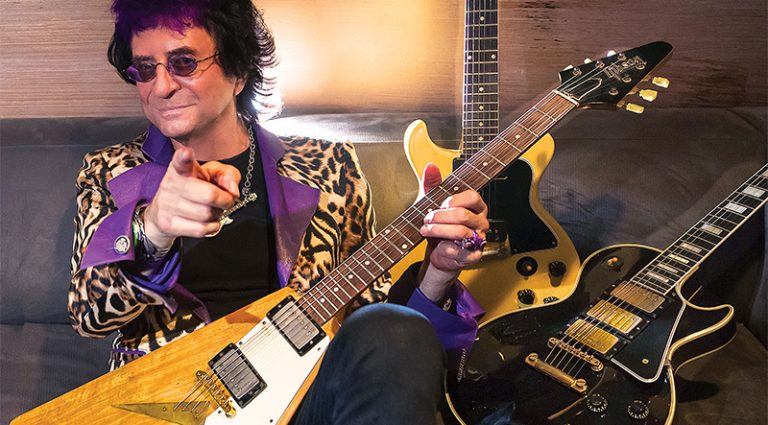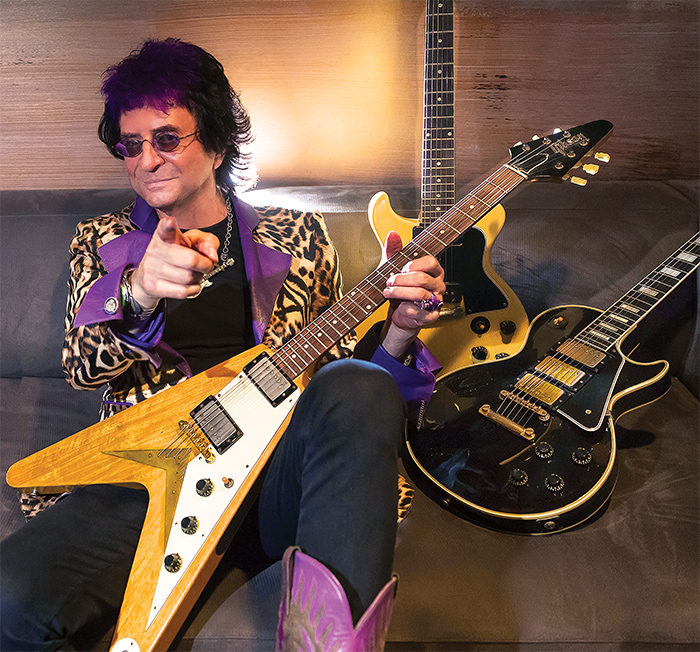 Most dictionaries define "ides" as the middle of a month, based on the Roman calendar. The most famous are the Ides of March, which is also the name of a horn band from Chicago that formed in 1964, with its most famous hit being 1970's "Vehicle." Its lead guitarist, Jim Peterik, would go on to further fame with Survivor and accumulate an enviable collection of classic instruments along the way. In 2014, he oversaw the release of a boxed set by the Ides, Last Band Standing, which included a DVD of a 50th anniversary performance at the House of Blues in Chicago. He also penned his autobiography, Through the Eye of the Tiger.
Asked whether writing a book or staging a 50th-anniversary concert was more difficult, Peterik responded, "I'd say they were just about equally difficult. With the book, it meant going through to highlights and lowlights of 64 years on this planet. For the Ides' show, we wanted to capture the state of our set in 2014. Sure, there are the songs themselves – the Ides hits, new Ides material, songs I wrote with and for Survivor, .38 Special, and Sammy Hagar. But, perhaps the quality of what the Ides bring to the party is more important."
Peterik's book is straightforward about his personal and musical experiences, without being exploitive or catty.
"Honesty is my most valued asset," he reflected. "If I had spun it in a mean-spirited fashion, not only would it not reflect my personality, it would tend to make the reader discount other things I say in the book. Once you establish credibility, people read with more objectivity, and they trust the facts you present."
The book has a plethora of archival photos in which band members are playing now-classic guitars and basses.
As for the boxed set, songs from two albums were transferred from analog to digital for the first time for inclusion, and a minimum of remastering was done. The lineup includes three new tunes, including the boxed set's title track, on which Steve Cropper played guitar.
The concert DVD is really more of a documentary with comments from band members interspersed between songs instead of a straight-on concert video.
"(There were) two schools of thought there, and the 'documentary style' won," said Peterik. "Being a '50-year' piece, I think the intercuts make sense. But, some folks would have rather had the flow of a full concert. I'm on the fence, but I'm very pleased with the results."
Peterik's main guitar on the DVD is a Gibson Les Paul with a tiger-stripe finish.
"This is my current favorite axe," Peterik said of the instrument. "It started life as a perfectly acceptable Custom Shop Lester with a perfectly boring cherry-sunburst top – no curl to speak of. After establishing it was worth sinking money into, I first had Burstbucker 3s installed. Then, I sent the guitar to Marty Bell, who did my tiger-striped (Gibson) J-200, a purple-sparkle Paul Reed Smith, and a purple-sparkle Minarik Inferno. So, I had no doubt it would be spectacular, and he did not disappoint. By the way, the tiger-stripe is on the back, neck, and sides, as well."
A Fender Jazzmaster makes an appearance on the Ides' early regional hit, "You Wouldn't Listen."
"This is as close as I could come to replacing the Jazzmaster I played on the original session in late '65," Peterik explained. "I bought that on the north side of Chicago from some rich teen band with Corvettes stacked in the driveway. They laughed at me – I was 13 – until I did a note perfect 'Walk Don't Run' to try out the guitar. I thought I heard the sound of jaws dropping. A hundred and seventy five bucks later, she was mine."
Flame-shaped Minarik Infernos – the aforementioned purple-sparkle instrument and one in a broken mirror motif – are seen and heard in the show.
"(It's a) small company, and I fell in love with this model," Peterik detailed. "They're chambered, so they're amazingly lightweight. And they sound massive. I have seven of these, some with custom paint jobs by local artist Cat Clausen."
Peterik was upbeat about the special concert's staging, presentation, and sonic results, noting, "I'm pretty happy overall. We had a good night, and the crowd was into it. Due to time restraints, we had to leave off a few good 'uns – our rave-up version of 'Tobacco Road,' 'Burning Heart,' and the theme from Rocky IV."
Peterik and his Ides peers were, and still are, a tight and viable show band. The concert DVD and the guitarist's book validate a commendable musical venture.
---
This article originally appeared in VG December 2015 issue. All copyrights are by the author and Vintage Guitar magazine. Unauthorized replication or use is strictly prohibited.
---