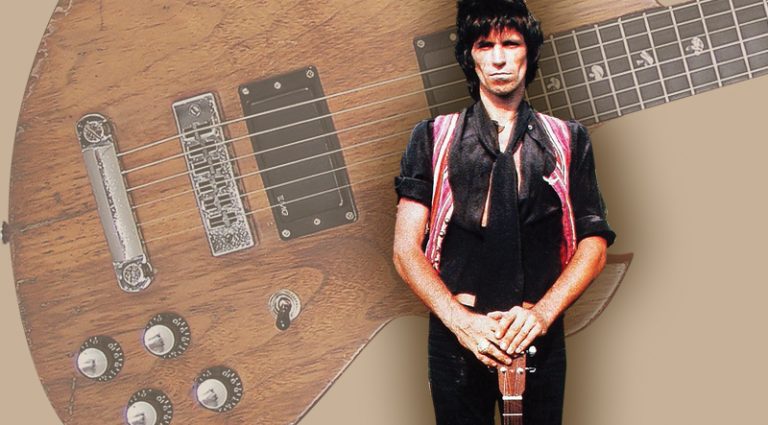 For anyone who visited the tiny workshop inhabited by guitar builder Ted Newman Jones in the 1970s and '80s, two things were obvious – his appreciation for the fine tonewoods that covered the walls, and his affection for Boudreaux, the Black Lab/Golden Retriever cross that kept him company. Humble digs, they lent no clue to Jones' status as technician, friend, and advisor to one of the biggest rock stars of any era – Rolling Stones guitarist Keith Richards.
From 1971 through the mid '80s, Jones tended to Richards' instruments whenever the band was on the road or in a studio. In '78, Richards helped Jones establish a guitar repair shop in Austin, Texas, where he built for a host of superstars – for Richards, they included a handful of five-stringed instruments to accommodate alternate-tuned forays like "Jumpin' Jack Flash," "Street Fighting Man," "Can't Always Get What You Want," "Brown Sugar," and "Tumblin' Dice." Every guitar was given personal attention in the form of tweaked body carves, scale lengths, and inlays (Tom Petty asked for broken hearts on his fretboard, Bob Dylan wanted crosses). His customer list also included Willie Nelson's band, James Honeyman Scott (the Pretenders), Chris Ethridge, Joe Ely, Richards bandmate Ronnie Wood, and others.
Behind Jones' affiliation with the Rolling Stones lies a fascinating story of how a kid from Tennessee one day showed up, unannounced, in France, where Richards and the band were hard at work. The audacity and his skills then put him to work with the group through major tours and albums in the band's prime. He was at Altamont, and lived with the band in England, staying close to Richards on "jet-jags and binges" between retreats home during Stones downtime.
In the mid '90s, Jones began a 12-year stint in prison, then in 2014 returned to Tennessee to re-establish his brand. In April of '15, he was diagnosed with lung cancer. A longtime smoker, he'd gone without a cigarette (or drink of alcohol) for more than 15 years when he was told he could expect to live another few months to a few years if he was willing to undergo treatment.
Admittedly "freaked out" as his doctors planned a course of chemotherapy and radiation, by mid September the prognosis had changed; clear of cancer, he credits the medicine along with his spirit, spirituality, and attitude. "I'm a happy guy," he said.
Jones turned 66 on October 8, and is focused on regaining his strength, his mother close at hand – today, "an adorable 85-year-old lady who drinks a pot of strong black coffee every day," according to Jeff Smith, a guitar collector who, after finding a TNJ, took it upon himself to locate Jones (see sidebar), who had seemingly disappeared. He's starting with 20 guitars called the TNJ Keith Richards model, using flamed cherry for their bodies. Those completed first will go to Richards himself, along with one or two for Wood.
Jones grew up on the outskirts of Dyersburg, Tennessee, next-door to a radio station. Without neighborhood playmates, the youngster passed a lot of time at the station, where he'd "drive people crazy" before being shooed home with a 45-rpm single or two. While those records sowed his passion for music, the station played another role…
"My dad and I built model airplanes with the guy who owned it," he said. "That was where I learned about working with my hands, with wood, and all kinds of tools."
When he was 11, a schoolmate turned him on to Meet the Beatles and the two then shortly acquired Rolling Stones Now, England's Greatest Hit Makers –The Rolling Stones, 12×5, along with several other classic albums. They also began to experience live music.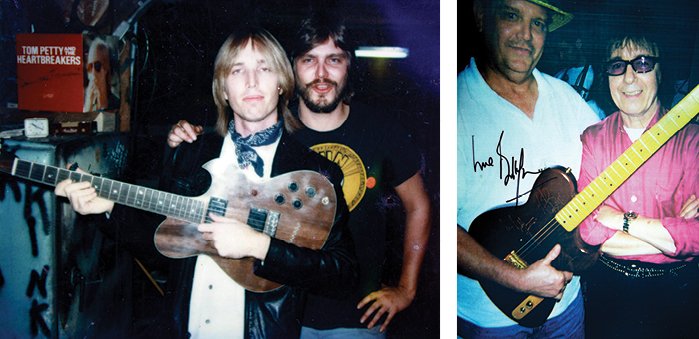 "At that time, James Brown played Memphis quite a bit, so we'd take the bus 78 miles each way to see him," he said. "My grandmother lived within walking distance of the arena, so we always had a place to stay."
After high school, Jones enrolled at the University of Southern Mississippi, in Hattiesburg, where he studied art and history, then spent weekends helping local party bands care for their equipment.
"I always wanted to learn to play guitar, but one of my friends made a sheet for me that showed all these notes on the fretboard and I thought, 'That'll be impossible to learn!''' But, when someone needed help with their Stratocaster, Newman was quick to loose his innate abilities. "I've got tools, we can do that," he'd tell them.
Hattiesburg being close to New Orleans, Jones was so drawn to the latter city's live music that it interfered with his studies. Looking to bolster his grades, in '68-'69 he transferred to Memphis State (Ed. Note: now the University of Memphis), which was closer to home – and theoretically further from distractions. But, "Of course, I discovered Beale Street," he laughed. It wasn't all bad, though, as he also discovered the city's many pawn shops, home to many old guitars. One was a Fender Esquire he bought for $55, followed by a mid-'50s Telecaster; he restored both to playability. Shortly after, Jones met guitarist John "Toad" Andrews (VG, August 2000) when Tracy Nelson and Mother Earth played Memphis.
"He went nuts over the guitars I'd fixed, and wanted to buy them," Jones said. Eyes opened, he began turning guitars for a tidy $100 or $150 profit, until… "I got this Strat I didn't like, and traded for a Les Paul with a house paint finish and mailbox letters stuck to it that spelled 'Jimmy.' I stripped the paint and put an ad in the paper – 'Les Paul for sale – $400.' The phone started ringing right away."
Andrews also pushed Jones to go from merely "fixing" guitars to building them. "He told me, 'With your skills, you could make a guitar.' I thought, 'A Telecaster is just a slab of wood with routs…' I had taken guitars apart – I knew it wasn't rocket science. So, I got hold of an old Rickenbacker that needed work, refinished it in black, and it was a nice guitar when I was done."
Not long after, Jones got a call from a local journalist named Stanley Booth, whom he'd met while working in a trendy clothing store called The Electric Outlet. A regular customer, Booth and Jones often discussed music during his visits to the store. A friendship ensued, and when the Stones played nearby, Booth – who had done a piece on the band for Eye magazine and was at the time writing The True Adventures of the Rolling Stones – invited Jones to the show, telling him, "Make your way backstage and ask for me." Jones did, and as he stood waiting for Booth, Richards asked Jones to light a cigarette as he prepared to go onstage. "We talked for a bit, and he introduced me to B.B. King and Chuck Berry, who were the opening acts that night." They also chatted about guitars, and Richards asked Jones to stay in touch.
In 1970, Jones went to work at Stax records, learning to be a recording engineer. Part of the gig involved touring with Isaac Hayes at the height of his musical career, including the Soul Bowl in New Orleans. In the Stax studios, though, he mostly just got to apply his technical abilities. "After they'd spill Cold Duck on the mixing board, I'd get the faders working again!" he laughed. Late in 1971, he began working for Sam Phillips and his sons, Knox and Jerry, at Phillips Recording Service, furthering his skills as a recording technician and taking care of equipment.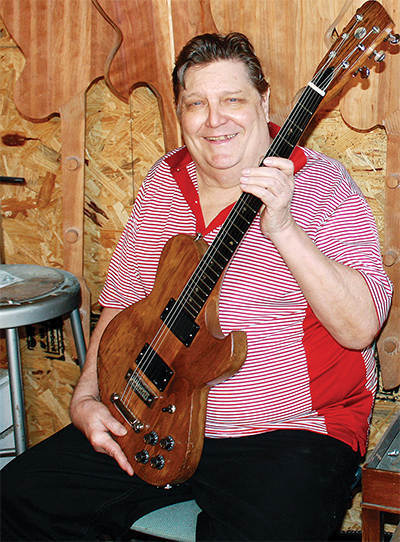 That winter, Jones got a call from his girlfriend, Melissa MacAlpine, who had moved to Paris. Lonely, she pleaded with him to visit. "I'll send you a $100," she told him, to help with costs. Jones was amenable to paying a visit, but had further motivation in the form of a Rickenbacker he had fixed and refinished; he saw it as a means to reconnect with Richards. Young enough to take advantage of airline "youth fares" to Paris, and with a bit of money from his parents and a small bank loan, Jones was soon on his way, $200 cash in-hand.
In Paris, Jones stayed at the home of Isaac Tigrett, who grew up near Dyersburg – the two had been in Boy Scouts together and, as teenagers, bonded over their interest in classic cars. Tigrett and a partner had recently opened the original Hard Rock Café (see sidebar on one of the TNJ guitars from the Hard Rock collection).
Thanks to directions from Booth, Jones made his way to the Stones' London office, where an employee named Shirley Arnold told him the band was in France, recording in a house overlooking the Riviera. The next day, Jones was at the Stones' business office in Nice, where Jo Bergman got Richards on the phone. "Are you the lad from Tennessee with the guitar?" he asked.
Richards invited Jones to Villa Nellcotte, where the band was using its "green truck" mobile studio to record tracks for what would become Exile on Main Street. Nervous and excited beyond belief, he showed the guitar to the rock god.
"He said, 'I've never seen one quite like this. You did a nice job.' What do you want for it?' I told him, 'I don't know… $400?'
With help from his girlfriend, band mates, and others straggled around the house, Jones said Richards rounded up "a pile of Francs big enough to convince me" it was equivalent to $400. Then, he got a surprise.
"I had tuned the guitar to open E I'd been using to learn 'Brown Sugar,' but Keith said, 'It's in G – an old blues tuning, and I take the bottom string off ,' and he started showing me how to play the song."
As Jones prepared to depart, Richards asked what he planned to do with the money.
"I told him, 'I want to go to Spain and find some guitar makers, see their shops, and learn something. When I get low on money, I'll head home.' He laughed and said, 'We've got plenty of bedrooms. You're welcome to stay if you come back through.'"
Jones acknowledged Richards' hospitality, then left Nice.
In Spain, he accomplished his mission thanks in part to a merchant seaman who called himself Old John the Vagabond, whom Jones met on the steps of the local post office (which served as a hub for young people who traveled Europe, and where Jones had gone to use a public phone) and introduced him to two families that made classical guitars. By early October, he was ready to go home to Memphis, where he'd been converting an old carriage house into a recording studio for songwriter/music producer Dan Penn (whose work included The Boxtops' songs "The Dark End of the Street," "I'm Your Puppet," and "The Letter").
That December, though, Richards called, very upset. "I asked, 'What's wrong, man?' He said, 'Man, that junkie cook I had stole all my instruments and hocked them. I don't have but a couple of guitars left. Can you help get my collection back together?'"
The One That Led To Ted
The thrill of discovery. For guitarists, it's practically primal, no matter if their pursuits involve tones, instruments, or the long-lost licks of their heroes.
Jeff Smith, an experienced guitar collector, enjoys recounting the rush of his greatest find – a TNJ guitar. Discovering it for sale on the website of a Memphis guitar dealer, he recognized it as the work of a builder who he hadn't heard discussed in a long time despite the fact he'd made instruments for some of the most famous players in the world.
Smith had never before seen one for sale, and negotiated its purchase.
The guitar, which carried no logo on its headstock (or anywhere else) was the creation of one Ted Newman Jones. For Smith, it brought back a flood of memories.

"I've never forgotten reading the interview with Ted in the May '81 issue of Guitar World," he said. "Not long after, you'd see a Newman in videos for the Stevie Nicks/Tom Petty song 'Stop Dragging My Heart Around' and the Tom Petty and the Heartbreakers' 'Woman in Love.'"
Smith began researching its maker. He located Jones' mother, Peggy, who forwarded pictures of his guitar to her son, who at the time was incarcerated in Texas.
"I put quite a bit of effort into the search because I needed to justify having spent so much on the guitar," Smith laughed. "When I went to the internet, there was very little information on Ted, but I knew the guitar was special." He sent a letter to Jones and shortly after received a response, confirming the guitar's provenance.
"It was dated Christmas Day, 2008, and said the guitar was made at the same time as those he did for Petty and Bob Dylan, that his walnut bodies were made from the table tops of '40s Singer sewing machines, and that he made only a dozen with three-on-a-side tuners. The others went to Keith Richards, Mick Jagger, Dylan, and Petty."
Richards sent money so Jones could go to Gruhn Guitars, in Nashville, to re-up his supply. Meanwhile, Ian Stewart (road manager and keyboard player for the Stones) had gathered other guitars and shipped them to Los Angeles, where the Stones were mixing songs at Sunset Sound. Jones was then beckoned to give the instruments much-needed tender-loving care.
"Keith had tried hard to put a pickup in one of the Teles, and he'd melted wax all around it (laughs) then spliced the wires," Jones recalled. "It made sound, but flopped around so bad in the cavity that you had to sit to play it. Also, the strings buzzed, so he'd stuffed pieces of matchbook by the nut. It was embarrassing, the Rolling Stones' instruments being in such bad condition. I couldn't believe it."
Without a work bench, Jones improvised. "Mick Taylor and his wife lived across the street from the house Keith was renting on Mulholland Drive, so I went over there and put a closet door across two garbage cans, covered it with a table cloth, and that was the Newman Guitars shop (laughs)!"
By Christmas of '71, the album was nearly complete, and the band threw a party at the home of Mama Cass Elliot, attended by many high-profile musicians, including Stephen Stills, the Mamas and Papas, and Neil Young. "I remember getting dressed for the party and, of course, Keith's clothes were in shambles. They found a white sport coat and some clean trousers for him, but the coat had a spot on the shoulder (laughs); Keith looked at me, picked up a tube of white artist paint, and squeezed it on. He giggled and we walked out the door."
With recording and remastering finished, Jones was off-duty that winter. Wanting to hone his skills, he moved to a house in the mountains near Berryville, Arkansas, intent on building guitars and learning more of the craft with the help of Leo Erickson, who ran a nearby shop called Eureka Strings. A gruff, elderly gent who built classical instruments and banjos, Jones at first had to convince Erickson he was serious about wanting to learn from him. Erickson begrudgingly passed along to Jones a couple of refinish jobs, and after they were completed to Erickson's satisfaction, the old man knew his de facto student could dig deeper.
"He taught me how to bend sides, carve wood to the right thickness, and make necks, truss rods, and switches from scratch."
Jones also began working on his first custom guitar for Richards.
"Keith had drawn a design on a little piece of paper – it was two ellipses, one smaller than the other, for the upper bout. I thought, 'What if I canted the ellipses at an angle?' and that was the first Newman shape."
Stuck in the snowy mountains, Jones put full focus on the build.
"I had some 11/4" cherry wood that I used for the body, and faced it with some Brazilian rosewood from xylophone keys that Erickson had given me. I had them run through a table saw so they were 5/16 " thick, then glued them on. It was kind of a thin body, but the woods were so dense it didn't matter. Keith's drawing had a Byrdland neck pickup, but I couldn't find one, so I put a humbucker there and an old P-90 at the bridge."
He installed the new pickups, but the humbucker howled with feedback, so Richards sent one from a three-pickup Les Paul Custom. Though he set aside every pickup ever swapped from a Stones guitar, they disappeared when Jones' home was burglarized in the '80s.
For a few months in the first half of '72, Jones lived in Eureka Springs, Arkansas, and worked closely with Leo Erickson. Late that spring, though, Richards called to ask Jones to go on tour.
"It was my life's dream – living in the mountains, building guitars. But, my ultimate dream was going on the road with the Rolling Stones."
"It was my life's dream – living in the mountains, building guitars," Jones said. "But, my ultimate dream was going on the road with the Rolling Stones. Keith said, 'I don't know exactly what you're gonna do for us, but there's a spot for you.'"
Almost immediately after joining the tour, Jones saw an opportunity to increase his worth; nudging Mick Jagger, he said, "I noticed that you tune onstage. How about I tune guitars for you, so they're ready to go?" Jagger – seeing how Jones' help could expand the band's set, gladly agreed. Jones hands were suddenly very full. He also suggested that Richards use a different guitar for various tunings.

"I had 19 guitars to load, unload, and maintain. I remember the road cases at the time were made of a semi-flexible black material that was used for cheap drum cases – it was really terrible stuff. I had 12 guitars in one case and seven in the other – some of Charley's cymbal stands took the rest of the space in that one (laughs)."
Jones recalls that the term "guitar tech" wasn't part of the vernacular when the band toured Australia and New Zealand in '73, and crew members were given t-shirts with their names and job titles embroidered on them. People would ask, 'What are you?' They didn't have a name for what I did, so my shirt said 'Guitar Mechanic' (laughs). I thought, 'Well, that's not quite it,' but it was the best they could come up with."
On that tour, he became tight enough with the group that Richards told him there were certain undesirable people in his circle, due mostly to his heroin usage, and he asked Jones to keep a close eye on the band's gear – and on Richards himself, lest he overdose. For his efforts on the personal side, Richards paid Jones out of his own pocket.
"I was getting $500 a week from the tour company for working on the gear, and he matched that. In the mid '70s, that was a lot of money – I was sh**tin' in high cotton! Every time I came home, I'd buy another tool – a band saw, drill press, or something. Eventually, I had a full shop."
The next guitar Jones built for Richards was a neck-through. "I did a few with cutaways that varied slightly until we had what we were looking for." Other builds employed mahogany and spruce parts, different pickups, a slightly tweaked body shape with bigger ellipses, and a bolt-on neck.
"For one, I cut a cherry body and gave it a maple face and maple neck with ebony fingerboard," said Jones. It was the first guitar on which he put all six tuning keys on one side of the headstock. In '74, he personally delivered the guitar to Richards in Geneva, Switzerland.
Soon after, Jones began working with Rob Turner, founder of EMG, whose pickups became standard equipment in TNJ guitars, in part because Turner would build them specifically for Richards' five-strings.
---
Keith Richards' TNJ III Five-String
So many of Keith Richards' famous riffs were created in a five-string open-G tuning; G, D, G, B, D low to high – same as a standard five-string banjo except the fifth-string G is an octave high for banjo tuning.
Jones, luthier and tech for one of rock's most enigmatic figures, was responsible for assembling Eric Clapton's famous "Blackie" Stratocaster in 1970; Clapton purchased six '50s Strats for a few hundred dollars each from the Sho-Bud guitar shop in Nashville and, with typical rock-star largesse, gifted one each to George Harrison, Pete Townshend, and Steve Winwood. Jones then took the best parts from the three remaining guitars (built in 1956/'57) and created Clapton's famous guitar.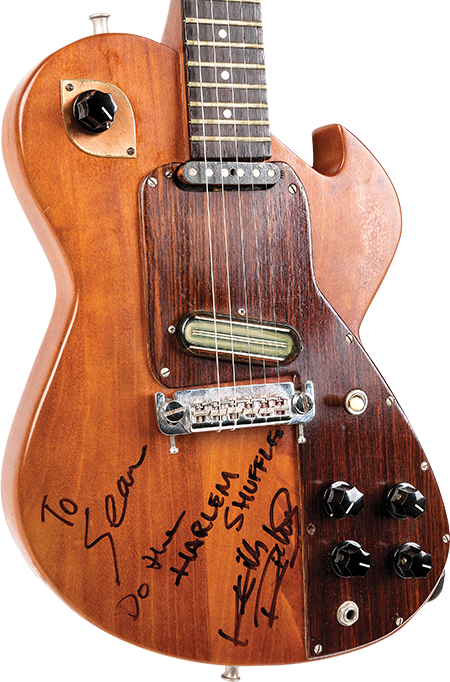 He built at least five guitars for Richards, but Hard Rock historian Jeff Nolan says this one, now owned by Hard Rock, was gifted to a fan in a contest. You can read Keith's bold inscription, "To Sean, Do the Harlem Shuffle," just above the walnut pickguard. Nolan cites the Bill Lawrence Gibson-era bridge pickup and an uncovered Tele pickup at the neck. It also sports a Gretsch-style Volume knob and an "old-skool" Leo Quan Badass bridge. It also features a very flat radius in keeping with its banjo-like abstraction, and is geared with four Schaller tuners and a single Grover in the middle of the headstock to operate its third string.

"This is an extremely unusual guitar, reminiscent of Rick Turner's work, or even a more-primitive Alembic," said Nolan.
The nut is nicely beveled, hand-cut, and complements a shallow, ever-so-graceful headstock angle. The guitar has a rosewood fretboard and a neck that extends through a gorgeous mahogany body. The neck width is just over a 1.53″, but it's a string shy of a normal guitar. Calipers reveal a neck thickness at the first fret of .79 that graduates to an easy swell to .917 at the 12th. Fit and finish are superb. – Jim Carlton
---
Special thanks to Andy Babiuk.
---
This article appeared in VG's December 2015 issue. All copyrights are by the author and Vintage Guitar magazine. Unauthorized replication or use is strictly prohibited.
---