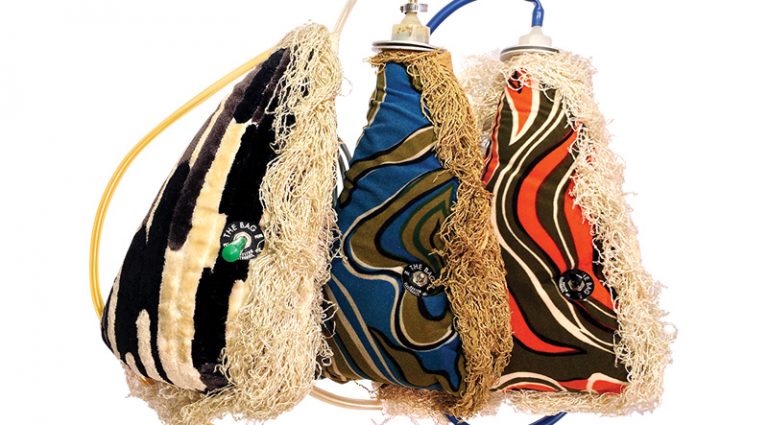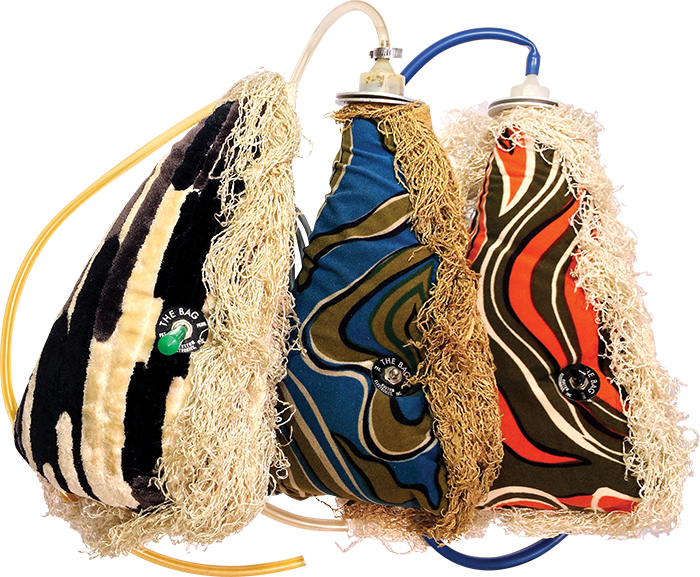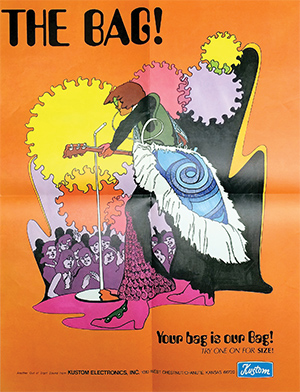 When Steppenwolf's John Kay took the stage, it was easy to believe he was performing a suitably '60s ceremony celebrating the wine god Bacchus, thanks to what looked like a wineskin slung over his shoulder.
When he put a tube running out of the bag into his mouth and appeared to be drinking deep during the song "From Here To There Eventually," that image was reinforced – until weird, wah-like vocal note manipulations emerged from his amp, sounding as though his guitar was singing.
The effect was in the bag… or actually, The Bag – a far-out product launched in 1969 by the far-out amp builder Kustom Electronics. Kay and Steppenwolf lead guitarist Bobby Cochran were some of the earliest proponents of the bizarre invention.
That invention, though, actually was not a Kustom creation. The Bag had a colorful – and contentious – story behind it.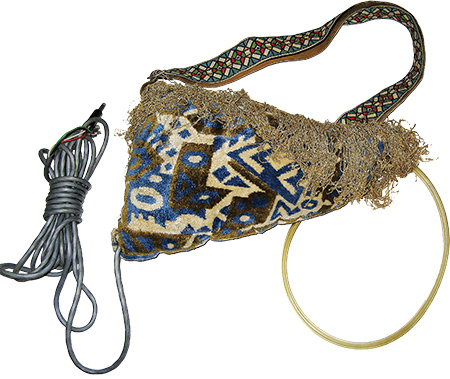 In 1966-'67, a budding rock and roller in Southern California named Doug Forbes had an after-school job at an electronics shop doing radio repairs and selling electrical components.
"One day, a guy came in looking for some part," Forbes remembers. "He had this thing that looked like a tuna tin with a rubber tube coming out of the top, the other end of which he had in the corner of his mouth. There was a little button on the side that started what sounded like a buzzer in the can that allowed him to mouth words using the sound from the tube. I was freaked out; I'd never seen or heard anything like it."
The "thing" was an artificial larynx, also known as an electrolarynx or throat back. Akin to the laryngophones used by airplane pilots and tank commanders in World War II, it had a transducer mic to detect and project voicebox sounds for throat-cancer victims. The junior-high rocker was inspired.
"I went home and started using the sound of the dial tone on the telephone to mouth words," Forbes said. "I was playing bass in a band called Tracer Field, and I would build Fuzztone-type devices and weird stuff, and thought a guitar through this talk device would be interesting.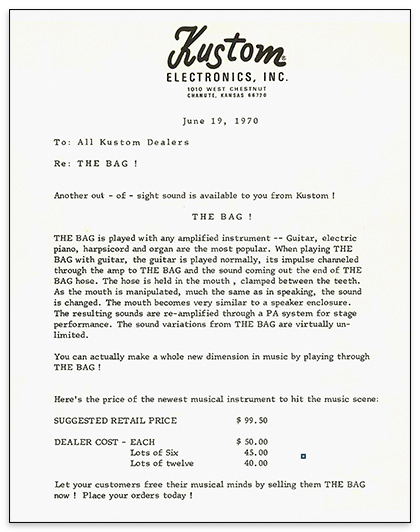 "My dad had installed an outdoor horn speaker to play his hi-fi through, and I figured I could steal that to get the guitar loud enough to be useful. I took the speaker apart, attached some aquarium tubing, and took it to band practice. I had a switch to substitute the guitar speaker for the horn driver, and our lead guitarist, Gary Demos, started using it on some of his leads.
"When I went to concerts at the time, I'd see people with bota bags; they'd put wine in them and sling them over their shoulder. We didn't have a PA in my band, so a floor-mounted thing to use with a microphone was no use. I knew the effect would have to be carried, and a bag seemed the best way about it. I made it from material I got from a sofa on trash day."
Forbes and company hoped to take their band higher, so they hired a manager named Jory Green to help earn money to record. But the band soon folded; guitarist Demos went off to Cal Tech while Forbes went to work at Jet Propulsion Labs. A year later, Forbes happened to see The Bag for sale from Kustom Electronics – an exact copy of his original design, right down to the psychedelic sofa fabric. Turned out that manager Green had indeed earned some money selling Forbes' novel effect to Kustom – without telling the inventor.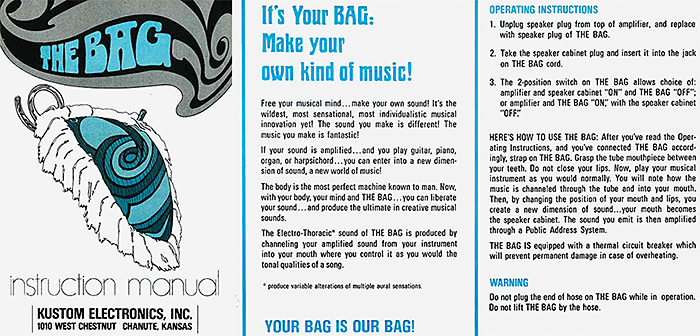 "Jory hired me as a consultant later to try to legitimize his claim to the device," Forbes says. But The Bag never sold, and Forbes didn't bother with legal action as there simply was no gold at the end of the rainbow.
For Kustom, The Bag was a true oddity – an anomaly in that the company didn't offer other effects, and its other products – transistorized amps upholstered in sparkling tuck-and-roll naugahyde – were monster successes.
Kustom was founded in 1964 by Charles "Bud" Ross in his garage in Chanute, Kansas. Like Forbes, Ross was playing in a band and began building his own amps. While Fender, Rickenbacker, and others tried and failed with solidstate amps, Ross' Kustom creations were a hit, pumping out loud, clean sound. Its fans included Steppenwolf and John Fogerty, of Creedence Clearwater Revival.
Kustom unveiled The Bag in '69, giving guitarists the opportunity to not only make their guitars speak, but to truly talk. The Bag was half vocal modulator, half bagpipe, all for a suggested retail price of $99.50.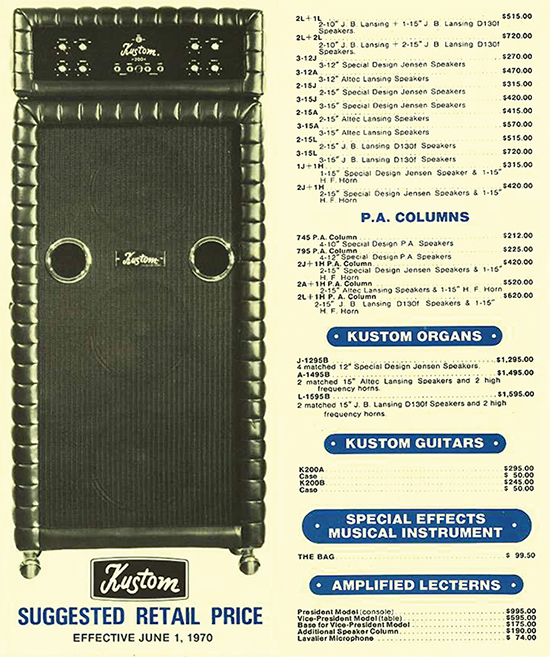 The Bag hung over the player's shoulder and was dressed in mod fabrics with funky fringed edges that kept it looking cool – not like a mere man purse. The player spoke into the plastic pipe that connected to a plastic tube running to a 30-watt driver housed in that sack.
Kustom advertising promised The Bag's "electro-thoracic sound" would "free your musical mind," while a letter to dealers promised, "You can actually make a whole new dimension in music by playing through The Bag!"
The letter also spelled out how to use the effect; "When playing The Bag with guitar, the guitar is played normally, its impulse channeled through the amp to The Bag and the sound coming out the end of The Bag hose. The hose is held in the mouth, clamped between the teeth. As the mouth is manipulated, much the same as in speaking, the sound is changed. The mouth becomes very similar to a speaker enclosure. The resulting sounds are re-amplified through a PA system for stage performance."
While The Bag had fine sound, it was not truly loud enough for stadium gigs or sturdy enough for touring, as Peter Frampton remembered. Enter sound engineer extraordinaire Bob Heil and his Talk Box (VG, September '13, or vintageguitar.com/16339/heil-talk-box) to solve that.
Still, The Bag was first. Steppenwolf used it on "Hey Lawdy Mama" and "Twisted," Iron Butterfly employed one for "Butterfly Bleu," it can be heard on Sly and the Family Stone's "Sex Machine," Stevie Wonder's Music Of My Mind, Shuggie Otis' "One Room Country Shack," Marc Benno's Ambush, and Jeff Beck's "She's A Woman" on Blow By Blow.
As for Doug Forbes, he's now the retired chairman of the Department of Computer Science, Electronics, and Music Technology at the College of the Canyons in Santa Clarita, California. He still has his "prototype" bag, and still plays bass in several bands.
Thanks to Doug Forbes, The Bagman, and Garrett Tung, of Boingosaurus Music.
---
This article originally appeared in VG September 2015 issue. All copyrights are by the author and Vintage Guitar magazine. Unauthorized replication or use is strictly prohibited.
---