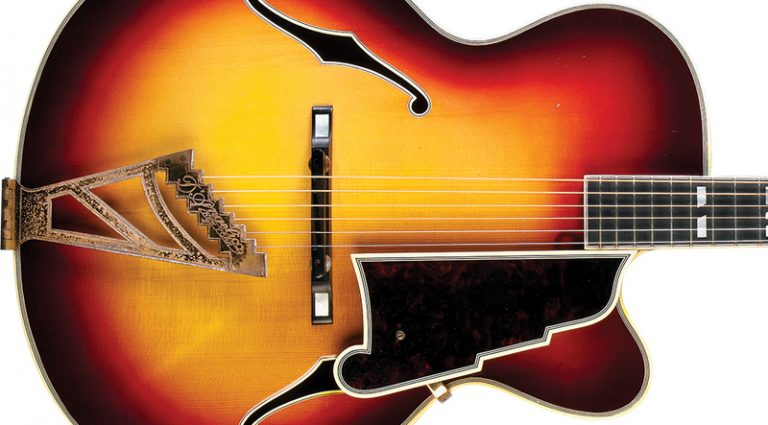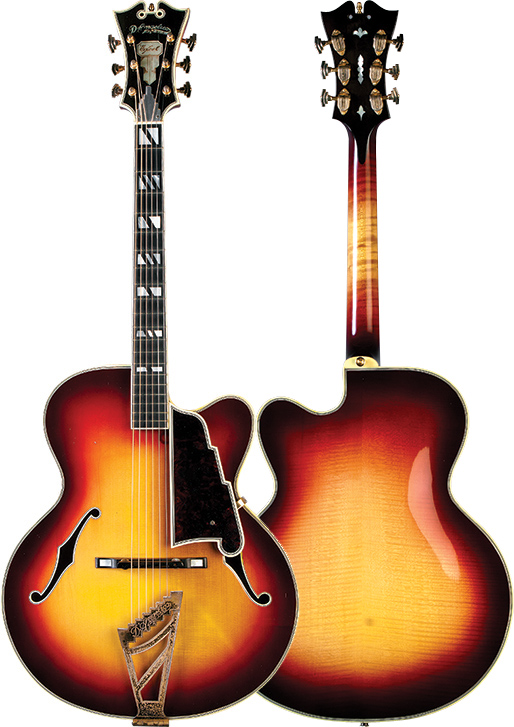 From 1932 to 1964, independent builder John D'Angelico produced some of the finest jazz guitars.
After apprenticing and working in the violin trade, D'Angelico transitioned to building archtop guitars with f-shaped sound holes in his shop at 40 Kenmare Street, on the Lower East Side of Manhattan. His earliest models closely resemble Gibson's L-5 from the same period, though D'Angelico's were a half-inch wider than the 16″ (pre-1935) L-5.
In 1935, Gibson introduced its Advanced models, with 17″ body and X-pattern top bracing. By '36, D'Angelico followed with his own X-braced/17″ guitars and introduced his own stylistic elements including new peghead, pickguard, and tailpiece designs.
D'Angelico is also noted for serving as a mentor to Jimmy D'Aquisto, who worked as his apprentice and eventually took over D'Angelico's business after his passing in '64, at age 59. D'Aquisto continued to build until his death in 1995 – also at the age of 59. The earliest D'Aquisto instruments very closely resemble D'Angelico's work, but later evolved to include designs which even today are considered very avant-garde. D'Angelico and D'Aquisto continue to be regarded as two of the finest archtop builders, and their instruments remain highly regarded by collectors and musicians.
D'Angelico was not only a talented builder, but an independent businessman who sold his instruments direct to players, with only a handful going through dealers. As such, many of his instruments had custom specs and were priced accordingly. Concurrently, Gibson was owned by Chicago Musical Instrument Company (CMI) and made instruments available to dealers at wholesale price, which was one half of their list price. CMI remitted to Gibson only two-thirds of the wholesale price, so the Gibson factory had to make guitars for far less per unit than D'Angelico received for his work. From the consumer's point of view, the pricing for D'Angelico instruments and Gibson instruments seemed comparable, as music stores with Gibson franchises typically sold to musicians and the public for full list price. While Gibson instruments cost effectively the same as a new D'Angelico, the manufacturer's point of view was a very different story. In addition, the price for a new D'Angelico was modest by the standards of the day and certainly extremely inexpensive by today's standards, even inflation-adjusted. D'Angelico's prices were very close to the list price of a new Gibson L-5 or new Gibson Super 400. The Excel was, in effect, D'Angelico's response to the L-5, while the New Yorker was heavily influenced and made effectively as his response to the Gibson Super 400.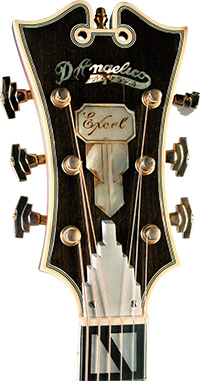 This guitar, bearing serial number 2070, was ordered by Henry "Homer" Haynes of the guitar/mandolin comedy duo Homer and Jethro. Though primarily known for satirical country and pop parody songs and, later in their career, appearances in commercials and on television variety shows, Homer and Jethro were also highly talented jazz musicians who performed and recorded instrumental jazz. The instrument is very similar to the D'Angelico custom ordered by Johnny Smith, one of the most noted jazz guitar players of the 1950s and '60s. Homer Haynes' decision to buy a guitar of this type appears to have been influenced by Johnny Smith's guitar, as evidenced by letters exchanged between D'Angelico and Haynes, which show D'Angelico first repaired a Stromberg for Haynes, which led to a discussion about the specifications and prices for Excel and New Yorker models as well as a model similar to Smith's. Listed in the correspondence at $750, this instrument cost significantly more when new than a standard Excel or standard New Yorker. It is also fascinating to note how little time transpired from the earliest correspondence on December 15, 1958, discussing placing an order, through the letter of January 21, 1959, stating the guitar was ready to be shipped. The original letter requests eight to 12 weeks to complete the instrument, but it appears D'Angelico made quick work of it.
The guitar has ornamentation and construction typical of the D'Angelico instruments of the mid '50s through 1964. Where D'Angelico's pre-World War II guitars were all non-cutaway, by the early '50s, a high percentage of D'Angelico instruments were cutaway. D'Angelico's top models were the 17″ Excel and 18″ New Yorker. This particular instrument has the Excel's 17″ body width and peghead inlay, but has New Yorker bindings and fingerboard inlay. The tailpiece is typical Excel (the New Yorker's was slightly fancier). Typical of any Excel or New Yorker, the guitar has beautifully figured curly maple neck, back, sides, a high-quality spruce top, and ebony fingerboard and bridge. The metal truss-rod cover is typical of D'Angelico's work from the early '50s onward. As with a high percentage of the pickguards used by D'Angelico, Gibson, Stromberg, and other makers at the time, the original nitrocellulose tortoiseshell-grain plastic deteriorated, necessitating replacement and, as a result, it has been fitted with an expertly crafted replica.
Since it was custom-built for Haynes and remained in his possession throughout the remainder of his life, this guitar is a great piece of memorabilia and American musical history, as well as an exceptionally fine playable instrument. While all D'Angelico guitars and mandolins are highly regarded by collectors as well as musicians, the 17″ special orders with New Yorker ornamentation are today are among the rarest and most the highly sought by collectors and contemporary jazzers. The combination of craftsmanship, inspired design, materials, rarity, superb sound and playability, and memorabilia combine to make this an exceptionally appealing instrument.
After Haynes' death, the guitar remained in possession of his son, Trent, until approximately seven years ago, when he sold it to Douglas B. Green (a.k.a. Ranger Doug) of the Grand Ole Opry group Riders in the Sky. It was the primary guitar used by Andy Reiss on Ranger Doug's album, Art of the Archtop.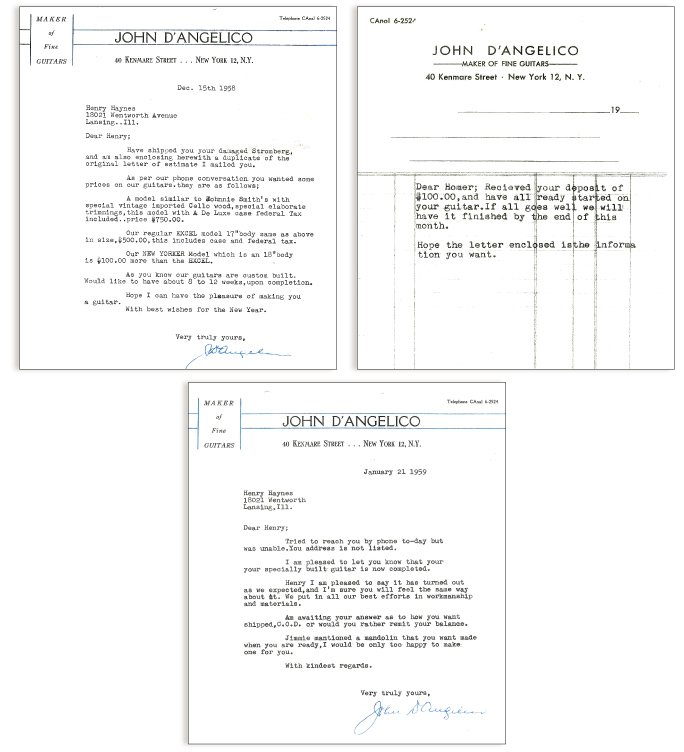 ---
This article originally appeared in VG September 2015 issue. All copyrights are by the author and Vintage Guitar magazine. Unauthorized replication or use is strictly prohibited.
---