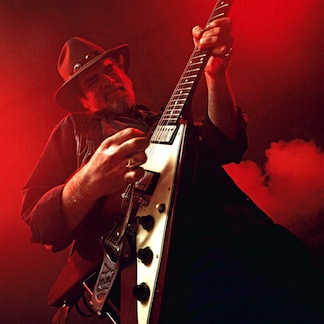 Guitarist/vocalist Lonnie Mack died April 21 of natural causes at Centennial Medical Center, near his home in Smithville, Tennessee. He was 74.
Born Lonnie McIntosh in 1941 in Harrison, Indiana, he gained an appreciation for music during family singalongs, and later heard blues and R&B on the radio, along with gospel music at church. His mother taught him a few chords on guitar, and his style eventually melded the music he'd been hearing with guitar-based songs by Merle Travis and Robert Ward. He began playing professionally in his early teens, performing in clubs and roadhouses. In 1958, he bought a Gibson Flying V and installed a Bigsby vibrato tailpiece that was key to the sound of his 1963 rock instrumental "Wham!" Later, he did sessions for the King and Fraternity labels in Cincinnati and recorded with blues and R&B greats like Hank Ballard, Freddie King, and James Brown.
Through the '60s, Mack was one of the best-known blues performers, playing hundreds of gigs each year and recording several albums. Late in the decade, he was featured on bills with major rock acts at venues like the Fillmore. But, after becoming disillusioned with the industry, he spent the '70s playing low-key gigs near his hometown before he re-emerged in 1983 at the urging of Stevie Ray Vaughan, who invited him to perform at major stops on Vaughan's tour. The two collaborated on the 1985 album Strike Like Lightning.
All told, Mack recorded 11 albums that proved highly influential, and scored several hits including a version of Chuck Berry's "Memphis," which became a Top 5 hit. Both tunes have been frequently cited by top-tier guitarists including Vaughan, Jeff Beck, Jimmy Page, Duane Allman, and Eric Clapton. While his impact as a guitarist was obvious, he also possessed a great singing voice that perfectly accompanied his playing style, whether rendering soulful blues or country.
Mack is survived by five children and several grandchildren/great-grandchildren.