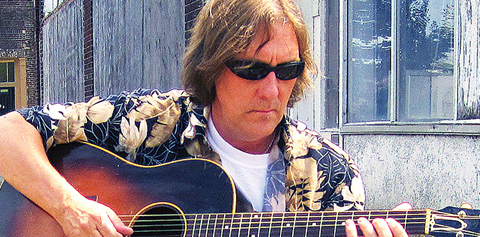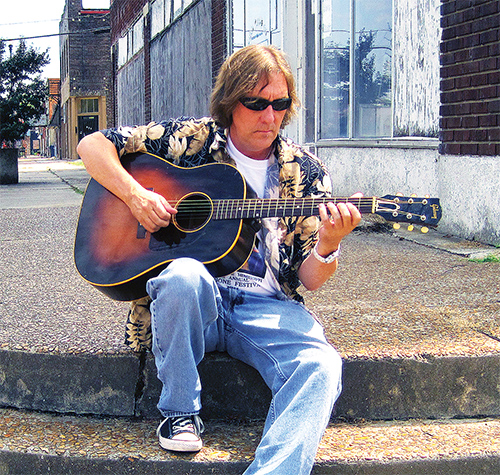 A connoisseur of vintage gear, VG readers may know Jim Singleton as the main man at Jim's Guitars, in Pennsylvania. His drool-worthy displays at guitar shows are habitually filled with fine classic instruments and amps.
In addition to his business persona, Singleton is a talented guitarist and singer, and he recently released a blues album titled 8 O' Clock in the Afternoon, tracked in Clarksdale, Mississippi, with the help of guitarist Jack Thurman and bassist Joe Osborn along with several top local musicians and a selection of killer gear. Guitarist Bernie Marsden, a longtime friend, and blues-harp master Charlie Musselwhite also participated as featured guests. Singleton tells us how everything came together.
What inspired you to record in Mississippi?
I was working on a blues documentary with Bernie, and we were editing film at the Clarksdale Sound Stage, a studio in Clarksdale. They also did audio, so at night, we'd work on the music between film editing. I'd already sorted out some of the songs; the first ones we tracked were the Chris Isaak song "Wicked Game" and an acoustic version of the Whitesnake classic "Here I Go Again."
How did you select the core musicians who accompanied you, and the material you recorded?
I was fortunate to have the right people come in and help. I met Jack Thurman at a gig, and he signed on for the duration after hearing some scratch tracks. We traveled thousands of miles to work on it down South, and got the best local guys in for the right vibe. When Joe Osborn heard some early mixes, he wanted in. I am so grateful for their participation. Those guys are the real deal!
For selecting the songs, I went after what moved me. These are well-written songs that stand up. Gary Vincent wrote some killer originals, "Don't Take" and "Heart with a Mind." Bernie and Jack suggested some of the others.
How were the guests recorded?
Live or dubbed in the studio. Bernie recorded the Dobro solo on "Here I Go Again" with my National Style O at my studio. Charlie Musselwhite recorded "Place In My Heart" in Clarksdale. I'd helped with gear for his Juke Joint Chapel album, and he repaid the favor by grabbing a track on my album. What a nice guy, and a great talent!
Which guitars and amps did you use to record the tracks? 
We used a truckload of vintage guitars and amps, many from my personal arsenal. I used '58 and '59 Les Pauls, my '52 Gibson J-45, Marshall plexis, a great-sounding '64 grey-panel AC30 for the Rory stuff, and my favorite '59 Gibson GA-40 tweed. Jack's lead tone on "Don't Owe You a Thang" is a '58 'Burst straight into a GA-40 with an EVM12L, stuck in a small closet and turned full up! The lead and rhythm on "What's Going On" is a '58 'Burst straight into a '66 Marshall JTM45 plexi through a '68 4×12 cabinet with 25-watt Celestions. The solos and rhythm tracks on "Wicked Game" are my '57 Strat into the GA-40, clean as glass. Joe recorded with his one-off '94 Fender stack-pot Jazz Bass through a '63 Fender Concert into a closed-back 4×10 cab.
Which tracks are your favorites?
The Gary Clark song "Don't Owe You a Thang" was recorded live, in one pass. That was so much fun! It's just a bunch of music lovers doing what we like to do. I had Jack on lead and the best local guys – Daddy Rich on bass, Lee Williams on drums, and Sean "Bad" Apple on guitar. We all held our breath through the drum roll at the end, then laughed out loud. "Don't Take" came out great, too. It's such an excellent song. I recorded it in the middle of the night in Clarksdale. I really like all the songs on the album.
Who influenced your style and tone?
I grew up listening to guys like Peter Green, Rory Gallagher, Jimi Hendrix, Stan Webb, and John Mayall. They were light years ahead of their time. Meanwhile, 5,000 miles away, the English cats like the Rolling Stones, Beatles, Led Zeppelin, Mayall, and Bernie Marsden were listening to Muddy Waters, Howlin' Wolf, Charley Patton, Robert Johnson, and Pops Staples. I learned about American blues from the guys overseas. Our family home was in Dumas, Arkansas, across the Mississippi River from Rosedale, Mississippi. But, I was living in Germany at the time because my father was in the armed services. I lived there from '69 to '74 and attended high school there. It's funny to think I grew up across the river from all that music, and had to travel a long way to learn what was in my back yard!
---
This article originally appeared in VG August 2015 issue. All copyrights are by the author and Vintage Guitar magazine. Unauthorized replication or use is strictly prohibited.
---