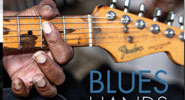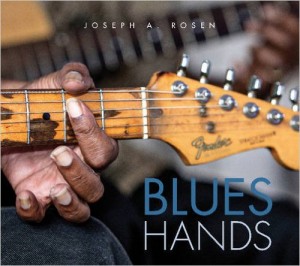 Surely, Joe Rosen isn't the first music photographer to snap a shot not of a performer's face but of his or her hands. The difference is he continued the practice and, with a keen eye, compiled those shots into a book.
Its 128 semi-glossy pages literally illustrate what "clawhammer" banjo means, courtesy Taj Mahal. Ronnie Baker Brooks' pristine, inlaid Strat is here, as is Elvin Bishop's beat-up ES-345, "Red Dog" – and the owners' hands are as gnarled (or not) as the guitars.
Some of the images are so vivid, they resemble paintings more than photographs – like Mac Arnold playing a homemade oilcan guitar.
Not all portraits show only hands; there are facial expressions and body language. In those cases, it's interesting to compare Mavis Staples to, say, Irma Thomas. Staples is stretching her hand upwards, head thrown back, while Thomas is loose, her party already started.
The image, though, doesn't include any instruments and isn't a close-up. Backstage we see Levon Helm, his hand literally on the knee of Hubert Sumlin, who is gesturing, making a point while Helm listens. Who knows how many times these two giants met, but they'll never meet again. Thank God Rosen captured this intimate, moving moment.
This article originally appeared in VG's April '16 issue. All copyrights are by the author and Vintage Guitar magazine. Unauthorized replication or use is strictly prohibited.