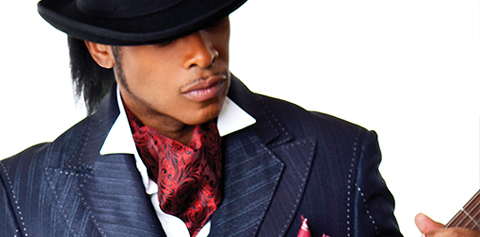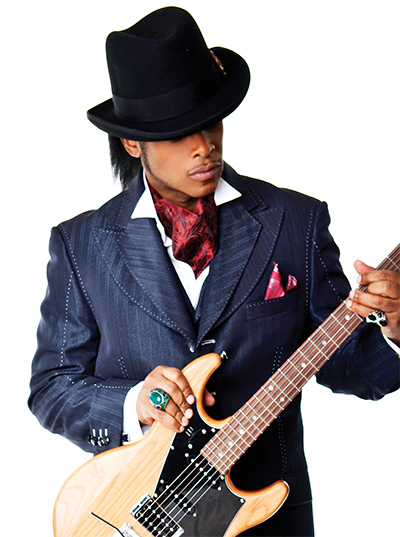 In the early 1980s, Jesse Johnson traveled from Rock Island, Illinois, to Minneapolis and found fame with The Time and Prince to help define the sound of a generation. Since then, he has crafted a sizable catalogue of hypnotic funk and Hendrix-style blues soloing. His last album is Verbal Penetration, and, between solo records, he's a producer and session cat. Having worked with Sly Stone, Stevie Wonder, and Janet Jackson, he also contributed to the highly anticipated D'Angelo album, Black Messiah. Here's the lowdown.
What was it like, playing on the D'Angelo album?
The new music is heavier and has more guitar on it. A lot of the stuff I did is on different versions of the album. I did a solo on "Ain't That Easy," "The Charade," "The Prayer," and lots of rhythm parts. D'Angelo used other guitar players, as well. One of the biggest thrills I get with D'Angelo is when he walks onstage and opens his mouth. Audiences are not used to people singing like that. He truly is the real deal. When he sings, you can't do anything but go, "Damn!"
Before joining The Time, what were you doing?
I was pretty well-known around Rock Island, Davenport, and the Quad Cities area. I was the only black cat playing with white bands, so that brings you into a whole other element where I stuck out. I was walking into clubs where black people wouldn't walk into because of the whole biker element, but I was there, undaunted, because of how I played.
How did you join The Time?
I was playing in a biker bar in Rock Island. Sunday was jam night and people would come in from everywhere. I met a singer and a drummer and they suggested that I go to Minneapolis. I didn't know anybody, but on my second day there, I met Morris Day, who introduced me to Prince. He wanted me to play in a band he was putting together. It wasn't called The Time yet – it was just Morris and I. On our first record, the name of the band was The Nerve, but it turned out that name been taken, so we became The Time.
I left, but later, we got back together as The Original 7ven. I'm not interested in playing songs from yesterday. I love to develop new music. Releases should always be in the here and now. We were supposed to do a record, and when it finally came down to it, I really didn't agree where the record was going. Morris played drums on all The Time records. I didn't understand having a phenomenal drummer in Morris Day, and then using a drum machine.
You're partially responsible for creating an entire sound.
You're talking about something with a rich legacy. I don't really hear that sound in my own music. That was a time and place in Minneapolis. It was really one thing – Prince. My sound is more rooted in the griminess of not being from Minneapolis. I was the only person who didn't grow up there. My stuff doesn't have that same flavor. My stuff tends to have real horns. It's the East St. Louis, Southside Chicago blues thing. That tends to be more a staple in my musical tree.
You're very bluesy.
People think blues is a 12-bar thing. I hear the blues in everything – especially early Van Halen. Blues is a feeling. Anybody can pick up a guitar and play those notes, but very few people ever arrive to get the English behind those notes. You can't artificially conjure the feeling that should accompany those notes.
What kind of gear are you using?
A '96 Fender Voodoo Strat and a Line 6 Spider Valve HD100. I changed the tubes to EL84s so it has lots of headroom. I'm also using a Real McCoy Wah, a Drysdale Univibe, a Dunlop Hendrix Fuzz Face, a Oxfuzz II, and the Line 6 TonePort, Echo Park, and Liqua-Flange.
What can we expect from your next album?
Hopefully, by April I'll have a new thing out the door. It'll sound like how I do things live – stripped-down but with a much bigger guitar sound. Even if it's a clean guitar, it's a big, open sound. I'm always trying to reduce the notes because when there's too much going on, there's not enough space for things to develop.
I don't want to think, "guitar." I think, "Writing a great song." That's why I underplay as opposed to overplay. I want to make the whole painting as appealing to the ear as I possibly can. I'm trying to write something beautiful, and stay true to that.
---
This article originally appeared in VG June 2015 issue. All copyrights are by the author and Vintage Guitar magazine. Unauthorized replication or use is strictly prohibited.
---