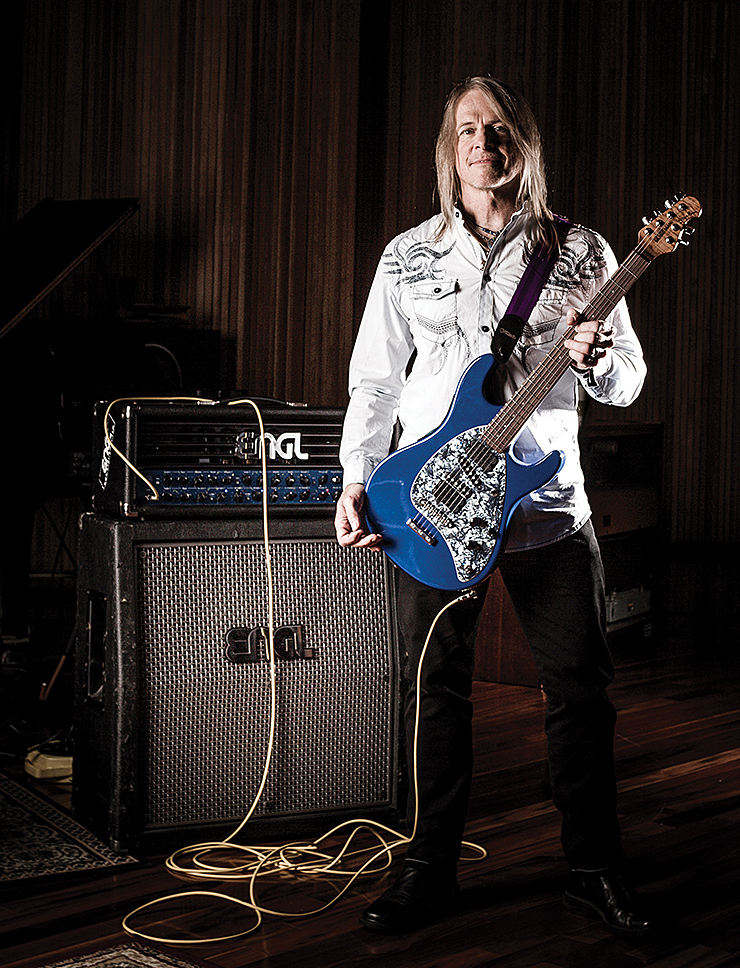 Already busy touring and recording with Deep Purple, axe virtuoso Steve Morse has added another dish to the menu – Flying Colors. Featuring well-known aces like drummer Mike Portnoy and keyboardist/singer Neal Morse (no relation), this quintet straddles the line between rock, prog, and pop with extraordinarily melodic songs. With the release of its second album, Second Nature, Morse says the band is ready to rock… more.
What's the attraction of working in yet another band?
The reasons I got into music in the first place – the thrill of creating something that didn't exist before and being part of a group that's bigger than the parts separately.
The new album seems to lean more on the prog-rock sound. As a teen, were you into Yes, Gentle Giant, Jethro Tull and King Crimson?
Yes, big time. Back then, music like "21st Century Schizoid Man," Yes' Fragile, and Tull's albums were all favorites of mine, though nothing was classified as "prog rock." It was expected that every band should be different in the early '70s – and they were.
A lot of the solos on the new record sound like you're using the neck pickup, and relying less on blues licks than stately melodic phrases.
The album is very melody driven, so the solos had to be, as well. Tone-wise, I've always used the neck pickup turned up high, and switched to the bridge pickup once I get to a lower register, in order to get more clarity.
What's in your Flying Colors live rig?
I'm putting together the pedalboard right now. It has four TC pedals, including the tuner, plus a Keeley compressor. All are true-bypass, but the two delays are 100 percent wet and controlled by Ernie Ball volume pedals, which are summed to a separate "wet" amp only.
Any new tweaks to the latest version of your Music Man signature guitar?
The newest versions have a whammy bar and it really sounds good. They're also doing some beautiful finishes on them – I'm almost embarrassed to have such nice-looking instruments. I've also started playing my ancient number one Music Man guitar again, since it has a new bridge. We just installed a brand new "roasted" (i.e., kiln-dried wood) neck on that guitar, too. I had too many fret jobs done on the original and literally wore out the fretboard. Lastly, I have a new four-pickup Music Man SM guitar with all the moisture roasted out of the body and neck, and it has a very lively, screaming tone.
What makes your signature DiMarzio pickups or Engl Special 100 head unique, tone-wise?
The spacing of the pickups, for one thing. My neck pickup sounds rounder because it's mounted about where the 24th fret would be, closer to the center of the vibrating string. For my amp, the Engl has flawless clean and gradual distortion if you want it, as well as clarity in the saturation with a clear high-end.
What's your opinion on how acoustic/electric preamps and pickups have evolved for live work?
It just keeps getting better. Back in the day, you would actually have a cheap microphone in a tin box sitting in the sound hole. Now, my classical guitars have a Fishman EQ preamp that sounds fantastic. There's no excuse for not playing great music now.
Where is your old Tele from the Dixie Dregs era?
I gave it to a dear friend, Michelle Morgenstein, before she died after a long battle with cancer. She was with [Dregs drummer] Rod Morgenstein back in our University of Miami days, and that was the guitar I played in those days, so she associated it with all the good times we had back then. Michelle asked if I would will it to her when I died, but I thought it would make more sense for her to have it before she passed rather than to leave it in storage.
How are you a different guitarist today compared to when you first played with the Dregs in 1981?
I have better phrasing and definitely better equipment. My improvisations and phrasing are the biggest improvements, but then again, I've played a lot of gigs since then!
In your mind, what is the Dixie Dregs' lasting legacy?
Our legacy would be as an instrumental rock band. I don't think there were many other all-instrumental bands during our time, and for good reason, such as lack of commercial appeal. Certainly, there were instrumental jazz-rock bands, but we were different in that we blended the usual rock and roll, classical, and jazz with Celtic and bluegrass influences. And we always tried to have a sense of humor.
---
This article originally appeared in VG February 2015 issue. All copyrights are by the author and Vintage Guitar magazine. Unauthorized replication or use is strictly prohibited.
---