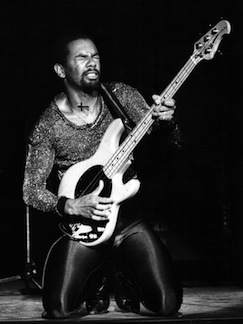 Funk-bass pioneer Louis Johnson, 60, died May 21. Best known for his work with Michael Jackson, Johnson can be heard on the superstar's Off The Wall, Thriller, and Dangerous albums, including the hit singles "Billie Jean" and "Don't Stop 'Til You Get Enough."
Johnson and his guitarist brother, George, emerged in the early 1970s accompanying Bobby Womack, the Supremes, and Billy Preston. Shortly after, they formed the funk duo Brothers Johnson, and, working with producer Quincy Jones, released their 1976 debut album, Look Out for #1, which reached #1 on the Billboard R&B chart and the Top 10 on the pop chart. The disc was followed by Right on Time in '77, Blam!! in '78, and Light Up The Night in 1980. They self-produced their final album together, 1981's Winners. Their resumé included the hit singles "Get The Funk Out Ma Face," "Free and Single," "I'll Be Good to You, "Strawberry Letter 23," and "Stomp" before they split in 1982 to focus on individual careers.
Louis, dubbed "Thunder Thumbs" by peers, is often cited (along with Larry Graham) as a pioneer of the thumb-pluck technique that dominated the funk genre, and he became a leading player on the L.A. session scene, favored by producer Jones and working with prominent guitarists/bassists including Lee Ritenour, Paul McCartney, Earl Klugh, George Benson (Give Me The Night), and Stanley Clarke, as well as rock and pop performers like Herb Alpert (on his 1979 hit album Rise), Billy Preston, Michael McDonald, Donna Summer, Stevie Wonder, The Temptations, John Mellencamp, Phil Collins, and many others. In 1985, he recorded the bass part for the famine-benefit song "We Are The World," co-written by Michael Jackson and produced by Jones. It eventually became the biggest selling single in pop-music history, moving more than 20 million copies.
By the mid '80s, Johnson shifted his focus to family before returning to studio work late in the decade. In the mid '90s, he began offering lessons and workshops via his website.
Johnson's career was in part marked by the basses he played; in the Brothers Johnson he played a Gibson and an Alembic, as a session player he was an early adopter of Music Man's StingRay, and later in his career developed signature-model basses with several manufacturers.