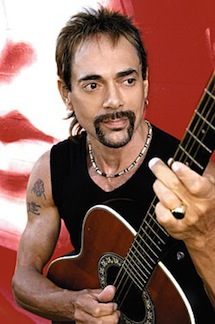 Andy Fraser,  founding member of the rock band Free, died March 16 at his home in Temecula, California. He was 62 and had at times battled cancer and Aids, though a cause of death is under investigation.
Fraser was born in London and started learning classical piano when he was five. At 12, he switched to guitar and soon after began playing in local bands. At 15, he was expelled from school for refusing to cut his hair. He then enrolled at a local college, and there made the acquaintance of Sappho Korner, whose father, Alexis, was a noted blues guitarist, impresario, radio personality – and friend of John Mayall. One day, Mayall called Korner in his search for a bassist, and Korner told him about a kid who'd been hanging around his house, noodling on his guitars, and claiming to be a bass player. Fraser auditioned for Mayall and stayed in his band for a few months. Korner then helped Fraser connect with guitarist Paul Kossoff, who had what had been jamming with a drummer named Simon Kirke and singer Paul Rogers. With the addition of Fraser, the band became Free in 1968. In that combo, Fraser – inspired by Cream bassist Jack Bruce and because of his own physical size, relied on a Gibson EB-3, an instrument originally designed with a 30.5″ scale. Fraser and Rogers co-wrote the band's hit song "All Right Now," which has since gained recognition as one of rock's classic anthems.
Free enjoyed a brief but successful term before disbanding in 1972. Afterward, Fraser played as a member of Toby, The Andy Fraser Band, and The Sharks, and also wrote songs for other artists, including Rod Stewart, Robert Palmer, and Bob Seger.
"What seemed important to me was to develop my experience and confidence as a singer," he told VG's Tom Guerra in an interview for the September '05 issue. "That was my main function with these groups. With Toby and the beginning of Sharks, the idea was to develop vocally. Sharks may have worked if it hadn't been intercepted by the arrival of [singer Steve Parsons, a.k.a 'Snips']. It started off as just me, Chris Spedding, and (drummer) Marty Simon, but before I knew it, Snips was there and I found myself not advancing, vocally. Me and Snips could never really get on the same page. So I felt it better that I let them go in another direction."
Fraser continued as a solo performer, focusing on his vocal skills. In 1984, his video for "Fine, Fine Line" saw airplay on MTV, even as Fraser faced personal challenges including the dissolution of his marriage and his preparing to tell family and friends that he was gay. In the early '90s, he was diagnosed with Aids.
"I'd been compartmentalizing it in the back of my mind from way, way back, and just didn't deal with it," he said in '05.
Fraser continued to make music throughout his life. He is survived by two daughters, his mother, and three siblings.