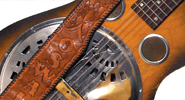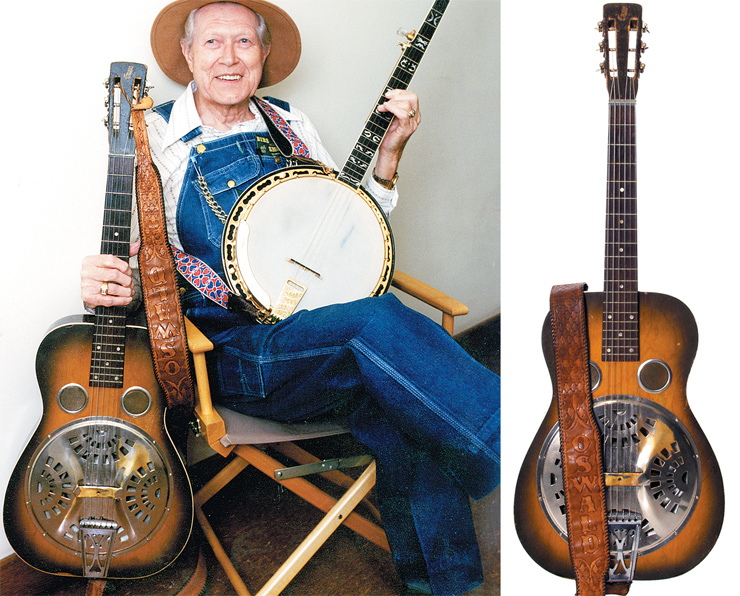 The melodic, evocative warbling of a resonator guitar has for decades been a fixture in country music, and knowledgeable fans will tell you there's one primary individual to thank for it – Pete "Bashful Brother Oswald" Kirby.
Kirby was born in Sevierville, Tennessee, in 1911. His introduction to the resonator occurred circa 1929, thanks to a Hawaiian musician named Rudy Waikiki. Kirby joined Acuff's Smoky Mountain Boys in 1939, where his dobro work and tenor harmony helped define country music in its formative years. His stage character was known as Bashful Brother Oswald, and he usually dressed in overalls and an orange hillbilly-type hat, typifying the "country comedian" in such bands of the time.
Dobro took its name from the Dopyera brothers, who started their own company shortly after playing a key role in the development of resonator guitars with National. In the early days of both companies, there were fundamental differences in each brand's construction, but both used hubcap-like resonator plates to amplify the sound of an acoustic guitar. Today, the word "Dobro" is widely used as a general descriptor of resonator guitars.
The Dobro that Kirby counted on for many years is either a model 27G that was made in California by the Dobro company, or a model 27 made in Chicago by the Regal company which began producing Dobro instruments under license in 1933. Either way, it's a wood-bodied, two-tone sunburst with a single resonator plate and a round neck (as opposed to a Hawaiian-style square neck) with 12 frets clear of the body. One key to its identity is the lack of three small holes in the top, near the neck joint. Many Dobros had them, but the model 27s (from either manufacturer) did not.
And while a hand-written letter from Kirby (belonging to Nashville musician Mike Webb, the instrument's current owner) says the instrument was made in 1929, its serial number indicates it was made in 1934-'36. Many Regal-made instruments didn't have serial numbers, which would give a nod to it being California-made. The resonator plate has patent #1896484 and is embossed with "Other Pat. Pend.," which also dates the guitar to the mid/late 1930s.
Kirby reportedly acquired the instrument from fellow legend Shot Jackson in 1949, who repaired it and replaced parts after Kirby acquired it. It was always tuned in open A, and Kirby averred that whenever he played his Dobro, he simply stuck with the melody to accompany Acuff's singing. He also recorded numerous solo albums and appeared on other Nashville sessions.
Acuff died in 1992. Kirby published his autobiography in '94 and became an official member of the Grand Ole Opry a year later. He passed away in 2002.
In Webb's letter, Kirby notes, "…an instrument it (sic) no good if it isn't played and he plays more like me than any one (sic) I know."
And that says a lot about Kirby as a musician, as he wanted his instruments to continue to be played rather than end up on display in a museum.
---
This article originally appeared in VG October 2004 issue. All copyrights are by the author and Vintage Guitar magazine. Unauthorized replication or use is strictly prohibited.
---