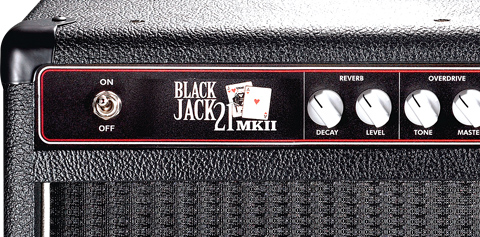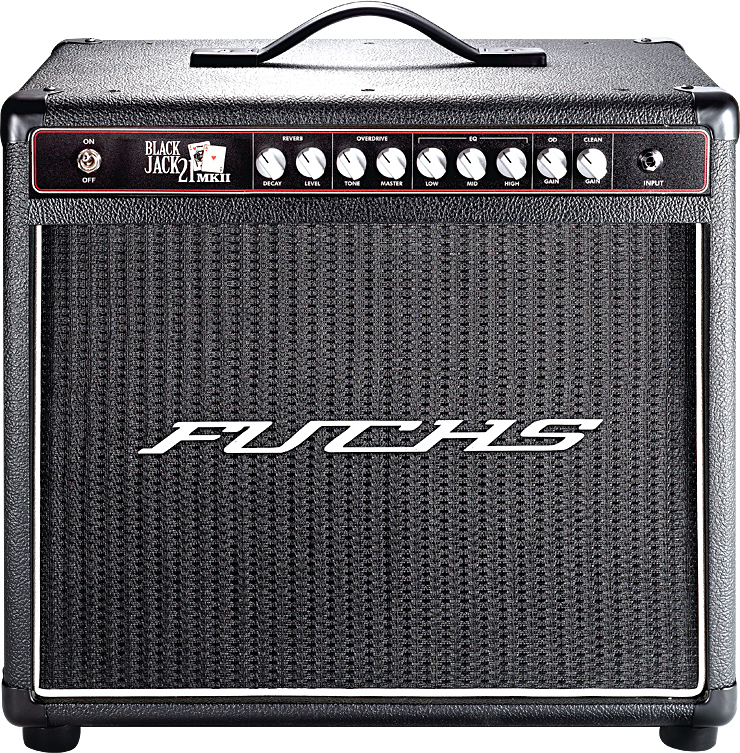 Fuchs Blackjack-21 II Combo
Price: $1,750
Info: www.fuchsaudiotechnology.com
Andy Fuchs is an authority in the world of guitar amps. One of his great accomplishments has been to closely replicate and refine certain legendary boutique-amp tones. With the Blackjack-21 II, Fuchs Audio Technology makes more accessible what the company has already put within reach of boutique buyers, which is a thrill to players seeking godlike tone on a mortal budget.
Like Jim Marshall juicing up the Fender Bassman and Trainwreck's Ken Fischer spinning magic from the Vox AC30, Fuchs has built on a great sound and broadened its appeal. The 21-watt Blackjack combo (also available as a head) adds versatility to the equation with channel switching, reverb, and an effects loop.
This Blackjack-21 II is a two-channel amp with a push/pull Class AB output stage using two 6V6s, and it can get pretty darn loud for its wattage. It offers a little more clean headroom than some of its siblings in Fuchs' Casino series – not the somewhat antiseptic clean of a Fender Twin Reverb, but clarity with a lurking texture that can be tapped by leaning in with the guitar's volume. Whether you're the type of player who likes to get dirty using natural amp overdrive or by dialing up a gain control, you'll appreciate the Blackjack's touch-sensitivity.
The Clean and Drive channels each have an individual Gain control and share an EQ section (Low, Mid, High). A rugged two-button pedal is shipped with the amp. Its left button switches channels and its right button kicks in a boost, the settings of which are adjusted using the Tone and Master controls in the Overdrive section on the amp's face. This boost design is the Blackjack's special sauce, and working the Tone control reveals all that is dynamic and delicious about this amp. Turning the knob fully counterclockwise yields a warm "woman tone"; set at noon, the amp is at its most Dumble-like; and full clockwise puts the Blackjack in Marshall territory. Being able to layer the boost function on top of your other two sounds allows great flexibility for shaping tone, and makes the Blackjack feel like a four-channel amp.
The amp is fitted with a 12″, 8-ohm Red White & Blues speaker from the Eminence Patriot series (Celestion or WGS speakers are available as options). The low end feels solid and muscular, with no flubbing out. With help from the back-ported cabinet, the satisfying low frequencies make this little amp feel big for its size (Fuchs also offers the Blackjack combo in a larger cabinet for anyone who needs more low end). The Eminence speaker sounds nicely rounded, avoiding that pronounced midrange honk and controlling the highs, even with the High EQ pinned. On the back of the amp, 4-, 8-, and 16-ohm jacks give the option of connecting other cabs or speakers (only one at the time, as directed).
As mentioned, the Blackjack is further distinguished from its predecessors by way of onboard reverb and an effects loop. The loop is provided via a simple 1/4″ TRS plug that splits Send to the ring and Return to the tip. If you were thinking of including your reverb pedal in the loop, you can put it on eBay right now. Fuchs is renowned for his digital reverb pedals – the Verbrator has turned many a digital naysayer into a believer – and he's packed the same circuitry into the Blackjack.
Decay and Level knobs control the reverb (not footswitchable yet, but watch for Fuchs' Artist Footswitch to be released this summer). Starting with the Decay dialed all the way down, gradually increase the Level and around twelve to one o'clock you should find yourself in a large room with about a half second of slap-back. Much beyond two o'clock, the 'verb feels a bit too rich, though without the wash and boing that often results from a long spring tank. With the Level held at noon and the Decay jacked way up, the Blackjack sends you on a slow-motion ride through space. It's a very playable reverb, and well worth exploring.
The Blackjack-21 II is built like a rock from the top to the bottom of its poplar-ply cab (a lightweight, renewable wood), with all high-grade parts inside and out. Expectations run high on an amp like this from a boutique builder like Fuchs, but we're hard-pressed to think of anything to change.
---
This article originally appeared in VG August 2014 issue. All copyrights are by the author and Vintage Guitar magazine. Unauthorized replication or use is strictly prohibited.
---