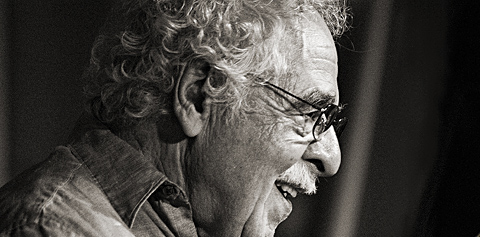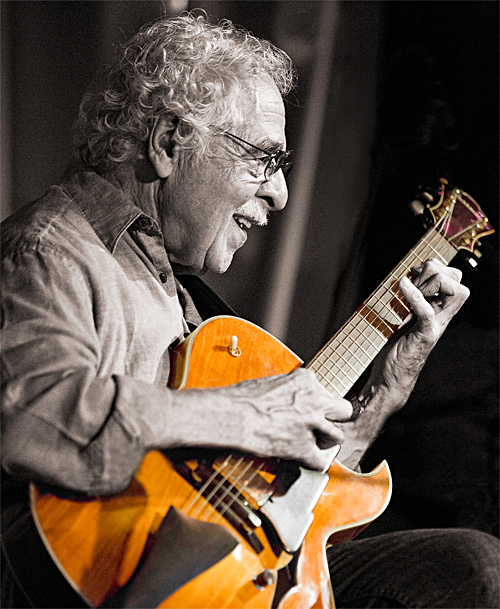 He's a straight-ahead jazz guitarist who wrote a smash-hit pop song that's still yielding handsome royalties. In addition, he has recorded and toured the globe with artists such as Tony Bennett, Barbra Streisand, Burt Bacharach, Natalie Cole, Peggy Lee (for whom he conducted the Dallas Symphony Orchestra), Diana Krall, Sergio Mendes, Manhattan Transfer, and many others.
Moreover, he appeared in two classic motion pictures, designed and endorsed guitars for leading manufacturers, and has a respected presence in the industry. He was a charter member of Herb Alpert's Tijuana Brass and the go-to guy for the gifted Joe Pass; their For Django album, a harbinger of many more collaborations together, culminated with Duets in 1991.
Such accomplishments would qualify any player for special peer recognition. So, last year, the L.A. Jazz Society honored John Pisano with its prestigious Lifetime Achievement Award.
Few jazz guitarists can look back on such a varied and productive career. And certainly, no other guitarist has served as the lynchpin and touchstone for the careers of so many important players. He's the genius loci of Guitar Night, a weekly event at Cody Bryant's Viva Cantina in Burbank. Now in its 16th year, it has showcased a Who's Who of guitar talent: George Van Eps, Pat Martino, Ted Greene, Laurence Juber, Jimmy Wyble, Tim May, Joe Diorio, Mitch Holder, Bob Bain, Herb Ellis, Sheryl Bailey, Jim Fox, Barry Zweig, Al Viola, Mike Anthony, Ron Eschete, Anthony Wilson, Jimmy Bruno, and many more. It's a bestowed honor on major-league players, and, if you're an invited young player, you've arrived.
The gig presents a real reach-out-and-touch immediacy for the price of a drink, not only will you find Pisano hosting one of the world's finest players, you'll be rubbing elbows with their peers in the audience. But despite the importance and impact of Guitar Night, it's a just small part of John Pisano's story.
Pisano was born in 1931. He studied piano as a youngster but switched to guitar as a teenager.
"I got some of my early licks from listening to Django, which I played for Stan Kenton's bassist, who happened to live down the street in Staten Island," he said. "He was impressed, but told me I needed to investigate bebop. This was around 1947, and I found that Chuck Wayne lived nearby. After one lesson, he took me under his wing and we became friends. I think I paid for one lesson, and the rest were free.
"I was so influenced by Chuck, from the design of my D'Angelico, which I had commissioned in 1953, to the size of the pick that he used."
The post-war draft, however, was still in force and John knew his obligation in the military was looming.
"My dad was a postman who went to work about three in the morning to sort the mail. I was just waiting; and if I received orders, they would be for the Army or Marines, both of which would have put a gun in my hand, which I didn't want. But one morning, dad called to alert me that I'd gotten my papers; and in those days you'd have to leave the next day. I'd already checked out the Air Force and had friends in various Air Force bands who thought they could get me letters from their warrant officers to request me. So that day, I joined the Air Force and left for a four-year stint, though it took about a year to get to a band. Eventually, I auditioned for the only authorized guitar chair in Washington D.C. It was an automatic staff sergeant rating, so I could afford to live off base. And it was good duty; we did lots of 15-minute radio recruitment spots, traveling, and even played the White House and the Pentagon. Those recruitment spots were my first foray into studio work."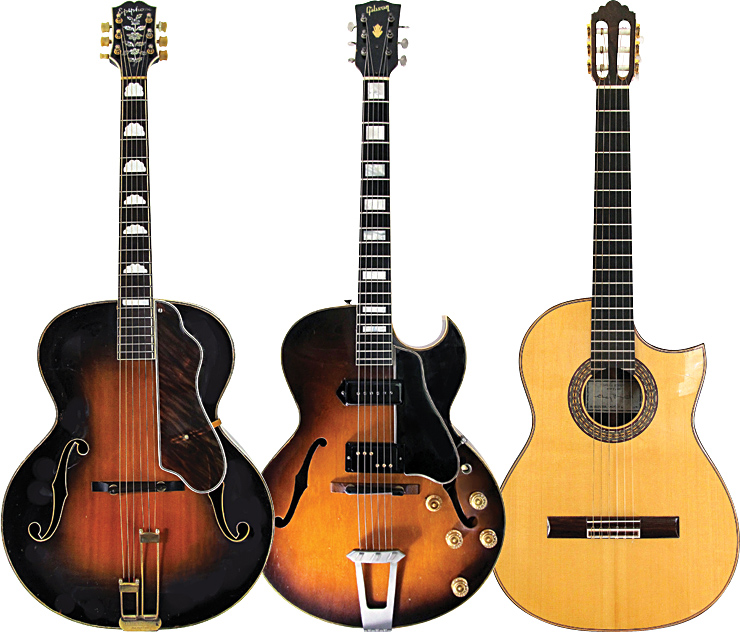 In D.C., Pisano availed himself of lessons from Byrd, who was studying with Segovia. Later, Pisano, along with Byrd, became one of the foremost exponents of the Bossa Nova and samba movements in the early '60s.
When Pisano finished military service in 1956, he enrolled in the Manhattan School of Music – one of the few places that would accept guitar study as a minor, meaning he had to choose another instrument for his major. But as soon as he paid tuition, he got a call from drummer Chico Hamilton, who wanted to fly him to L.A. to audition.
Hamilton's call was worth the gamble. And it was a critcial point in Pisano's career, because the drummer insisted on using the hippest guitarists he could find – Howard Roberts, Larry Coryell, Dennis Budimir, Jim Hall, Gabor Szabo, and Joe Beck, among others. The jazz was always accessible, but Hamilton was known for his broad and progressive musical latitude. He was informed with a worldliness gleaned from ecumenical associations with Charlie Mingus, Lester Young, Duke Ellington, Billy Eckstine, T-Bone Walker, Count Basie, Billie Holiday, and even the Rolling Stones' Charlie Watts. So, Pisano, who'd replaced Jim Hall, was about to receive a music education that would eclipse the Manhattan School of Music's curricula.
"My reading at the time was okay, but Jim Hall wrote some pretty difficult things," Pisano said. "He's one hell of a musician, but to play anything that another guitarist created is a little tricky because everybody has his own thing. Chico had kind of a chamber group, so it wasn't a situation where you could count on someone playing unison with you. You'd have entrances and notes in the middle of other passages. So I woodshedded really hard with records and learned the parts. It was tough."
Still, he easily dispatched this trial by fire and the gig proved invaluable for developing and realizing his talent. Cutting it with Chico Hamilton's group would reinforce any player's self-confidence. John laughs, "I went from Italian weddings to the big leagues."
Shortly after, in 1957, Pisano was featured in the film The Sweet Smell of Success, starring Burt Lancaster, Tony Curtis and Martin Milner. Milner's character, a guitar player in a New York City jazz combo, was shown in several scenes riffing with Hamilton's band; but it's Pisano's playing on the soundtrack, and his hands and guitar onscreen.
He was featured again with Hamilton's group in George Wein's Zeitgeist documentary, Jazz on a Summer's Day. The 1958 film, shot at the Newport Jazz Festival, showcased such artists as Thelonius Monk, Anita O'Day, Dinah Washington, Louis Armstrong, Sonny Stitt, Gerry Mulligan, Art Farmer, and more. It's one of the most important jazz documents of any era.
Pisano continued honing his chops with various members of Hamilton's band, including alto player Paul Horn and jazz cellist Fred Katz. On his website, Classic Jazz Guitar, Jazz-guitar aficionado Mike Kremer adds, "The Katz recordings always included intricate solos and comping by Pisano. Especially notable were Fred Katz and His Jammers and 4,5,6 Trio. And Pisano's landmark 1958 releases with guitarist Billy Bean, Take Your Pick and Makin' It, were indicative of the era's most progressive jazz guitar."
"Makin' It was recorded on a Wollensack tape machine in my mom's kitchen on October 31, 1957," Pisano recalled. "String Jazz released it in 2000. I still have the original tapes, which came out well, but I can't remember what we used for a mic."
Back then, three leading-edge guitarists – Bean, Pisano, and Dennis Budimir – would jam until the wee hours. Budimir claims that no one has had an effect on him as profound as Bean. But, many think the duet albums with Bean and Pisano demonstrate the latter's playing was easily as formidable as Bean's.
"Those Pisano/Bean recordings set a new standard for jazz-guitar duets and immediately achieved cult status," said Kremer. "Both presented exceptional examples of John Pisano's single-string solos and his rhythm and comping abilities. One of the best examples, 'The Song Is You,' was played at an exceptionally brisk tempo and recorded so both guitarists were always discernible. That track, alone, makes it clear that Pisano was every bit Billy Bean's equal as a single-string soloist and supporting player."
Even today, as the sine qua non of Guitar Night, Pisano routinely trades solos with the world's best players before yielding the stage.
Joe Pass
In the early '60s, Pisano was gigging with the pianist/vocalist Page Cavanaugh, but needed a sub one night. He called Joe Pass.
"Joe was still at Synanon (a drug rehab facility for musicians), and he invited me down for their jam sessions," said Pisano. "In fact, (bassist) Charlie Haden was there, too, and played on one of the first albums I recorded with Joe." John's ability to comp and solo provided the perfect counterpoint for Pass, who was already a noted and gifted bebop soloist. The impact of Pass and Pisano's For Django album led to a revered alliance of more than a dozen recordings. Each eagerly-awaited release enhanced a legacy that culminated with Duets in 1991.
By then, Pisano had created a career as one of the most in-demand guitarists, working as a sideman for progressive and avant-garde artists such as alto saxophonist Bud Shank, as well as clarinetists Buddy DeFranco, Jimmy Giuffre, and Benny Goodman. He also enjoyed a long association with singer Peggy Lee.
"Peggy had me conducting the Dallas Symphony with a guitar on my back," he laughed.
And, he frequently worked as a session player flexing his chops for diverse talents such as Barbra Streisand, Bobby Scott, Lalo Schifrin, Diana Krall, Herb Alpert, Gato Barbieri, Howard Roberts, Sergio Mendez, Phil Spector, and many more.
Pisano also made a number of albums as a leader. Among Friends and Conversation Pieces feature duets with Pass, Phil Upchurch, Dori Caymmi, Ted Greene, Joe Diorio, and Lee Ritenour. Just as he is today, Pisano was always part of what was happening.
"One night, I went in to hear Lee Ritenour, who was 19, and we played some things," he said. "I still have the review that Leonard Feather wrote. Lee was 20 and I was 40. And Leonard made a big issue that I was twice Lee's age (laughs)."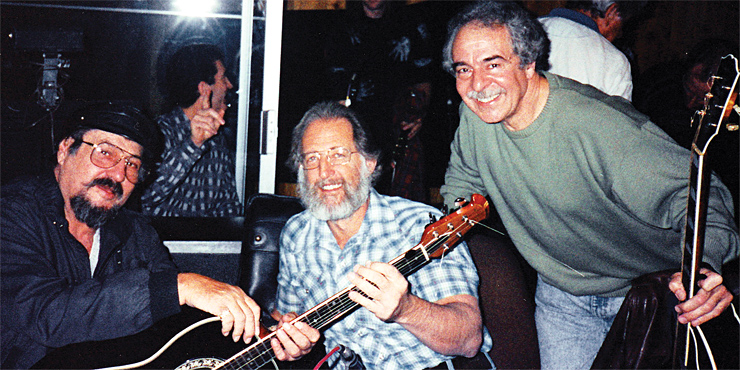 Crossing Borders: Tijuana and Brazil
Typically, Pisano was hip to new music, and was in-demand when the Brazilian sound emerged. "I always had an affinity for Brazilian music. It went way back to the Disney movies when they'd produce those wonderful Carmen Miranda numbers with the animated parrot Jose Carioca. I was nine or 10 years old, but I loved the groove and feel of the music. Maybe I was Brazilian in another life, because it was so natural to me. I remember when (alto saxophonist) Bud Shank and (guitarist) Laurindo Almeida recorded their Pure Brazil album. It kindled the flame of my early fascination with that harmony and rhythm. I was in the Air Force then and my roommate, drummer Jack Franklin, played a lot of Latin music with those wonderful montunos. I remember wearing out that record.
"When the Bossa Nova became the craze, I quickly learned all the rhythms and the proper techniques for the right hand. And though it was the rage, there weren't many guitarists who really knew the correct forms. They'd look at the music, see the typical pattern and say, 'Hey, I'm playing Brazilian (laughs).'" Pisano went on to lend his talent to Sergio Mendes' Brasil '66 and recalls, "When I was in Brazil with Sergio, years ago, I started playing, and people would look at Sergio, point at me and ask, 'Brasileiro?' 'Is he Brazilian?' I've just had a feel for Brazilian music. I can't put my finger on why, but the feeling's been there a long time." His expertise in the genre led Diana Krall to fly John to Paris in 2002 to play her in-concert samba numbers under the baton of famed arranger and conductor Claus Ogerman for her remarkable Live in Paris DVD.
"Once, at a session, Tommy Tedesco was sitting next to me; I was playing a rhythm, and Tommy said, 'How do you play that stuff, man?' I showed him and he picked it up right away. Of course, Tommy used a pick, but he got the idea right away. Tommy could do anything. It was so new there weren't a lot of people who were playing it authentically.
"Tommy would help everyone else, too. I remember once, I was scuffling with a banjo part. He looked at me and said, 'You don't have to play all those chords. Just play the top note and move right through it.' He'd get you out of situations, and do it very nicely. He was very caring.' But, even when I studied with Charlie Byrd, there was no Brazilian literature with him. It was all classical, as he was studying with Segovia."
Circa 1966, Herb Alpert, who was looking for a rhythm guitarist, called Pisano – or more accurately, kept calling, because Pisano was always busy.
"Finally, we worked it out so I'd try a couple gigs as a part of his new performing group, which were all friends and fine musicians. We worked for a couple of weekends in Seattle. Herb wanted to keep me in the band and asked if I'd write a tune for his new album, which he needed the next week. I did it so quickly that I didn't even have a title, so he named it after his maid, 'Felicia.' Then, when I got my first royalty check… I thought I was doing well in the studios, but knew it would take three years to make that much money. So after that I just started writing what I called 'silly songs' and had tunes on each of his albums."
So, What's New?
When TV-record-hop host Lloyd Thaxton made Pisano's tune "So What's New?" his theme song, Pisano had struck gold. "I wrote it in my head at a traffic light at Santa Monica and Vine, right where Gold Star Studios used to be – where Spector and the Beach Boys used to record. Anyway, I raced home and recorded a demo. The Thaxton show was syndicated all over the world so it was a great shot for me.
"My favorite recording of it is by Joe Pass," he added. "Joe was doing a live recording at the Vine Street Bar and Grill, and I walked in with Jeanne (Pisano's wife, and an outstanding vocalist). He saw me and began playing, 'So What's New?' Later, his producer called to ask what the title was, because it was going on the album. Now, there are at least 50 covers."
Lenny Breau
"The first time I heard Lenny Breau was in 1969, at Shelly's Manne-Hole," Pisano said. "He'd recorded his live album and we met around that time (The Velvet Touch of Lenny Breau was recorded April 28-30, 1969). During that month, I got a call to work Donte's for a weekend, but couldn't take it. I thought Lenny was still in town and recommend him, which was his first gig there. So, we got together and hung out for several months, became very good friends, and played a great deal. He was so giving, and eager to show everyone what he was doing, as opposed to some guys who cover their hands with a towel (laughs)."
One night, Pisano took a tape recorder to Donte's and recorded Breau. The result was released as Lenny Breau, Live at Donte's, and Pisano plays on "Georgia on My Mind."
"I offered it to String Jazz, and they released it in 2000. I remember the first person I called was George Van Eps, who was sitting at the table when I recorded it. But all the guitar players were coming in to hear Lenny."
Wes Montgomery
"I remember the first time I'd heard about Wes Montgomery, I was in San Francisco with Chico," Pisano said. "We were working opposite Wes' brothers, the Mastersounds. It was the first time I'd heard a Fender bass, and looked at it in amazement wondering if it could ever be accepted into the jazz world. One night, in the dressing room, one of the guys asked if I'd heard his brother play – he played with his thumb. Well, I thought anyone who played with his thumb would have to be a cowboy or something. But, about two years later, the three of them were working here, on Washington Boulevard, and I went in and said, 'Hey, you guys weren't kidding.'
"Once, (guitar great) Thumbs Carlisle was sitting in a booth in front of the bandstand where I was working, and Wes walks in and plops down beside him. Obviously, they knew each other. So, at the end of the set, I said, 'I have to announce the presence of two great guitar players, however incorrectly they play.'" (laughs)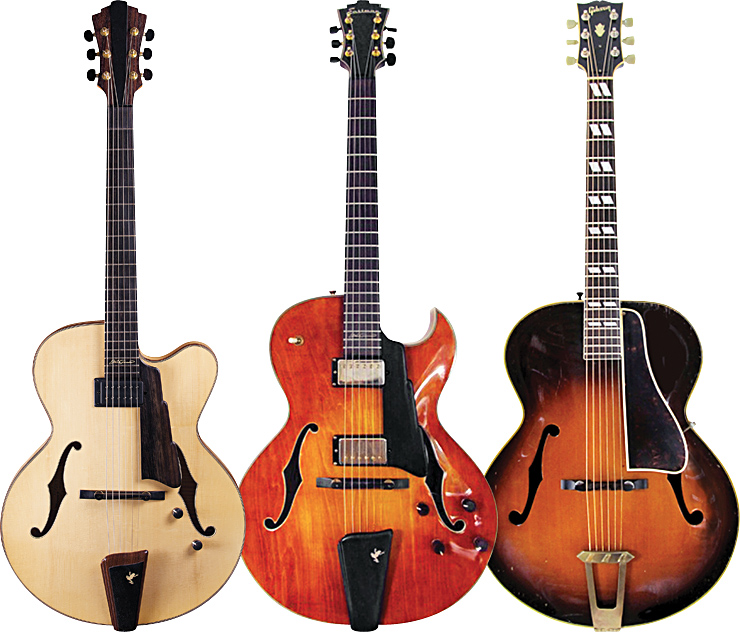 Guitar Arsenal
Pisano's music room and studio would be nirvana for most jazz-guitar fans.
"I played an ES-175 a good portion of my life," he said. "I bought it in the late '50s and still have it. But when I was in the service in '53, I had John D'Angelico build a guitar. I paid less than $400 for it and used it on Jazz On A Summer's Day. Around that time, I acquired a '51 Gibson ES-175 and asked John if he'd put an ebony fingerboard on it. He said, 'What do you want this piece of crap for, anyway?' But he acquiesced and did it (laughs).
"It was my dad who originally took me to John's shop, and I still have my dad's guitar – a great old 1940 Epiphone DeLuxe I used for years on lots of big-band stuff and any kind of rhythm things. (Composer/Arranger) Johnny Mandel really likes my rhythm playing, so whenever I work on a Streisand session or with Manhattan Transfer, I'll use it. I also used it on several things with the late Bobby Scott, (composer of "A Taste of Honey"and "He Ain't Heavy"). I've played several of them, but this one really holds up. I don't have a pickup on it, either. I thought my Gibson L-5 sounded louder, but musicians who were listening told me that even though the Epi sounded softer, it projected more.
"I ended up selling the D'Angelico to an actor, Vincent Gallo. I received a call from some young Italian guy who said he'd love to see the guitar because he remembered it from The Sweet Smell of Success, so I invited him over. He was amazing because he had such knowledge of its details, like the knobs I'd had on it, which were from a '40s Epiphone Zephyr. They were octagon-shaped, white, and flat. I didn't have them on the guitar at the time, but he remembered them from the movie. And when I had it built, I had D'Angelico build a pickguard with an extension because I didn't want to use a DeArmond. Instead, I got a Ted McCarty pickup from Gibson. I mounted it so it looked really nice. In fact, when D'Angelico saw it, he asked, 'Who did this?' I said, 'I did.' He said, 'John, that looks pretty good.'
"Gallo is an interesting guy – actor, director, musician. We made a deal and I'm glad the guitar is in good hands. And, I have Joe's Borys (from luthier Roger Borys). Roger would like to get his hands on it. I also have Joe's thinline ES-175 and I've never seen another like it."
Eastman Guitars
Pisano has enjoyed several product endorsements, but today uses Acoustic Image amps and Eastman Guitars. For several years, he has worked with Eastman as an advisor and product designer.
"I first found out about them when they approached Bob Benedetto, who was working for Guild and coming to California every month. He told Eastman that he'd like to help, but was under contract to Fender (which owned Guild). So, he gave them his video on building guitars, [and] that's how their first guitars happened. You can look at the headstock and see how similar they were. At first, their guitars really weren't happening; on some, they'd used the wrong woods, and there were some other things. They were on the right track, but needed refinement. But that was 12 years ago. Now, you get a guitar from them and they're amazing right off the rack.
"I worked on the new [signature model], making a few little changes. The guitars are very good, but I'm a perfectionist and if my name's on it, I want it to be right. I called guitar makers whom I respect, like Roger Borys and John Monteleone. Monteleone is the ultimate craftsman, and his guitars are magnificent. I'd see him every year at shows, and called him with some hesitancy because I was with another company, but wanted to pick his brain. We talked about laminate, glue, wood – everything.
"Roger and Monteleone were so helpful. Borys told me that his tailpiece was suggested by an idea from (jazz great) Barry Galbraith. If you look at one of his tailpieces, there's a little curve inward that makes the third and fourth string a little longer between the bridge and the tailpiece, because Barry could hear the difference when he played rhythm.
"I did so much research on woods and construction, and spent lots of time with Monteleone and Ted Mayer, a brilliant engineer and artist who helped design my guitar. I kept hearing about Ted through my guitar buddies. He's a wonderful player… practices more than I do (laughs)!
"And, sometimes, when working with China, information can get misconstrued. So, Ted, in an effort to get everything ready for NAMM, created full-sized blueprints that covered every dimension in millimeters. If it hadn't been for him getting those blueprints to Eastman, it never would have been finished in time for the NAMM show.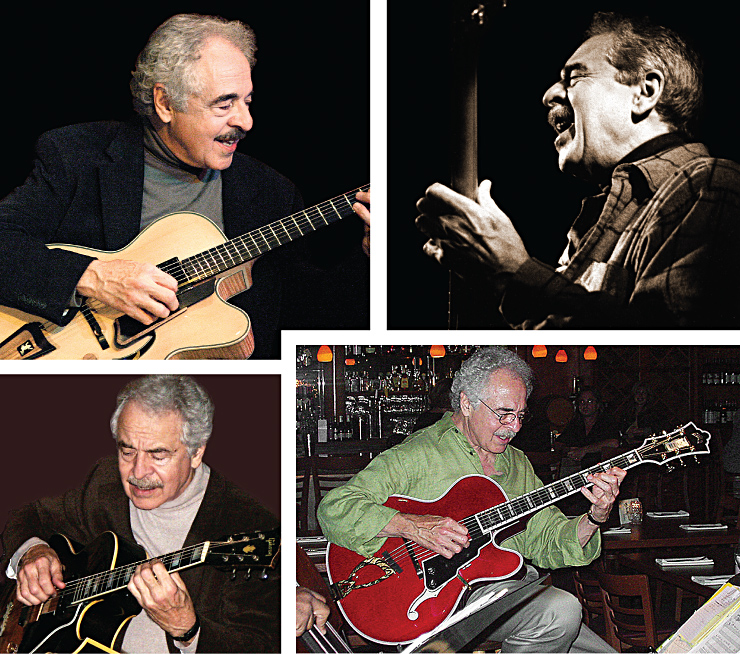 "You can make the measurements exactly the same and even if you make two guitars from the same tree, one of them might be outstanding and the other could be okay. It's like cooking – you throw stuff in and measure, but you have to have the touch. There's really no such thing as a formula. It doesn't seem to work that way. A good percentage of Monteleone's guitars are marvelous, but how the hell does he know? Perhaps it's the aged wood.
"Still, nothing sounds as good as my old Gibson L-12. Perhaps it's the age or that it's been played a lot. I'm learning a great deal about the standard of building and such things as the angle of the neck and the distance of the strings from the bridge to the tailpiece. It can really change the way the instrument feels. Epiphone used to have the Frequensator tailpiece, and Gibson's L-5 could be adjusted to create more tension.
"When we designed the Pisano guitar, we examined all those experiments. Where the tailpiece screws into the bottom of the guitar, we elongated the holes so a player could push it up or down a quarter inch, for different tension against the bridge, which makes a lot of difference. Because I played an ES-175 for so many years, the shorter scale just felt better, and we went with that on the Pisano model."
The Flying Pisanos
Pisano and his wife, Jeanne (a gifted singer who was once christened "not just a singer, but a musician" by the great George Van Eps) perform as the The Flying Pisanos. They routinely augment their duo act with L.A. heavies such as bassists Chuck Berghofer or Ken Wild, guitarists Jim Fox, Barry Zweig, or any number of jazz greats.
Pisano recalls their early courtship. "I loved everything about her, and I knew she was a singer but I'd never heard her sing. If she turned out to be terrible, how would I explain that to my friends (laughs)? But one day in the kitchen while we were cooking, I played a couple things and she started singing along to a line I was playing. I said, 'Hey, you're right on pitch.'
"Jeanne has the ability to hear and sing very complicated things. She's a quick study and has written lyrics for Cleo Lane, Dianne Reeves, and Johnny Mathis."
Pisano recalls how a few years ago, Tony Carpio, a Hong-Kong-based guitarist and composer, was in L.A. to produce a CD for which he'd hired A-list players. "One day, he heard us here at the house, and asked if we'd like to play in Hong Kong," Pisano said. "That was our first gig. Tony booked us there for two weeks, which was before our first steady L.A. gig at Papashon."
The Pisanos went on to perform at the North Wales Guitar Festival, toured the East Coast earlier this year, and have returned to Hong Kong several times for the holidays. Speaking of which, their annual Christmas show will this year feature bassists Chuck Berghofer and John Leftwich, guitarists Bruce Foreman, Pat Kelley, Dan Sawyer, Jim Fox, and several musical members of their respective families.
The guitar community has much to thank John Pisano for. He provides gigs for great players, forwards his vast knowledge by teaching, designs excellent instruments, and is virtually ubiquitous on the guitar scene. No doubt, many of his peers believe he is one of the best friends the guitar ever had.
---
This article originally appeared in VG August 2014 issue. All copyrights are by the author and Vintage Guitar magazine. Unauthorized replication or use is strictly prohibited.
---