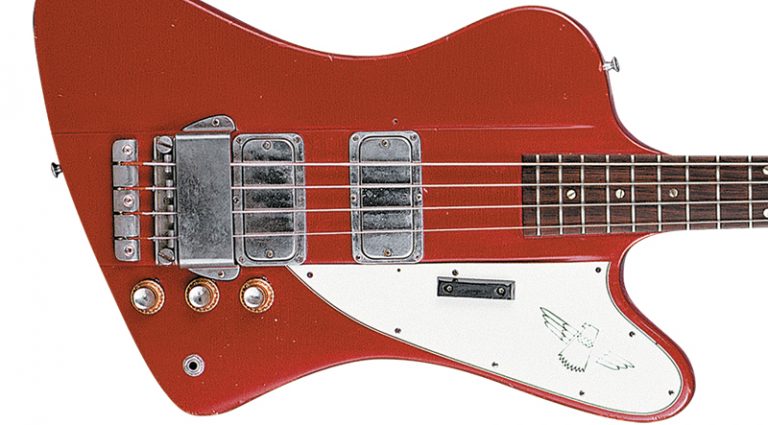 In spite of its laudable history, the Gibson company's solidbody electric basses have never been much of a factor in the market. Sure, it built a couple of electric uprights in the late 1930s and the semi-hollow EB-2 in '58, but all too often its solidbody basses played catch-up with Fender instruments.
Fender introduced its full-scale (34″) solidbody Precision Bass in 1951, and it quickly caught on. Gibson's response came in 1953 with the Electric Bass (its actual moniker), which was a short-scale (301?2″) mahogany-bodied, violin-shaped instrument with a telescopic end pin that allowed it to be played upright. Only 546 were shipped before the instrument was discontinued in 1958, supplanted by the EB-2.
The next solidbody Gibson bass was the '59 EB-0, which would go through several cosmetic and electronic changes as it and a two-pickup EB-3 became Gibson's mainstay electric basses in the '60s. The two were normally short-scale, but were available in full-scale variants for a few years starting in '69.
Gibson opted to get into the full-scale electric bass market in earnest with the introduction of the redoubtable Thunderbird model in 1963. Companions to the Firebird guitars, Thunderbirds featured neck-through construction with body sides glued to the neck block. Early examples had a two-piece full-length neck, but by the end of the first year, a nine-layer laminated neck was employed for better strength.
Five years before the Thunderbird, Gibson had committed a cosmetic blunder with the too-futuristic Flying V and Explorer guitars (at least one Explorer bass was built). So for the T-Bird, it softened the profile of the Explorer to create what resembled flipped-over Fenders, with a protruding treble bout and no cutaway on the bass side near where the neck joined the body.
There were cosmetic and electronic differences in the Firebird I, III, V, and VII guitars (neck inlay, tailpieces, number of pickups, etc.), but the Thunderbird II and IV were simply one- and two-pickup models with dot fretboard inlays. They featured new humbucking pickups without polepieces, and their Tune-O-Matic bridges and stop tailpieces were also new. The single-pickup II had a volume and tone control, and the double-pickup IV had two volume controls and a master tone knob. Original Firebirds had rear-projecting banjo-style tuners; Thunderbirds had conventional bass tuners, located exactly where they would be on a Fender instrument.
The standard finish on early T-Birds was sunburst, but one of the most important marketing innovations for this series was the introduction of Gibson's custom-color program (they trailed Fender in this concept, as well). Ten colors were available, including the gorgeous Cardinal Red that drapes this 1965 example. Other colors on the chart were Heather Poly, Pelham Blue Poly, Golden Mist Poly, Kerry Green, Silver Mist Poly, Inverness Green Poly, Ember Red, Frost Blue, and Polaris White. Some black instruments were also manufactured, but were never catalogued as a color option.
Notable players of original Thunderbirds included Martin Turner of Wishbone Ash, and the late Allen Woody of the Allman Brothers Band and Gov't Mule.
Thunderbirds produce a more resonant sound than short-scale Gibson basses of the era, but they weren't without shortcomings. The term "neck-heavy" was/is often applied, and they've garnered more than their share of broken headstocks.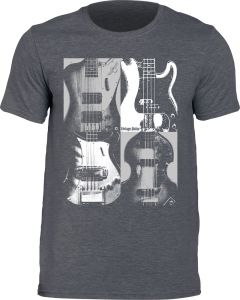 In late 1965, Gibson changed the construction and cosmetic style of Firebird and Thunderbird models. The new versions had glued-in necks and a silhouette changed to look like they'd been flipped over yet again; i.e., they now looked more like Fenders. In the vintage guitar lexicon, original neck-through models (and their reissues) have become known as "reverse" models, while the glued-neck examples are called "non-reverse" models.
This Cardinal Red Thunderbird IV has more than one rarity factor going for it. There's the custom color facet, of course, but Gibson records indicate that only 87 Thunderbird IVs were shipped in 1965, and that included instruments in the new glued-neck "non-reverse" configuration that were shipped in the latter half of the year.
In spite of all of the innovations found on Gibson's original Thunderbird bass series, Fender basses continued to clobber the Kalamazoo company's models in terms of sales. And that hasn't changed in a half-century. Still, this Thunderbird IV confirms that Gibson in the early 1960s was at least trying to come up with viable alternatives to Fender's venerable Precision and Jazz.
---
This article originally appeared in VG's November 2004 issue. All copyrights are by the author and Vintage Guitar magazine. Unauthorized replication or use is strictly prohibited.
---
Dig into VG's vast article archive!
Be notified when the next "Overdrive" and other great offers from VG become available! Simply submit this form.