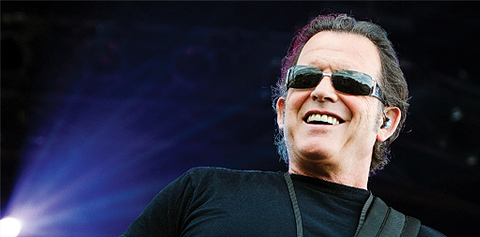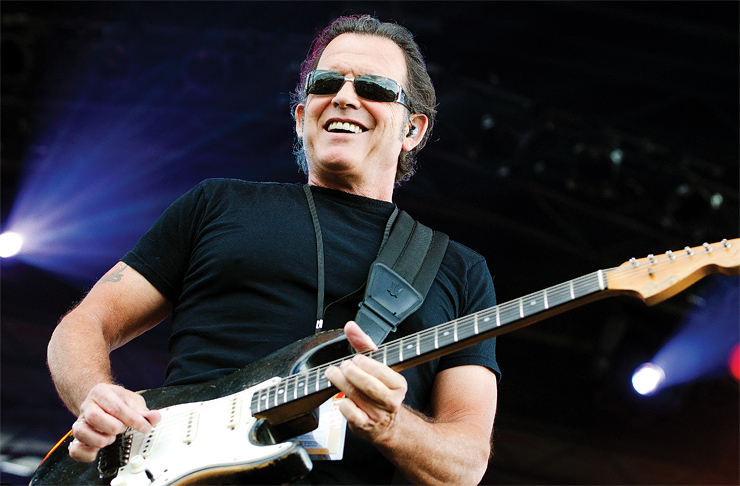 Fans of Tommy Castro might be shocked with some of the guitar tones on his latest record, The Devil You Know. His straightforward R&B sounds are still there, but, he says, "I had fun trying new stuff."
On his dozen or so career albums, Castro has made significant effort to mix it up.
"I've done the big-band thing with the horns, and had a great time doing that," he said. "I remember I had the smaller band and thought it'd be great with the horns – and I could do it to sound more authentic. Then I really started getting into these guitar-and-drum bands. I thought it was a great idea, just a guitarist and drummer, which sounds killer, like the White Stripes. I was really digging that. But then I saw Tab Benoit with a trio, and it sounded too cool. There was all this space, but it was very groovy and rhythmic. That setting gives the guy on guitar a chance to play. I thought, 'Next time, I'll cut things down.'"
The new disc has the tried-and-true funk R&B Castro has always dealt, with his slinky guitar tone and leather-lung vocals. The title cut, however, shows a different side of his guitar tone.
"It's an interesting combination of gear. I used an Echoplex, an Octofuzz, and a phase shifter. I wanted a big, fuzzy, wacky, gnarly tone for the fills. It was so fun I felt like a kid playing with toys. I just cranked it up and played.
"I wanted to take it up a notch. I've never been happy with my guitar playing – I had a career before I was [a decent] player and I've been trying to catch up. I've made a few improvements, working with tones and different effects and guitars. In the old days, I played my old Strat into a Super with reverb. That was about it."
Showing a sense of humor about his playing, he adds with a laugh, "I didn't know I was going to have a career that lasted so long. So I finally got tired of that tone. After a while I just felt I had to do something else."
Castro pulled in some help from very talented friends, too, starting with the producer, Bonnie Hayes.
"She's a songwriting expert," he said. "She's a great songwriter and teaches it in colleges and camps. She really knows her way around, works fast, but she is really all about songs. So, her and I collaborated on a few things and she helped shore up some other things that were in the works."
Other folks who helped on the album include Benoit, Marcia Ball, Joe Bonamassa, and, on harp, former J. Geils member Magic Dick. "There was a plan, but I didn't know who would be on it. On my last album, I made a point of having no guests. I was actually silly enough to think that was going to be my hook! It was going to be 'the record with no guests' because everyone was putting out records with guests. But for this one, I just kind of left it up to the universe to see who would be on the album."
For much of the record, Castro used his most-familiar guitar, a black '60s Strat, but also grabbed "a whole bunch of things. To be honest, I'm in limbo at the moment," he said. "I have my Strat and a Firebird I got from Gibson a couple years ago that I've been using a lot for slide. But, I'm building a Warmoth with their Jazzcaster body and a Strat neck. I'm going to put a humbucker on the bridge, a P-90 in the bridge and a Strat pickup on the neck. I figure that might be a very interesting guitar because I won't have to switch much to get the different sounds. It'll be black with a white-pearl pickguard."
Among his amplifiers, Castro relies mostly on a Mesa Boogie TA-30, though he had access to many different amps in the studio while making the new record.
Beyond the different guitar sounds, Castro says long-time listeners will hear other differences. "We started approaching the music from the drums up," he said. "We wanted to make a record that didn't have all the same grooves and beats. I had a little epiphany. Started listening to all this music I was really digging, and noticed all their great different approaches to rhythms. I realized I had been using the same beats over and over. Not much variation. So, we really had fun with that and I'm really pleased with the way things worked out. And, I think it's more than a little different!"
---
This article originally appeared in VG July 2014 issue. All copyrights are by the author and Vintage Guitar magazine. Unauthorized replication or use is strictly prohibited.
---