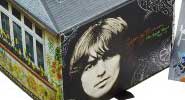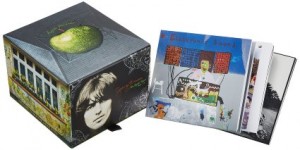 As the Beatles came to an end, George Harrison moved from the back seat to the catbird seat. In the Scorsese documentary, Living In The Material World, Phil Spector recalls Harrison offhandedly mentioning that he had a few ditties he'd written, after which he brought Spector to his home and played him "literally hundreds," in Spector's words, that he'd been stockpiling – "each one better than the rest."
The notion that any ex-Beatle could individually rise to the level of the greatest band in rock history is, of course, ridiculous, and God knows they each produced a lot of forgettable pap. But while John Lennon and Paul McCartney each came up with some great songs – Lennon's "Jealous Guy," "Instant Karma"; McCartney's "Band On The Run," "Jet" – each arguably produced just one classic song: John's "Imagine" and Paul's "Maybe I'm Amazed." On the other hand, George's first real solo album was a classic.
It and Harrison's five other albums on Apple (most with bonus tracks), along with a compilation DVD, have been collected in one tidy box. Wonderwall Music from '68 and Electronic Sound the following year, were released while he was still a Beatle. The former, the soundtrack to Joe Massot's film about swinging London, juxtaposes Indian music with more Western sounds. It features sarod master Aashish Khan, and on "Ski-ing" Eric Clapton plays lead (both forward and backward). Even with help from synth pioneer Bernie Krause, the latter album is, by today's standards, a beginner's experiment with the Moog – subsequently employed on the Beatles' last recording, Abbey Road.
While these may not hold much interest for guitarists, All Things Must Pass certainly does. In addition to Harrison's blossoming songwriting prowess ("Wah-Wah," "Isn't It A Pity," "What Is Life," "Beware Of Darkness," "Awaiting On You All"), the triple-LP features Clapton (uncredited for contractual reasons at the time), Dave Mason, and Badfinger on guitars, as well as Pete Drake on pedal steel. And on "My Sweet Lord," Harrison introduces what would become his second voice, electric slide. Ringo later described it as "haunting and emotional," and drummer Jim Keltner said it was the "kind of sound that could make you cry." The 2000 re-recording of "My Sweet Lord" that appeared on the 40th-anniversary release shows how Harrison evolved into one of slide guitar's most original stylists.
And for you jam-band fans, the four spontaneous instrumentals that wrap up the proceedings show that nothing is new under the sun. It's hard to imagine anyone couldn't spot Clapton, credited or not, but Ginger Baker's name as co-writer of "I Remember Jeep" seems to indicate that the CD still fails to list all drummers.
On 1973's Living In The Material World, Harrison is the sole guitarist, with "Give Me Love" featuring multi-tracked, harmonized slide guitars. It's a strong album, made stronger here by the inclusion of the powerful non-album '71 single "Bangla Desh."
Harrison's last two Apple albums were uneven, to say the least. Trying to rush-release an LP in time for his '74 tour, leading to a case of laryngitis, Dark Horse also suffers from songs that sound more like sketches. Extra Texture begins with "You," sounding a bit like a TV theme song from the period. Still, one's ears perk up when Harrison's slide slips through the so-so fare.
This article originally appeared in VG's February '15 issue. All copyrights are by the author and Vintage Guitar magazine. Unauthorized replication or use is strictly prohibited.