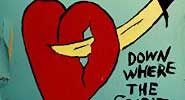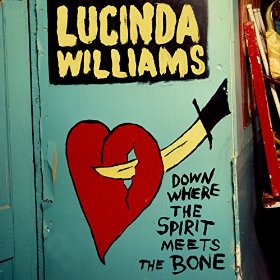 There's that old saw about a good double album being a better single album if it wasn't for an artist's hubris. But Lucinda Williams' first doubleheader doesn't fit that bill.
If anything, it's too much of a good thing.
Williams has never been in a hurry to rush out a new release. She's crafted her songs with never-ending patience and painstaking detail – sometimes to the point where it split her band apart, as with the long gestation of her 1998 masterpiece, Car Wheels On A Gravel Road. Thus, each new album from Williams arrives after an enduring wait, feeling like a revival or even rebirth of her career all over again.
And so the unveiling of this new double-album creation is even more surprising. Arriving three years after 2011's Blessed, it's been a long time coming.
The album is, simply put, a stunner. It's packed with blues, rockers, and country tunes that are among her best. Great songwriting, great singing, and of course, great guitar playing.
Williams has always appreciated a good guitarist. In the early days, she worked with the phenomenal Gurf Morlix, who literally created her sound. Parting ways during the protracted gestation of Car Wheels, it took several guitarslingers to fill his slot in the years since: Buddy Miller, Charlie Sexton, Johnny Lee Schell, and others.
This album includes several guitar players who have stuck with Williams over the years, such as Greg Leisz and Val McCallum. The picking is so good and fits so seamlessly with Williams' vocals that this is as much a singer-songwriter album as it is a guitar album.
She's also joined by guests on numerous tracks, including guitarist Tony Joe White on "West Memphis" and "Something Wicked This Way Comes" as well as Jakob Dylan lending harmony vocals to "It's Gonna Rain." Faces keyboardist Ian "Mac" McLagan plays piano on five tracks. On several tracks she's backed by Elvis Costello's rhythm section of drummer Pete Thomas and bassist Davey Faragaher, who are joined by Wallflowers guitarist Stuart Mathis.
On two cuts – "It's Gonna Rain" and J.J. Cale's "Magnolia" – the band is joined by Bill Frisell on electric guitar, who proves an ideal fit with Williams' brand of Americana.
Standouts include the searing "Something Wicked This Way Comes," an eerie, haunting slice of deep roots music. "This Old Heartache" is crowned by Leisz's majestic pedal steel guitar, with a glorious, lyrical solo.
But selecting just cuts from such a tour de force double album is silly. This ranks among Williams' best – and will likely become a classic.
---
This article originally appeared in VG's December '14 issue. All copyrights are by the author and Vintage Guitar magazine. Unauthorized replication or use is strictly prohibited.
---