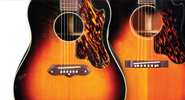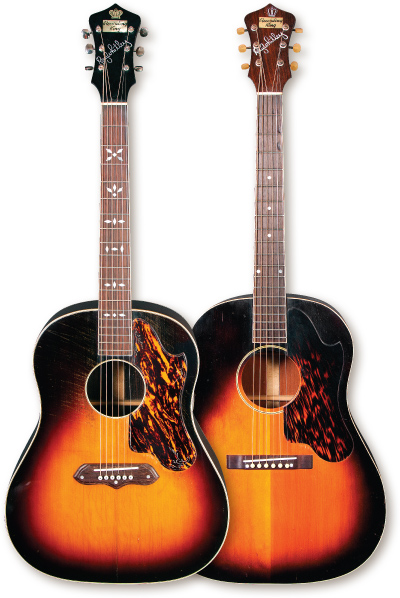 As a maker of high-quality instruments, Gibson was hit hard by the onset of the Depression in the 1930s. Company president Guy Hart, a former accountant, recognized that Gibson could not survive by simply waiting for better times, and he took action, diverting some guitar production to wooden toys, creating the Kalamazoo line of budget-priced instruments and taking on contract work for outside distributors.
The most successful of these distributor's brands made by Gibson were Recording King (sold by Montgomery Ward) and Cromwell (distributed by Grossman, Richter & Phillips, Gretsch & Brenner, and Continental). Gibson made several archtop acoustic models under the Recording King and Cromwell brands that would be considered at least borderline high-end guitars. The best of all of the contract models, however, were a pair of dreadnought-sized flat-tops made for Recording King and endorsed by cowboy movie star Ray Whitley. Model 1027 had rosewood back and sides and Model 1028 had mahogany back and sides.
Gibson's relationship with Montgomery Ward began in the spring of 1931 with a deep-bodied flat-top similar to Gibson's Nick Lucas model. Two years later, Ward contracted with Gibson to produce a squat-bodied flat-top similar to the Kalamazoo KG-11 that was endorsed by country singer/songwriter Carson Robison.
By 1937, Ward was offering more than a dozen Recording King flat-tops and archtop models made by Gibson. Buyers may or may not have recognized the body styles and workmanship as Gibson's, but none of the Recording Kings (or Kalamazoos or any other non-Gibson branded instruments) had Gibson's patented adjustable truss rod in the neck.
That same year, Ray Whitley visited the Gibson factory in Kalamazoo. Born in Atlanta in 1901, Whitley was raised on a farm, where he learned to rope and ride well enough to become a rodeo performer, specializing in tricks with the bullwhip. He moved to New York in 1930 as a construction worker, but quickly launched his musical career on WMCA radio with his group, The Range Ramblers. He had made one marginally successful stab at a film career, returned to New York, and was ready to give Hollywood another try when he ordered a custom guitar from Gibson.
Gibson had great timing in introducing the Nick Lucas Special endorsement model in 1927. Lucas was well-known as a singer and guitarist but his career – along with exposure for his Gibson model – took a giant leap in 1929 when he performed "Tip-toe Through the Tulips" in the film Gold Diggers of Broadway. Gibson had a similar opportunity with Whitley, who took his new Western-trimmed "super jumbo" Gibson to Hollywood, landed a contract with RKO Pictures in '38, and became a familiar face in Western movies (albeit mostly in the role of a sidekick). He also wrote "Back in the Saddle Again," which he introduced in the 1938 film Border G-Man and which, with a rewrite from Gene Autry, became Autry's theme song a year later. And he managed the Sons of the Pioneers, during the period when the group included Len Slye (soon to be Roy Rogers).
Gibson actually received great benefits – at no cost to the company – from Whitley's cowboy friends in Hollywood. Gibson catalogs pictured all the Western film stars who had ordered a Super Jumbo for themselves, including Gene Autry, Ray "Crash" Corrigan, and Tex Ritter. Perhaps Gibson didn't feel the need to reward Whitley with a formal endorsement model, but Montgomery Ward seized the opportunity.
In the spring catalog for '39, Ward introduced Model 1027, featuring Whitley's signature on the headstock. It was not similar to the Gibson SJ-200 that Whitley had helped introduce. If Whitley or Ward had asked for a similar model, it's likely Gibson would not have wanted to dissipate the excitement that the SJ-200 was generating. Instead, the Whitley model was based on another relatively new Gibson – the Advanced Jumbo. Like the AJ, which had been introduced in '36, the Recording King Whitley had Gibson's round-shouldered dreadnought body with rosewood back and sides. Also like the AJ, the Whitley had an X-braced top. Virtually every other flat-top model that Gibson made under a contract brand (or under the Kalamazoo brand, for that matter) had lateral bracing. The bound fingerboard had small diamond inlays, unlike that of any Gibson. The bridge was an elegant new three-point design (which Gibson would soon introduce on its J-55 model), and the oversized pickguard was also unique to the model. The only Gibson element the Whitley model lacked was an adjustable truss, which Gibson never installed in anything but a Gibson.
In the fall of '39, Montgomery Ward introduced a second Ray Whitley signature model (1028), also an X-braced dreadnought, but with mahogany back and sides. The fingerboard inlay was less elaborate – simple pearl dots – and the bridge on most examples was the rectangular-style Gibson used on its standard mahogany dreadnought, the J-35. Again, the only significant difference between the Whitley and a Gibson was the lack of a truss rod, and this mahogany Whitley delivers the same power and tone one would expect from a J-35.
Shipping totals compiled by Gibson employee Julius Bellson show the rosewood model (1027) got off to a good start, with 171 instruments shipped in '39. In 1940, however, only nine were shipped, for a total of 180. The less-expensive mahogany model (1028) shipped 116 in '39 and another 116 in 1940, for a total of 232.
By '39, Gibson was enjoying a resurgence of sales of Gibson-branded models and booming business with its Kalamazoo line, and the company began winding down its contract production. In 1939-'40, 232 mahogany Whitley (1028) models were sold, making it the best-selling Gibson contract model for any outside distributor for that two-year period – a testament to the quality of the model.
Whitley never achieved the star status of Autry or Rogers, but he had a solid career, making 54 films for RKO and performing at the Venice Pier and other Southern California venues. Full recognition of his accomplishments didn't come until after his death in 1979. He was inducted posthumously into the Nashville Songwriters Hall of Fame and the Western Music Association Hall of Fame. His prototype J-200 is currently displayed at the Country Music Hall of Fame and Museum. And guitar players and collectors are just beginning to fully appreciate his Recording King models.
---
This article originally appeared in VG September 2010 issue. All copyrights are by the author and Vintage Guitar magazine. Unauthorized replication or use is strictly prohibited.
---