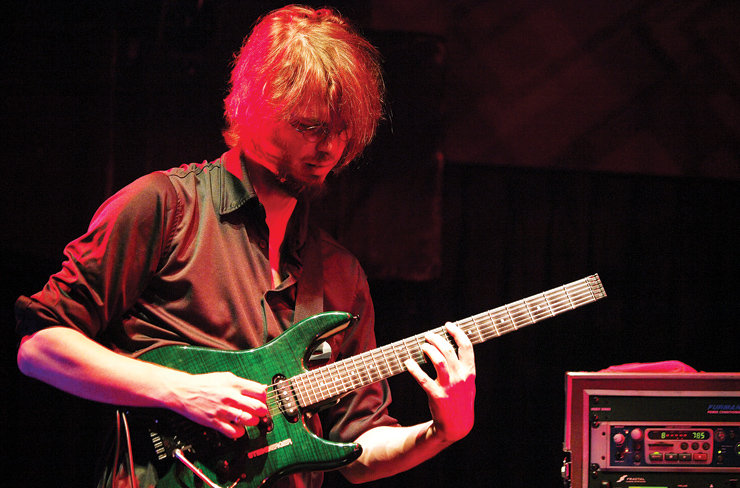 When you get the thumbs-up from icons like John McLaughlin and Chick Corea, it's got to feel good. But, fusion guitarist Alex Machacek isn't one to rest on his laurels, and he recently recorded Now, a lush piano-and-guitar duo with drummer/pianist Gary Husband. The album explores a different side to Machacek's musical personality.
How did you prepare for recording Now?
Abstract Logix proposed the project, and once we started writing, we'd send each other demos and took it from there. Unfortunately, we had no rehearsal time; Gary was on tour with John McLaughlin.
Gary and I are known for rather busy music, but this was supposed to be very intimate. I think it was a good to show a different side of each of us. The only deviation was where I asked him to play percussion on one of the tracks behind my acoustic. There's a tiny bit of hand-drumming that was supposed to be with his hands on the piano, but the piano goes out of tune easily. I said, "Drum something on an acoustic guitar." He turned it around, put it on his lap, and played a little hand percussion. Other than that, it's just piano and guitar, and that was the goal.
Did you do anything different to play with that sense of intimacy?
Not really, because I have a duo with my wife – she's a singer and I'm used to accompanying her. We were working on a duo album in L.A., and people were surprised to hear me play clean. If I hear a punk guitarist, why should I assume he's a great classical player? I don't blame people for not being aware I have other ways of playing.
Do you care what your fans expect?
Of course I do. But then, if I like it, I feel good about it, and I feel good about presenting it. I think an artist should stand behind what he's delivering. I can't care too much, because I don't know all my fans. One guy says I should go more into rock, and another guy says I should go into jazz. You can't please everyone, so you're left to your own devices. You just try to give your best in whatever you do.
Are you concerned at all with making commercial music within your genre?
There are other people who make music for a specific purpose. I make music the way I feel I want to. I'm not rich and I will not be rich, so why should I, in any way, compromise my music? I'm just doing what I'm doing and trying to be honest about it. I wouldn't feel comfortable trying to target a demographic.
What is your main guitar.
It was made by Bill Delap, a luthier from Monterey known for building guitars Holdsworth used to play. A very generous friend gave me this one. The universe said, "This is your guitar." I didn't agree with the universe, but after a year, I started agreeing with the universe! It's a hollowbody, and I'm a big fan of the headless design. It has good, substantive tone that other guitars just don't have.
---
This article originally appeared in VG March 2014 issue. All copyrights are by the author and Vintage Guitar magazine. Unauthorized replication or use is strictly prohibited.
---