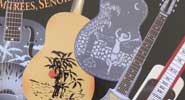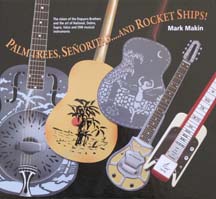 Tackling the long and winding history of the Dopyera brothers – John, Rudy, Emil, Robert, and Louis – has proved daunting for guitar historians. Mark Makin does it in style with this huge tome, chronicling the wares of National, Dobro, Supro, Airline, Custom Kraft, DB Originals, OMI, and Valco from the 1920s through the '60s.
If that wasn't a grand enough challenge, Makin doesn't just cover the guitars, but includes other stringed instruments, lap steels, and amps. And yes, this is all in one book.
That hardcover book weighs more than 5 pounds, runs 423 oversize pages, and includes more than 1,100 images. It's the epitome of a doorstopper.
A National-guitar collector, Makin spent eight years on this project. His scholarship is solid in outlining the history of these companies and their products, if not delving deep into details. He includes many catalog pages that augment the specifications.
Makin also dives into the Dopyera's pioneering work on both acoustic resonator and electrical amplification. Plus he looks at the advanced vision the brothers had when it came to adopting modernistic materials to guitar production, from aluminum to fiberglass.
He charts the brothers' influence on the music as well. Included throughout are short biographies of key musicians who used the Dopyeras' guitars, from the well-known – such as Sal Ho'opi'i and Tampa Red, David Lindley to Mark Knopfler – to the more obscure, including Memphis Minnie, Letritia Kandle, and Bob and Bobbie Thomas.
The images of instruments are not photographs, however. All of them are stylishly – and devotedly – recreated from photos and catalogs as "painted illustrations" using Adobe Photoshop. This offers a uniformity of design, as well as making the book actually possible, versus traveling the world to photograph hundreds of rare, hard-to-find, and sometimes one-of-a-kind instruments.
You'll either like Makin's artistic renderings or not, but there's no denying this is a masterpiece in telling the story of these instruments. Self-published, only 2,500 copies were printed.
This article originally appeared in VG's October '14 issue. All copyrights are by the author and Vintage Guitar magazine. Unauthorized replication or use is strictly prohibited.