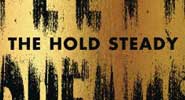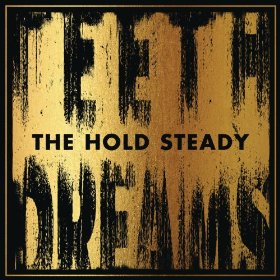 You're hearing it here first: The Hold Steady returns with its sixth studio album, and while the focus is usually on frontman Craig Finn and his idiosyncratic lyrics, this is one of the best-sounding guitar albums of the year. Thanks to the twin-guitar onslaught of musical leader Tad Kubler and recent arrival Steve Selvidge, the band's sound is leather-jacket tough, tight, loud, and all-around glorious.
For his part, Finn blurts about the down and out amidst a sound echoing the Replacements and straight-ahead American rock. He wears literary references on his sleeve as he intertwines the work of dead novelists and poets, replete with Springsteen-style sagas of the working class. Gritty prose about despair, hard knocks, and battered losers are offset by the façade of a streetwise band with hearty middle-American rock grooves.
This bar band for lit majors aspires to a harder sound with the departure of keyboardist Franz Nicolay and the addition of Selvidge on guitar. Rounding out the lineup is Kubler, drummer Bobby Drake, and bassist Galen Polivks. The album is produced by Nick Raskulinecz (Foo Fighters, Rush),
While past releases echoed a nod to Hüsker Dü (a primary influence), Teeth Dreams goes its own way, with graphic-novel depictions of the warped and the wicked.
Finn's flawed-but-sympathetic protagonists almost validate his quirky sense of meter and long-windedness. He spits out split-second images and vignettes, but no matter what you believe he's singing about, only Finn really knows what he's going on and on about.
Finn's stories get lost in favor of well-placed sound bites. Diehard Hold Steady fans are sure to "get it" and make up their own craft-beer-soaked narratives.
Fortunately, it's good old American guitar-driven rock and roll throughout, and even the most obtuse can't help but appreciate Selvidge and Kubler's seamlessly woven guitar arrangements.
"The Only Thing" benefits from crafty rhythmic interplay, familiar chord ornamentation, chugging guitars, pitch-perfect vocal harmonies, and lyrics that pop in all the right places. "Ambassador" is a ballad that showcases Raskulinecz's excellent production skill; he brings a stylish sense of mood and atmosphere to the album.
"Big Cig" has a killer riff and makes great use of feedback, while "Runner's High" has an "Already Gone" vibe à la the Eagles that morphs but still twangs. "Almost Everything" is a coffeehouse acoustic number full of passion and vulnerability that acts purposefully to give the album breadth, range, and dynamics.
Teeth Dreams is a well-paced record for pseudo-brainy dad rockers that balances low-frills rock ensemble work with portraits of down and outers without ever getting its hands dirty.
This article originally appeared in VG's August '14 issue. All copyrights are by the author and Vintage Guitar magazine. Unauthorized replication or use is strictly prohibited.
<iframe width="560″ height="315″ src="//www.youtube.com/embed/uEVTMn5Ui3o" frameborder="0″ allowfullscreen></iframe>