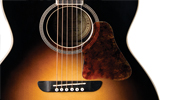 Washburn's Warren Haynes Signature Acoustic
Price: $1,899 (Dream Solo 1 combo); $3,995 (Dream Solo 4 head); $699 (Switchback 112)
Info: www.washburn.com
Given the company's long history, it's surprising that Washburn hasn't released more models based on original designs. US Music (Washburn's corporate parent) has begun to take some steps to remedy this with the Warren Haynes Signature Acoustic, based on the company's 1937 Solo Deluxe.
The Warren Haynes WDS5249 is hand-built in Washburn's Buffalo Grove, Illinois, facility. It uses Adirondack spruce for its top and bracing with solid rosewood sides and back. The body style and shape fit somewhere between a jumbo and a grand auditorium, with a body that measures 41/2″ at the front shoulder and 43/4″ near the back. The guitar sports a 1930s-style zipper herringbone inlay on the back and rosette, three-ply binding on the top, a hand-cut celluloid pickguard, a solid ebony bridge and fretboard, bone saddle and nut, Grover butterbean tuners, and a bookmatched two-piece back. With its lofty list price of $3,995, the Warren Haynes Signature Acoustic faces stiff competition from other offerings at the same level, including the Gibson True Vintage J-45 and the Martin 000-18 Golden Era 1937 Acoustic. How does the 1937 Solo Deluxe stand up to the competition?
Upon first inspection, the finish was nearly perfect with only two small flaws on the body. The clear topcoat seemed a bit thick where it met the bound fretboard near the sound hole; instead of a crisp edge, the rounded seam was filled in with lacquer. The sunburst on the review sample was especially smooth, with a gentle transition between the lighter and darker portions, and was not too yellow, red, or brown, with a nice vintage aura. The headstock deserves a special mention, at nearly 0.625″ thick with a unique Washburn inlay at the top.
In hand, the review guitar's action at the nut was higher than ideal, and string height at the bridge was higher than needed to prevent buzzing. It could be that dealers perform setup on Washburn acoustics (ours, shipped direct, did not have that luxury). The neck's slight V-shape increases in prominence while moving toward the body. It also has a chunkier, more-vintage profile. The frets, however, are anything but vintage. Larger than standard in width and height, they are very well finished, especially on the ends, where they seamlessly meet the five-ply fretboard binding.
The Warren Haynes model is capable of producing wide dynamics, yet also sensitive to a light nuanced touch. Instead of compressing dynamics, it gets louder when played harder. Even a heavy pick stroked through the strings at maximum velocity produced a well-defined sound that was never mushy. It also responded well to light fingerstyle playing.
The Warren Haynes model has excellent sustain that's quite even across all the strings, while its harmonic balance with the factory-supplied strings was good with a bit more emphasis on the top three than bottom three strings. There was more than adequate bass extension, though the bass lacked the rich harmonic complexity of a Gibson J-45 TV. Given how newly made the review sample was (it still had a strong smell of curing finish) some of these additional harmonics could very well "play in" as the guitar ages.
Defining the Warren Haynes Signature Acoustic isn't easy. It does not sound like a Gibson, Martin, Collings, or Taylor. It has a very strong primary note projection with somewhat damped harmonics. Combined with its volume and projection, this primary tonality makes it hold up well in mixes and ensemble situations. Although it lacks the rumble of a vintage dreadnaught, the guitar has ample pop and power on its low E.
Some guitars, like some guitarists, don't follow the herd. The Washburn Warren Haynes Signature Acoustic is such an instrument. With a unique sound and feel, it could appeal to those who don't want to play what everyone else is playing. Obviously, given its price, Washburn isn't expecting to sell thousands of these guitars (they do offer an Asian-built version at $599), but for those who can ante up the coin, Washburn's latest signature acoustic offers a distinctive new option in vintage reissue instruments.
---
This article originally appeared in VG December 2013 issue. All copyrights are by the author and Vintage Guitar magazine. Unauthorized replication or use is strictly prohibited.
---