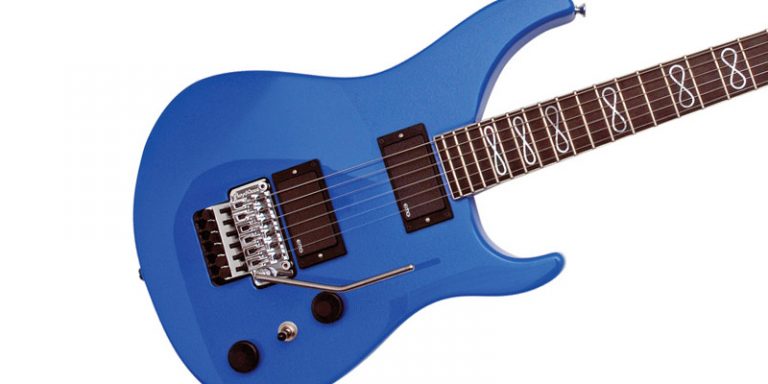 Bergen Guitars ST and TL
Price: $3,999
Info: www.gj2guitars.com.
Grover Jackson is a name forever associated with classic metal and custom "superstrats," thanks to Randy Rhoads and iconic bands like Iron Maiden, Megadeth, Def Leppard, and Anthrax. Grover has moved on from the original Jackson brand (now owned by Fender), and is producing his own solidbodies under the GJ2 moniker, all from a small shop located in Orange County, California. These axes sport meticulous builds and premium materials, and the first to roll our way is the Arete. So let's crank up the gain and see what the noise is all about.
The Arete speaks to a specific lineage in guitar design, starting over 30 years ago when luthiers and hot-rodders in southern California started modding Stratocasters with humbuckers, flatter fingerboards, and the then-revolutionary Floyd Rose locking tremolo system. These may seem like common, everyday guitar features today, but back then, this was cutting-edge innovation. Now fast-forward to today's GJ2 Arete 5-Star. The test model we looked at came with a basswood neck and body, rosewood fingerboard, 251/2″ neck scale, two Habanero humbuckers, master Volume and Tone, and the company's Infinity fret markers. For hardware, there's the all-important Floyd and locking nut, Gotoh tuners, three-way toggle, and aluminum pickup surrounds. Other decorative nuances include an unusual (but interesting) border on the headstock and cool, modern knobs right out of the sci-fi age. On the back, look for two covers over the electronics cavity and tremolo system. FYI, the company is also coming out with a hardtail version and offers various tonewood options for the body, such as korina, walnut and rosewood. There are even non-locking tremolo versions, for guitarists who don't like the bother or perceived tone-sucking properties of locking nuts.
A few other notes: GJ2 makes their own pickups. These Habaneros are mid-output, meaning they let more of the body tone through, but they also offer high-output ones for those who want that '80s metal scream. Also look for three-piece neck-through contruction, which offers a lot of rigidity and sustain, since this center section runs the length of the instrument. Picking up the Arete, one immediately notices its beefy neck profile, especially above the 12th fret, where the fingerboard gets expansive. This would be an issue on a blues-bending axe, but for a metal machine, it's perfect for fretboard acrobatics, from tapping to shredding to sweeping. More than that, it's a highly comfortable neck, despite the size. We became acclimated to it after just a few minutes of playing time, but if you're looking for a skinny PRS or Fender-style neck, this isn't it.
Plugged in, the Arete is clearly a high-performance guitar, allowing for the kind of daredevil stunt playing that put the shred generation on the map. One might expect an '80s-style guitar to have a 24-fret neck, but actually many of them back in the day were 22-fretters and that works for this guitar, too. Moreover, with the big double cutaway, smooth heel, and wide, flat fingerboard you can unleash fast, legato runs all the way up the neck without any hindrance. Also note that the body is very comfortable to hold; even with its Jackson-styled squared edges, there's a big contour cut in the back that makes the guitar easy on your midriff.
Tonally, the Arete 5-Star sounds stellar. Even going through a 1×12 digital-modeling amp, the guitar just roared to life with big, chunky riffs and screaming solos. From your best George Lynch or Yngwie shreddage, the guitar was right on the mark with a bright tone full of fire. We particularly liked the middle setting with both pickups on, which was balanced and had a little dash of out-of-phase quack. Even with heavy gain ladled on, the tone was crisp and clear, even for chords. You could imagine leaving it on this setting for the bulk of a live set and getting the best of both worlds: crunchy chords and liquid, supple leads. The Floyd, of course, performed like a charm, adding to the stunt-guitar magic.
A big surprise was how great the Arete sounded clean, especially when apply classic '80s effects like chorus, reverb, and echo. With those settings applied, the guitar delivered massive, shimmering chords and sparkling arpeggios. Kudos to Grover Jackson for these excellent Habanero pickups – they're perfectly balanced for all kinds of rock, clean to dirty, and all colors in between. Add to that a custom leather guitar strap, a signed certificate of authenticity from Grover himself, and a knock-out hardshell case (the Tolex on our review model's case matched the guitar's sky-blue finish), and you have a pretty luxorious metal machine. Granted, the Arete 5-Star is priced as a high-end guitar, but for the classic metal-era rocker who wants nothing but the best, GJ2 is a cut far above its mass-produced counterparts.
---
This article originally appeared in VG September 2012 issue. All copyrights are by the author and Vintage Guitar magazine. Unauthorized replication or use is strictly prohibited.
---