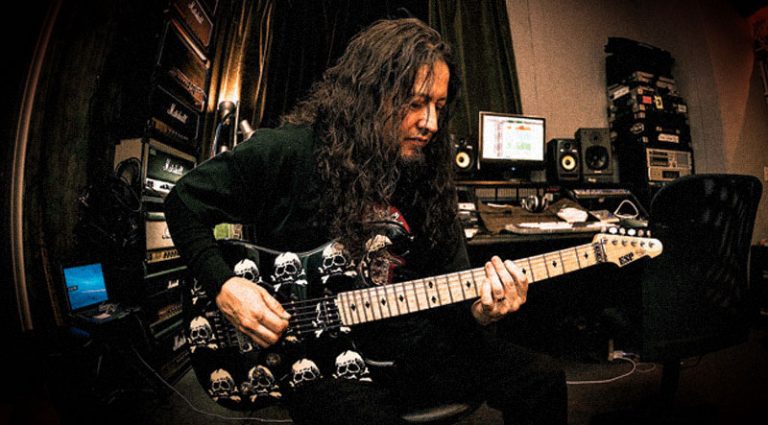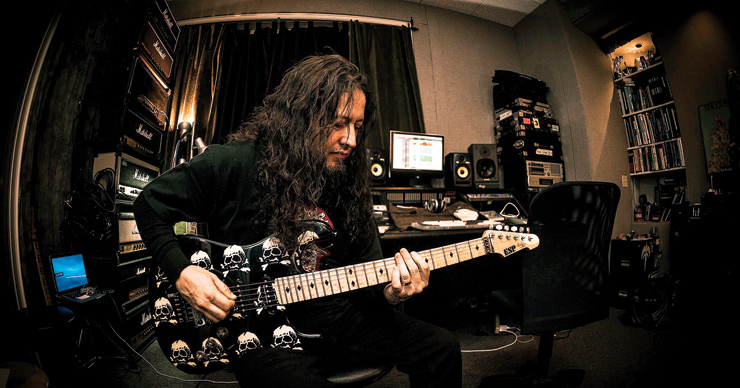 The highly publicized firing of singer Geoff Tate from the band Queensrÿche has divided fans and spawned two touring bands using the name; Tate assembled a group of well-known sidemen, while the remaining members recruited frontman Todd La Torre.
Guitarist Michael Wilton's version of Queensrÿche recently released a self-titled album that marks a return to it classic sound. VG spoke with him to discuss his mission to rebuild the brand.
Are you happy with the way Queensrÿche turned out?
Yes of course (laughs)! We got to use producer James Barton again. I did most of the solos, but [second guitarist Parker Lundgren's] input was great. He supplemented a lot of the parts, wrote "Where Dreams Go To Die," did a few solos, and of course doubled solo parts.
Was it a democratic decision to return to your classic sound?
Three of the founding members are proven assets, and what you hear is ingrained in our past. We tried to use a modern approach because we've evolved, but naturally, it's going to have elements of the first five records.
You've done so much since those records. Was it difficult to write and return to that style?
Not really. You want to keep a thread to the past, but five musicians putting their creative elements into a package gave it a special sound.
The record sounds like the band Queensrÿche always wanted to be without Geoff Tate.
You don't want to make the same record every time. You want to stretch the boundaries within reason, but you have to keep a thread to what your roots are. Otherwise you start losing fans. We listen to our fans and the people who have supported the band for years. You gotta keep in touch with them to a certain aspect, and also you gotta have the integrity of an artist to be able to work with other people in your group. You have to stay current as much as you can, but you also have to stick to what works.
How was working with vocalist Todd La Torre?
Todd is a great asset. He seamlessly came into this situation and really won fans over. He's growing, learning the ways of the 'rÿche and the demands of touring. He's easygoing and there's no ego. Everything is about consideration. It's a real band effort, and it's just a joy again, like in the '80s. He's an amazing singer, and he's so glad to be there. He's a drummer first, so he loves Scott Rockenfield's drumming. He also plays guitar; Parker sent him a version of "Where Dreams Go To Die" without drums, and Todd put the drums to it. Scott put his touch to it using his drums as a blueprint. On "The Open Road" he added a melodic line which was great for guitar. I built something off of it.
The band sounds really energized.
The fans have been wanting this for so long and it's great to see the appreciation. It's proof the songs on the first five albums work for a reason. A lot of it was great chemistry at the time and the creative elements firing on all cylinders. Now, it's like a second chapter and a rebirth for Queensrÿche, and we're really excited. Everybody's collaborating, writing, and creating. That's the art and that's what's fun about it. Everybody's in tune with each other and we're excited to write the next record.
Was Geoff taking the band in the wrong direction?
Yeah. As bands grow, everybody changes and goes in different ways. The last few Queensrÿche records weren't the direction we wanted to go. That naturally happens – things get stale and new blood is needed.
In November, a judge will decide who gets the rights to the band name.
It's a scary prospect to have 30 years of your career being judged by a person in a black robe who doesn't know who you are.
Talk about your ESP signature guitar.
It's really just a simple alder body with a figured maple neck. I've always been a fan of the Floyd Rose, and it has upgrades now. The guitar that came out this year has a Duncan Distortion and a Duncan '59. It gives the alder a little honk with the upper midrange. It's a guitar you want to cut through the mix. It's got a five-way switch – just a workhorse. ESP is renowned for their necks. They're just solid. I've never had an ESP neck warp.
What's next for the band?
We're touring the U.S. and Europe. We'll leave November open, but in December we write the next record and tour again. After all these years, our fans still have such passion. It's such a joy to play.
---
This article originally appeared in VG October 2013 issue. All copyrights are by the author and Vintage Guitar magazine. Unauthorized replication or use is strictly prohibited.
---