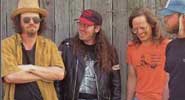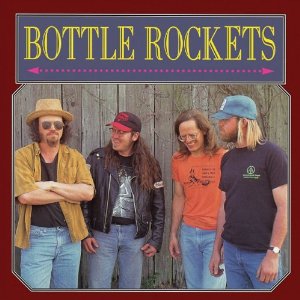 Brian Henneman should be a country super-star. For more than two decades, Festus, Missouri's favorite son, has combined Tom T. Hall wit with Roy Nichols chops as front man of the criminally underappreciated Bottle Rockets.
But the BRox have always had a rowdy flip side – their love of loud, loud rock equally inspired by Skynyrd boogie and Ramones velocity. Both sides feature in spades on this overdue reissue of their long-unavailable debut and sophomore efforts. Remastered under the watchful eye of producer Eric "Roscoe" Ambel (Joan Jett, Del Lords, Steve Earle), the handsome digipak also piles on 19 previously unreleased bonus tracks.
The Brooklyn Side (1994) remains the Bottle Rockets' signature LP for most fans, launching with "Welfare Music," a mando-driven indictment of deadbeat dads and radio pundits alike. The jangly "Gravity Fails" that follows serves up one of the band's best lines ("Maybe it's something in my genes/Maybe it's something in my jeans"), while big Crazy Horse-inspired rockers "Radar Gun," "1000 Dollar Car," and "Sunday Sports" cut to the marrow of Middle America in 13 minutes where Springsteen and Mellencamp needed as many albums.
If Brooklyn suffers at all, it's from a bit of filler (although "Idiot's Revenge" can be given a pass for
the zinger "She likes Dinosaur Jr but she can't tell you why/Says 'You like country music, man, you deserve to die'").
Arguably, though, the Bottle Rockets' eponymous 1992 debut encompasses their many facets better than any of their eight (and counting) subsequent studio LPs. As if moseying throughthe gate to sniff the air, Henneman opens with "Early In The Morning," a lament on misspent nights and wasted days, his trademark Missouri drawl accompanied only by a Roscoe Holcomb-worthy clawhammer banjo.
"Gas Girl" opens the carbs for plenty of highoctane rock, as Henneman pines over a fetching convenience store clerk while poking fun at his own sad-sack libido (a theme he has mined with charming effect in many of his most memorable tunes). "Trailer Mama" is a nod to Re-ac-tor-era Neil Young, and "Rural Route" would be right at home in the Supersuckers' catalog. There's even a stellar Buckaroos-inspired instrumental ("Bud Nanney Theme") and a whiff of western swing ("Hey Moon"). The general consensus standout, however, is "Kerosene," a pedal steel-accompanied weeper with a conscience ("They hated that goddamn trailer so it burnt them up alive").
The bonus material is a treasure trove, including, among other nuggets, the songs from the five-track cassette ('member those?) by BRox predecessors Chicken Truck, 1991 acoustic demos that Henneman recorded with Jay Farrar and Jeff Tweedy while he was Uncle Tupelo's guitar tech, and a gorgeous 40-page booklet featuring commentary from Steve Earle, Marshall Crenshaw,
Lucinda Williams, Bun E. Carlos (!), and more.
This article originally appeared in VG's February '13 issue. All copyrights are by the author and Vintage Guitar magazine. Unauthorized replication or use is strictly prohibited.