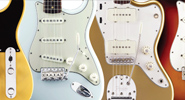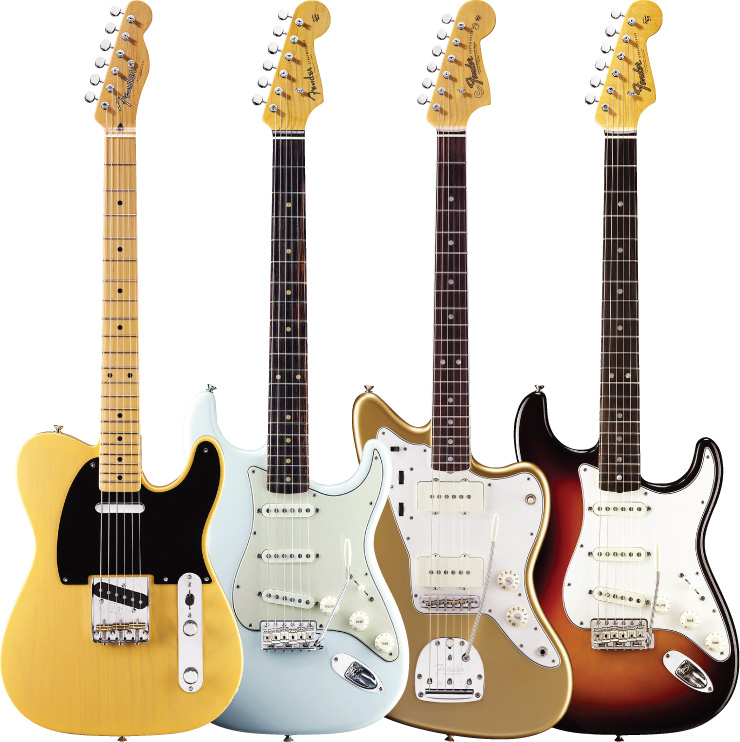 Fender American Vintage Series
Price: $2,400 retail/$1,999.99 street ('52 Telecaster); $2,874 retail/$2,299.99 street ('59 Stratocaster); $2,874 retail/$2,299 street ('65 Jazzmaster and '56 Stratocaster)
Contact: www.fender.com
When it introduced the American Vintage reissue guitars (one Telecaster, two Strats) in 1982, Fender put itself back the game among serious players. In the three decades since, the series has grown and become ever more accurate, implementing more period-correct tweaks on various models while for the most part leaving the true vintage re-creations to its Custom Shop.
Fender recently expanded the series with eight new models – three Teles, three Strats, a Jaguar, and Jazzmaster – and ramped up their attention to detail on everything from the finish and neck shapes to the pickups and hardware. Even the cases were refined. We opted to once-over the '52 Telecaster, '56 Stratocaster, '59 Stratocaster, and '65 Jazzmaster using three amps all running through a 12″ Celestion speaker – a Fender Blues Deluxe combo (with 6L6 output tubes), an 18-watt/6V6 combo, and an 18-watt/EL84 head with an extension cab.
Fit and finish on all four instruments was excellent; neck joints were tight-fitting, finishes were clear and flaw-free, fret work was meticulous, and each was properly setup and adjusted. Even the action on the vintage-correct 7.25″-radius fretboards played well, with no buzzing. Fretboard edges were nicely rolled.
Among the especially notable aspects of the series are an all-lacquer finish – no poly undercoat, just three thin coats of Fender's new Flash Coat process – and a return to bone nuts rather than composite. The finish not only feels more vintage-authentic, but it allows the body to resonate more freely.
The '52 Tele is the lone guitar to make the transition from the old series (in fact, it was there from the beginning of Fender's reissues back in '82). Our tester had a spot-on butterscotch color and a less-pronounced V profile, period-specific cast jack cup, switch tip, and pickups that were punchy, with ample twang, a lot of overtones, and snap that was kind to the ears. With a touch of overdrive from the amp, the bridge pickup produced a slightly aggressive, surprisingly thick-and-gritty tone along with excellent sustain (without having to pile on a bunch of amp gain). The overall clarity and balance between the bridge and neck pickups was excellent – much better than previous '52 reissue Teles. The neck pickup's strong output and thicker tone produced a fatter middle-position sound with tons of jangle.
The '65 Jazzmaster was dressed with an Aztec Gold finish, bound rosewood fretboard with large pearl dot inlays, era-correct white witch-hat knobs, new pickups, and a reworked fine-tune vibrato. With the reverb on the Deluxe just about dimed, it offered killer surf tone, with punchy low-end, round, smooth mids, and just enough high-end snap to maintain good note-to note-clarity. The Jazzmaster's liquid-smooth vibrato and big sound, excellent for chording and single-note melody lines, made it a favorite in the 60s, and this version holds true to form.
Our tester '56 Strat had a lightweight alder body with two-tone sunburst finish, one-piece maple neck with a soft V profile, era-correct knobs with a steeper slope to the skirt, era-correct bent steel saddles embossed with "Fender Patent Pend.," and pickups that produced a pallet of classic Strat tones – throaty and round at the neck, punchy and spanky in the middle, and bright, twangy, and raw at the bridge. The combination of the bent steel saddles, bone nut, alder body, and thin finish helped the '56 Strat really ring. Its modern five-way pickup selector is wired to produce out-of-phase sounds, but among the case candy is a vintage style three-way ready to please purists.
Our '59 Strat was finished in a ultra-cool faded Sonic Blue with a mint green pickguard and aged plastic parts. Its neck had a classic slim-C profile with slab rosewood fretboard, and its pickups were a bit hotter, with more midrange than the '56 Strat. In positions two and four, the '59 produced a thicker overdrive sound and rounder low-end (for more on the nuances uncovered by Fender, see "Classics Redefined" in the "First Fret" section of this issue). In fact, pickups in all four guitars had an aged sound – mellowed a bit, like vintage pickups, but still clear and snappy like you expect from Fender pickups, without being harsh or shrill. It's a more-authentic sound Fender created after it reverse-engineered several vintage pickups and discovered that using a slightly smaller-diameter wire imitates the over-stretching of wire common in the vintage era.
The G&G cases used with the series have also been given a period-correct update. They're generally 1/4″ thinner, with more-rounded edges; the '52 Tele and '56 Strat are in tweed cases with orange lining, while the '59 Strat has brown tolex case with yellow lining, and the '65 Jazzmaster is in black tolex with amp logo attached and orange lining. Case candy is also improved, with a black leather strap, bridge covers, extra strings, and gray instrument cables, period-specific polishing cloth in a waxed-paper envelope, manual, and paperwork.
Fender's new American Vintage models are outstanding examples of classic American craftsmanship and design; they not only play and sound great, they're loaded with vintage vibe. It's easy to appreciate the research, time, and sweat that went into the creation of these instruments. The challenge lies in not flat-out gushing over them!
---
This article originally appeared in VG December 2012 issue. All copyrights are by the author and Vintage Guitar magazine. Unauthorized replication or use is strictly prohibited.
---