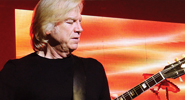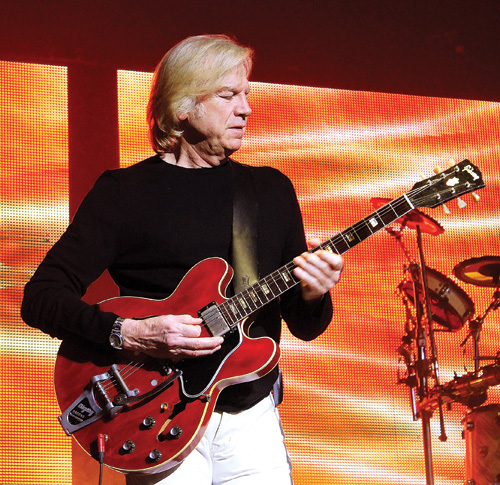 In addition to touring and recording with the legendary English band, Moody Blues lead guitarist/vocalist Hayward released his most recent solo album, Spirits of the Western Sky, in February. Such work affords him the option of writing songs in a different style. One of numerous aspiring musicians who as a youngster listened to Radio Luxembourg "on a homemade transistor radio," his first guitar was from Headquarter and General Supplies. "I don't think it had a brand name," he said. "But all the guitars I had until my first Gibson ES-335, in 1963, were unsatisfactory and I had to modify them."
An ES-335 has been Hayward's guitar of choice for decades, and he has relied on a Cherry Red '63 with a factory Bigsby vibrato for most of that time.
"The first time I played that 335, I knew it was for me," he remembered. "I had one before I joined the Moodies, but had to sell it because I was broke. [The red 335] came from the factory exactly like that. When I first came to the U.S., I met the guys who made it in Kalamazoo."
As for acoustics, Hayward relies primarily on Martin and Collings instruments in the studio. "I love both; one is not better or preferable to the other," he said. Live, he stages a handful of Guild models. Other touring instruments include the red ES-335, a '65 Fender Telecaster (used on "Ride My See-Saw"), plus a Collings. One of the acoustics has two pickguards, but again, Hayward's playing style has nothing to do with the mod.
"I put the other pickguard on because the wood above the hole was badly scratched in an accident," he said.
While he has written many of the Moody Blues' hits as well as other memorable songs recorded and performed by the band, he's still compelled to compose material outside of the band. "I am a songwriter, I enjoy recording, and it's great, so I had a lot of unrecorded songs," he said. "I can say things that are more personal." Hayward played all guitars.
While some songs have orchestral accompaniment, the strings are supplemental. Songs that reference specific genres are grouped, for example, three country/bluegrass style tunes appear in sequence, as do the techno/dance-mix songs toward the end. "It seemed to sound right when [co-producer) Alberto Parodi and I were compiling the tracks," Hayward said. The country song "It's Cold Outside of Your Heart" appeared on Moody Bluegrass Two, an anthology of countrified versions of Moody songs on which Hayward and other band members participated along with Vince Gill, Ricky Skaggs, Sam Bush, and other country-music veterans. On the new version, the only change is in the mastering. While he is constantly focused on his songwriting and playing crafts, Hayward doesn't have a particular favorite guitar passage or passages on the new album.
"I just enjoy playing," he said, adding that he plans to continue his primary duty with the Moody Blues, but also more solo albums. Not surprisingly, he eschews examinations of how his solo albums compare to each other. "I don't compare things. I enjoyed every one, and each has been my whole life while I was recording it."
---
This article originally appeared in VG July 2013 issue. All copyrights are by the author and Vintage Guitar magazine. Unauthorized replication or use is strictly prohibited.
---