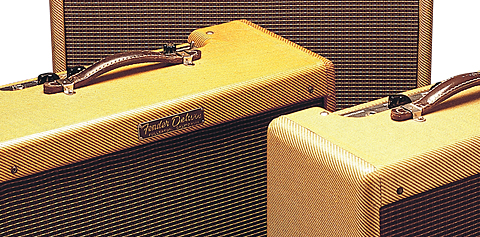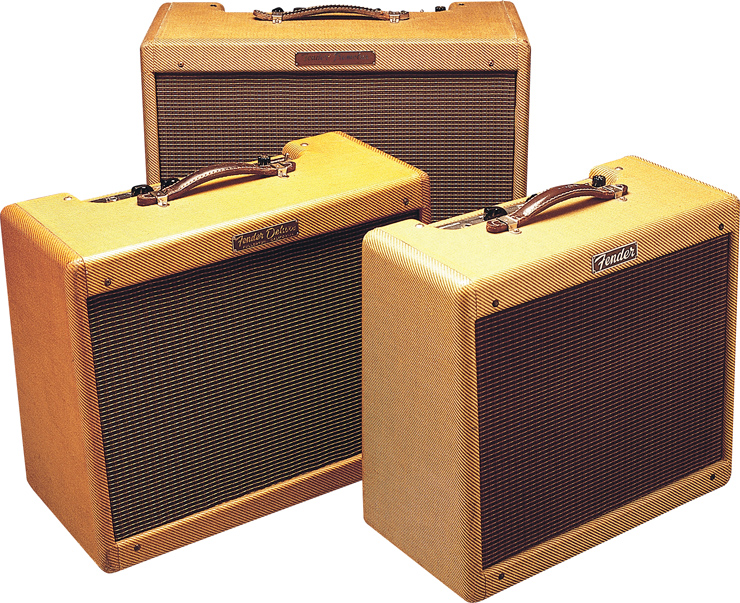 From 1954 through '59, the Fender Electric Instrument Mfg. Co. built guitar amplifiers with controls mounted atop using "chickenhead" knobs that go to 12, and covered with "the finest airplane luggage linen." This line represents the company's classic "tweed era," and from the diminutive Champ to the mighty Twin, it remained virtually unchanged throughout the period.
The '56 Princeton is a small "everyman" amp. Its tubes are a 5Y3GT, a 6V6GT, and a 12AX7. Producing 4.5 watts of "excellent quality distortionless power" through a heavy-duty 8″ Jensen speaker, it has two inputs, controls for Volume and a Tone, and had an original list price of $79.50. Offered in Fender catalogs as part of the Studio Deluxe Set (with the Studio model lap-steel guitar and matching tweed case), the Princeton was touted as radically new and able to "stand a terrific amount of abuse."
The Fender Deluxe is arguably one of the best-sounding, most versatile small combos ever made. "As modern as tomorrow," the Deluxe set a standard for tone, volume, and durability that endures to this day. It has a 5Y3GT, two 6V6GTs, a 12AX7, and a 12AY7. With three inputs, two Volume controls, a Tone control, and a ground switch, in addition to a built-in extension speaker jack, it's rated at 15 watts (RMS) through a 12″ Jensen. Life wasn't as loud back in the '50s, and this '56 Deluxe might have powered an entire band's electric complement – vocal mic, electric guitar, steel guitar, or maybe accordion. As a solo-guitar amp for recording or small club dates, the Deluxe can sing loud and sweet, and at $129.50, offered outstanding value in its day.
Introduced in '55, the Tremolux is essentially a Deluxe with tremolo (Tremolo + Deluxe = Tremolux!).  This '58 model had a list price of $199.50, the cool effect of tremolo adding 70 bucks to the tab. The Tremolux has a 5U4GT, two 6V6GTs, a 12AY7, and two 12AX7 tubes, four inputs, two Volume controls, and a Tone control, as well as tremolo Depth and Speed controls and a tremolo footswitch. Fender literature proclaimed its tremolo circuit provided greater ranges of speed and depth than any previous type. Often pictured in catalogs with the Telecaster, the Tremolux was the period's most modern and innovative portable guitar amp. Rarer than the Deluxe, some current tweed aficionados prefer the Tremolux, saying it seems louder and "just sings better."
---
This article originally appeared in Vintage Guitar Classics No. 3 issue. All copyrights are by the author and Vintage Guitar magazine. Unauthorized replication or use is strictly prohibited.
---
---