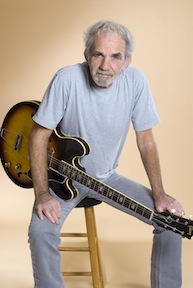 Renowned songwriter/singer/guitarist J.J. Cale passed away July 26 at a hospital in La Jolla, California, after suffering a heart attack. He was 74.
Born John Weldon Cale in Oklahoma City, after playing local honky tonks he moved to Los Angeles in the early '60s and found work as a studio engineer for Leon Russell and Snuff Garrett while trying to establish himself as a recording artist. When his career as a performer fizzled, he returned to Oklahoma City. Things took a turn for the better when, in 1970, Eric Clapton recorded Cale's "After Midnight" for his self-titled solo debut album. The song, as well as those on Cale's own solo debut, 1972's Naturally, set Cale's place as one of the innovators of the "Tulsa sound," which mixed country, blues, rockabilly, and a bit of jazz and employed simple songs with a home-grown approach, as exemplified in Cale's famed "laid back" performance style. Naturally was recorded to take advantage of the success of Clapton's hit with "After Midnight" and included Cale's own version, as well as "Call Me the Breeze," which would later become a hit by Lynyrd Skynyrd, and "Clyde," which would later be hits for both Dr. Hook and the Medicine Show and Waylon Jennings. The song "Crazy Mama" became Cale's best-selling single bearing his own name,  reaching number 22 on Billboard's singles charts in April of '72. Clapton later had a hit with a live version of the Cale-penned "Cocaine," which reached number 30 on Billboard's Hot 100 in 1980.
All told, Cale released 15 albums and had songs covered by performers in several genres, including Santana, the Allman Brothers Band, Widespread Panic, .moe, The Band, Chet Atkins, Freddie King, Maria Muldaur, Johnny Cash, Tom Petty, and Captain Beefheart.
In 2006, he collaborated with Clapton on The Road to Escondido, which in '08 won a Grammy for Best Contemporary Blues album.  His most recent album of all-new material was 2009's Roll On, which included a collaboration with Clapton on the title track. The effort recalled Cale's early albums in that he took a strong do-it-yourself approach, playing guitars, pedal steel, bass, drums, synthesizers, lead and backing vocals, and doing the production and engineering work himself. In April, Mercury released a five-disc box set of five early Cale discs, and Clapton's latest album, Old Sock, included the Cale-penned "Angel."