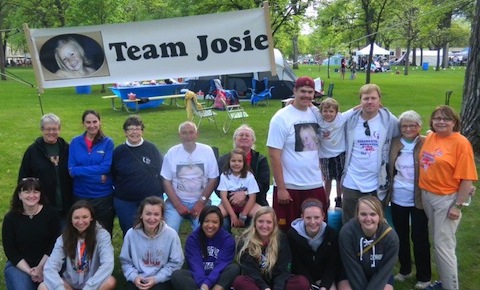 Team Josie, an American Cancer Society Relay for Life team sponsored by Vintage Guitar, participated in its sixth annual benefit walk, June 1 in Grand Forks, North Dakota. Each year, VG works with a guitar builder and several of its advertisers to raise donations via a raffle in the weeks leading up to the event. This year, pledges, raffle tickets, and sponsorships raised $11,200, bringing the team's six-year total fundraising to $57,500.
Paul Gamble, of New Mexico, was the winner of this year's grand prize, which included a Fender American Vintage '59 Stratocaster, along with a Fulltone Tube Tape Echo and a Poerava hand-made Wing Tip strap.
Team Josie is named in memory of Josie Alise Greenwood, who died in April of 2007, after being diagnosed with acute lymphoblastic leukemia (ALL). She was three years old. Josie was the daughter of VG webmaster Joe Greenwood and grand-niece of VG founder Alan Greenwood.