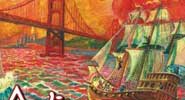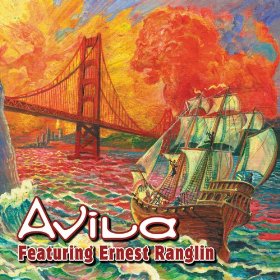 Standing at a crossroads of reggae and jazz, Ernest Ranglin has crafted a unique voice. His mellow-toned and laidback fusion is singular. And stunning.
To anyone familiar with Jamaican music and reggae, Ranglin is legend. He began on ukulele, then built his first guitar from a sardine can and wires. He played and recorded mento in the 1950s, moving on to serve as a session guitarist for the fledgling Studio One, carving out early ska with his trademark "core" style of scratch playing.
While adding his backbeat to reggae hits, he also became enamored with Charlie Christian, and Ranglin's subsequent music shows these dual influences. He first cut a solo album in 1958, for Chris Blackwell's Island label. Since then, he's released some 28 solo platters, ranging from jazz to calypso to reggae and back again.
On Avila, neither Ranglin nor his stellar backing ensemble try to change that. Each song is based on elements of ska, rock steady, and reggae, layered with modern jazz elements. But whether it's the superb backing and melodies played on sax, trumpet, melodica, or keyboards, Ranglin's guitar is the centerpiece.
The opening track, "Manenberg," is a light jazz tune and shows what this group is capable of. Ranglin intermixes his sweet-souled guitar lines with the band, playing with the melody and timing of phrases, each echoing the other. Throughout, Ranglin is obviously enjoying himself, rejoicing in long, exploratory solos. His happiness here is palpable.
"Ernossi" rides a funked-up reggae rhythm while "Ska Rango" kicks off like a Kingston ska tune circa 1955 before moving into a groove that Miles Davis might have appreciated. "Swaziland" blends reggae sounds with African vibes.
Knowing they had it right from the start, the album closes with "Return To Manenberg," offering even more of a good thing. Throughout, Ranglin's sublime guitar reigns.
This article originally appeared in VG's Jan. '13 issue. All copyrights are by the author and Vintage Guitar magazine. Unauthorized replication or use is strictly prohibited.