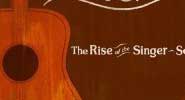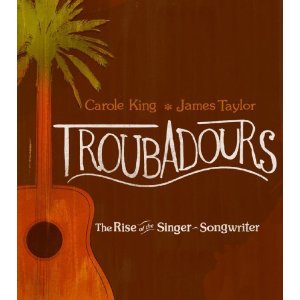 There have always been singer/songwriters in rock (from Buddy Holly and Chuck Berry to the Beatles and Bob Dylan), but from 1968 to '75, L.A.'s Troubadour helped launch the "singer/songwriter" as an entity, a genre, and a movement. This 90-minute documentary revolves around King and Taylor playing the venue's 50th anniversary in 2007.
Through interviews (sans narration), the evolution of the movement is traced from the mid-'50s rumblings of what became the Folk Boom through its folkrock intersection with the British Invasion and on to the blossoming of its leading lights – many of them superstars to this day.
We hear from several usual suspects (Jackson Browne, David Crosby, Elton John) but also some atypical inclusions, like Steve Martin, and such behind-the-scenes figures as multi-instrumentalist Chris Darrow (whose zillion credits include playing fiddle on Sweet Baby James), King's writing partner, Toni Stern, guitarist (with both Taylor and King) Danny Kortchmar, and Henry Diltz, a member of the Modern Folk Quartet before becoming one of rock's most prominent photographers.
The scene of Taylor in his stacked guitar room – pulling out the Gibson J-50 he used to write "Fire And Rain," "Something In The Way She Moves," and "Don't Let Me Be Lonely Tonight" – is something fans would never see otherwise, and there are great close-ups of the hands of this woefully underrated guitarist. Likewise, the home movies of King and discussion of her years as a Brill Building tunesmith are fascinating.
The editing – for example, from Taylor playing a snippet at his home in Massachusetts to performing onstage with King – is so excellent, you'd think the filmmakers carried a they went. However, the editorial shift to the story of Troubadour founder Doug Weston is clumsier. The club could make or break an artist, and the eccentric ts sign a contract binding them to continue to play the club after they'd hit the big-time. Such antics led record moguls Lou Adler and David Geffen to open the larger (and more successful) Roxy, and when Weston died in 1999 at age 72, he had little to do with the Troub's operation.
Of course, one's interest in the film comes down to musical taste. There are detractors, like The Village Voice's Robert Christgau, who credits himself with coming up with the term "El Lay" (how clever) for Los Angeles; never mind that both King and Taylor hail from the East Coast. At the other extreme, Los Angeles Times' Robert Hilburn naively declares that the singer/ songwriter movement was "as exciting as rock and roll itself was when it began."
The documentary premiered in March on PBS, and the DVD includes a pledge-drivey 35-minute CD of 10 songs that any fan of the genre probably already has. But the package is easily found for less than the $20 list – and would actually be a decent buy at full price.
This article originally appeared in VG's July '11 issue. All copyrights are by the author and Vintage Guitar magazine. Unauthorized replication or use is strictly prohibited.