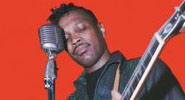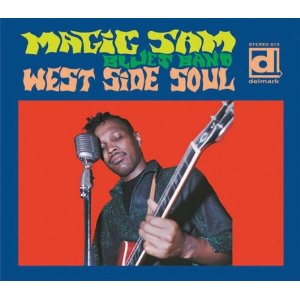 Magic Sam's debut album had an immediate impact when it was released in late '67 and has stood the test of time – cited as a seminal influence by such formidable guitarists as Ronnie Earl, David Grissom, Bobby Radcliff, and Jimmie Vaughan.
Sam Maghett was 30 when he recorded the classic, having previously cut less than a dozen singles on small Chicago labels. Influences like Otis Rush and Freddie King are evident, but Sam was definitely his own man. He was a true blues stylist – to the extent that when players later dipped into his licks or repertoire they were "doing Magic Sam." He possessed a high, soaring voice, and his ultra-fast finger vibrato was a natural extension of his singing style.
The original "That's All I Need" shows that Sam was adept at then-current soul sounds without resorting to James Brown impersonations a la Junior Wells. But "Feelin' Good" reaches back to Junior Parker's Sun recording, and "Sweet Home Chicago" is perhaps the definitive electric version of the Robert Johnson song.
"All Your Love" features the chord-vamping, tremolo, and single-note staccato bursts that were Magic Sam trademarks. The instrumental tour de force "Lookin' Good" adds complexity to a basic Hooker boogie without sacrificing groove, and his version of Willie Dixon's "My Love Will Never Die" (previously recorded by Otis Rush) is at once beautiful, sad, and almost scary.
Black Magic (Delmark, 1969) was the only other album Sam released in his lifetime. A strong follow-up, it was not as transcendent as its classic predecessor.
When Maghett died of a heart attack at 32 in December of '69, he had two Fillmore gigs under his belt and interest from Atlantic's Jerry Wexler. After he passed, Mike Bloomfield, Elvin Bishop, Albert Collins, Jerry Hahn, and others played a benefit at Fillmore West, to raise money for his family.
The new Digipak edition of the album was remastered from engineer Stu Blank's original analog mix. Additional photographs are included, along with original liner notes by label head Bob Koester and Bill Lindemann (the former academic, the latter pedestrian) and new commentary by Don Wilcock that's as confusing as it is uninformed. "It was incidental that there was a growing audience of young, white people beginning to realize that Sam's sound was the root of rock and roll," he concludes. "Or that we would lose him before Jimi Hendrix, Jackie Wilson, and Otis Redding." Never mind that Redding died two years before Sam; what point is Wilcock trying to make?
Aside from such unfortunate sloppiness, it's too bad more "deluxe" features aren't included – namely more tracks. The alternate take of "Don't Want No Woman" is nice, but, considering Delmark posthumously issued an LP of outtakes (The Magic Sam Legacy), another of solo home demos (Give Me Time), and the live Rockin' Wild In Chicago, even adding a sampling of those cuts onto this 45-minute disc would have been welcome.
This article originally appeared in VG's May '11 issue. All copyrights are by the author and Vintage Guitar magazine. Unauthorized replication or use is strictly prohibited.