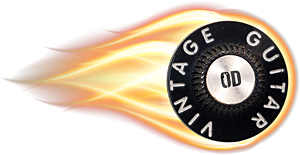 Why Register?
Become a registered member and you will have an All Access Pass to all the privileges and benefits of VintageGuitar.com. It's totally FREE!
As a FREE Vintage Guitar Online Member,
You will receive your choice of any or all of our FREE e-newsletters — Vintage Guitar Overdrive for exclusive contests and giveaways, and classic VG articles; Vintage Guitar Acoustic for articles pertaining to acoustics; and Vintage Guitar Signal Chain for cool info on guitar effects. All free and delivered right to your inbox!
Occasional Special Offer guitar related emails from VG advertisers.
You can reach thousands of buyers and sellers by posting FREE ads in our online classifieds section.
You could win cool FREE gear! You'll be eligible to enter ALL of our online giveaways.
You'll be able show off your guitars and amps when you post photos of your gear in our popular online Readers Gallery.
[wp-members page="members-area"]