The Official Vintage Guitar Price Guide Requirements
Mechanical Requirements

Size
Width × Height
Includes 0.125" bleed all around
Full Page
8.375" × 11"
Yes
Full Page
7.25" × 9.75"
No
1⁄2
7.25" × 4.75"
No
1⁄4
3.5" × 4.75"
No
1⁄6
2.25" × 4.75"
No
You do NOT want to miss this advertising opportunity for your business!! For pricing info and more, simply submit the form below!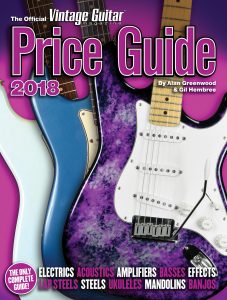 Graphics*
Logo Design, Ad Design, Special Requirements $50/hr.
Photo Effects (silhouettes, drop outs) $20.00/ea.
*Does not apply to camera-ready ads
We accept:
  .jpg 300 ppi at actual size of ad.
  .tif 300 ppi at actual size of ad with or without zip compression.
  .pdf Please embed all fonts (or subset 100%).
    No OPI.
    Resolutions on color/grayscale images should 300 ppi at actual size and monochrome images 1200 ppi at actual size.
    Use Zip compression when available for color/grayscale images and CCITT group 4 compression for monochrome.
    No crop marks or registration. The PDF should be the same size as mechanical requirements above.
Deadlines
Space reservation: August 24th, 2018 (unless the ad space is already gone!)
Materials: August 31st, 2018.
5% off rate card when we receive your Insertion Order by June 22nd, 2018.
Dealer Listing
Free dealer listing with every ad! Includes your company name, address, phone, fax, e-mail and web address. The dealer listings are placed in a special section of the guide and are categorized by state.
---
What Our Advertisers Say
"It's my most effective advertising tool; I get calls from people reading the magazine everywhere from Europe to the swampiest parts of middle America. Every time a new issue is delivered to readers, I get calls."
– Nate Westgor, Willie's American Guitars
Vintage Guitar readers have real buying power – much more than just internet "views."

Print and Social Media Readers
Our Readers' Stats
Magazine Readership
 65,207
Facebook
 487,000
Instagram
 40,600
Twitter
 13,000
Website
 110,000 uniques monthly
Average age
 53
• Level of Playing
  Pro: 10.3%
  Semi-Pro: 18.6%
  Experienced: 38.3%
• 47.6% of Vintage Guitar readers report a household income of more than $100,000 per year!
• 77% refer to the magazine when making buying decisions.
• 83% plan to buy one or more guitars this year.
• More than 54% plan to buy one or more amps in the next year.
• 83% purchase pedals.
• 56.8% own basses.
• VG readers will spend more than $63 million on new gear this year!