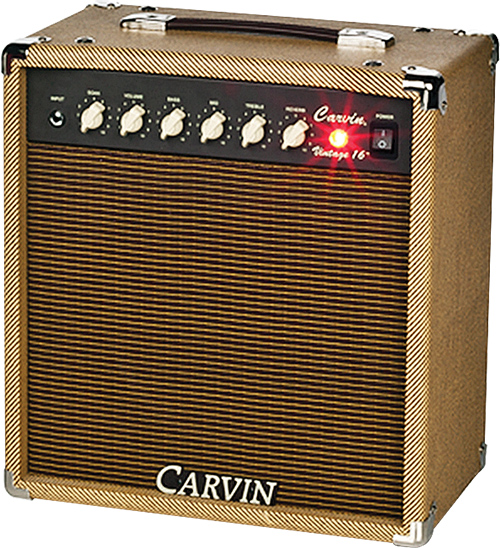 Enter for a chance to win a Carvin Vintage 16 – $699 value!
The Vintage 16 is the low-wattage, "boutique" recording tube amp so many players are looking for. Everything about this little amp "oozes" tone. The SOAK control goes from stout clean tones with rich midrange body to a filling upper-midrange snarl defining its tweed sound. The ALL tube design incorporates V1 12AX7 preamp and two EL84 output tubes. The power amp in its normal "PENTODE" mode puts out a crisp 16 watts. The "TRIODE" mode produces 5 watts of incredibly sweet spongy harmonics, ideal for both mic'd recording and small stage rigs. Selectable 8 ohm/16 ohm impedance switch, along with silent mode for line-out operation. Made to last, with a quality plywood enclosure covered in vintage tweed. The sound possibilities are only limited by your fingers and imagination!
Specifications:
All tube design 
– two 12AX7 preamp tubes, two EL84 output power tubes
– 1 Meg Passive tone controls for broad adjustment range.
– Front controls: VOLUME, SOAK, BASS, MID, TREBLE and REVERB
– Metal shaft controls, ivory knobs, red jewel lamp
– Strong plywood enclosure covered in thick tweed vinyl
– GT12 speaker / 16 ohms
– Output: 16 watts / 5 Watts, Pentode / Triode into 8ohms
– Cabinet-voiced line out, 2 speaker jacks
– CH EQ: 60, 650, & 11.5K Hz.
– Size: 16 inches wide x 8.5 inches deep x 17.75 inches high
– Weight: 31 lbs.
– 120VAC
– Made in San Diego, California

For more info on Carvin products go to carvinaudio.com.
To enter the giveaway, just complete the survey below. One entry per customer, any double entries will be automatically disqualified.
---
*ELIGIBILITY. VOID WHERE PROHIBITED OR RESTRICTED BY LAW. NO PURCHASE NECESSARY.
One entry per customer. Winners will be drawn at random. Prizes are not transferable or assignable and they are not redeemable for cash. All winners outside the continental United States are responsible for shipping costs. All winners are responsible for the payment of any and all taxes and/or licenses and/or other related local, State, Federal fees that may apply to such winnings. Taxes on prizes are solely the responsibility of the winners. Vintage Guitar magazine reserves the right to replace the advertised prize(s) with a prize of equal or greater value if the advertised prize(s) is/are no longer available. Vintage Guitar reserves the right to identify winners in all VG media.