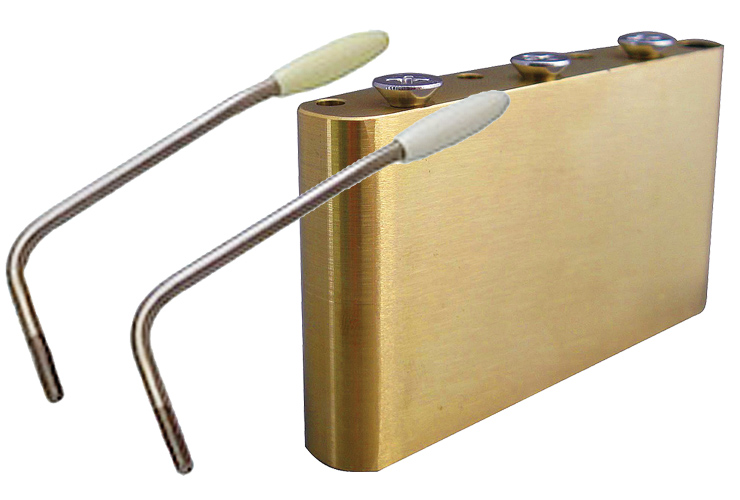 CLICK HERE to sign up for VG's FREE e-newsletters, Overdrive, Signal Chain, and Acoustic. Each month, subscribers can win prizes. This month, you can win Two Callaham Brass Trem Blocks and arms from Specialty Guitars – a $193 value!

Specialty Guitars Exclusive – Callaham Brass Trem Blocks
We contracted Callaham Guitars to make these blocks exclusively for Specialty Guitars. These premium brass blocks are perfect for those who like the fatter sound of brass while maintaining musical tone with bell-like chime and sustain. These blocks are made from the finest, high-sustain, "musical" proprietary brass alloy, to exacting specs and tolerances. Like Callaham's cold rolled steel blocks, these blocks feature the same 2006 Delrin enhancement that supports the trem arm, making the arm virtually unbreakable. This feature also reduces arm play to zero, making the tremolo much more touch sensitive. The brass blocks are drilled and tapped for longer 5/8″ stainless steel, top plate mounting screws (screws included). Block weight is 10-3/4 oz.

For more information on Specialty Guitars go to www.specialtyguitars.com.
---
*ELIGIBILITY. VOID WHERE PROHIBITED OR RESTRICTED BY LAW. NO PURCHASE NECESSARY.
Prizes are not transferable or assignable and they are not redeemable for cash. All winners outside the continental United States are responsible for shipping costs. All winners are responsible for the payment of any and all taxes and/or licenses and/or other related local, State, Federal fees that may apply to such winnings. Taxes on prizes are solely the responsibility of the winners. Vintage Guitar magazine reserves the right to replace the advertised prize(s) with a prize of equal or greater value if the advertised prize(s) is/are no longer available.
---
See previous winners!!
---
To Enter the Giveaway, just complete the survey below.