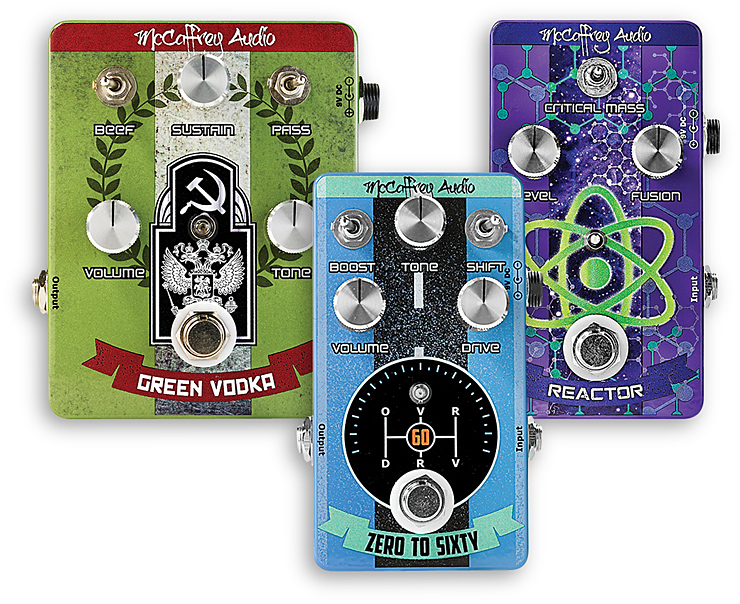 CLICK HERE to sign up for VG's FREE e-newsletters, Overdrive, Signal Chain, and Acoustic. Each month, subscribers can win prizes. This month, you can win Three Pedals from McCaffrey Audio – $517 value!!

Green Vodka Muff
At the heart of the pedal is a circuit that is close to the early 90's Sovtek era green muffs. I tried to nail that Russian sweetness with some of my favorite mods…including my own custom mods…to make the hammer and sickle red with envy!
Zero To Sixty Drive
The Zero To Sixty Drive is a combination of my favorite overdrive tones and features. I designed this pedal after building and modding numerous overdrive pedals. I tweaked this, tightened that, added this, dropped that and ended up here. I realized that I had multiple boutique overdrives and wanted an "all in one" pedal of my favorites. I hope that you enjoy this pedal and that it inspires you to play and have fun doing that!
The beauty of this pedal lies in your guitar's natural tone, playing style and setup. Tons of different tones in one box!
Reactor Boost Compressor
The Reactor Boost Compressor was truly born by the demands of the people! I was never a big compressor guy. I had numerous requests for various compressor builds over a three month period. I decided to see what all the fuss was about!!!

For more information on McCaffrey audio go to www.mccaffreyaudio.com.
---
---
*ELIGIBILITY. VOID WHERE PROHIBITED OR RESTRICTED BY sLAW. NO PURCHASE NECESSARY.
Prizes are not transferable or assignable and they are not redeemable for cash. All winners outside the continental United States are responsible for shipping costs. All winners are responsible for the payment of any and all taxes and/or licenses and/or other related local, State, Federal fees that may apply to such winnings. Taxes on prizes are solely the responsibility of the winners. Vintage Guitar magazine reserves the right to replace the advertised prize(s) with a prize of equal or greater value if the advertised prize(s) is/are no longer available.
---
See previous winners!!
---
To Enter the Giveaway, just complete the survey below.